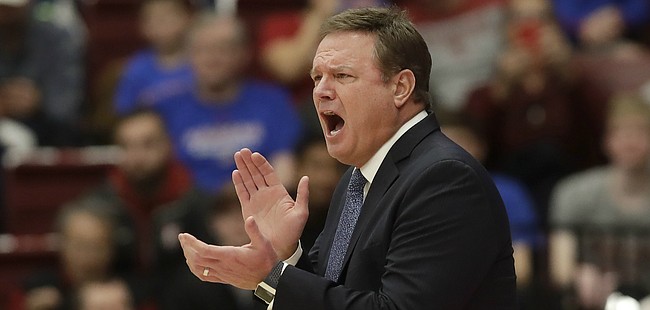 With Late Night looming and the first official practice of the 2021-22 Kansas basketball season slated for Wednesday, KU coach Bill Self is moving at a slightly different pace than normal.
"I think we have a lot of nice pieces," Self said during a Zoom interview with the media on Tuesday. "But the person that's probably not as ready is me because I don't have an idea yet on how it all fits. I'm really looking forward to seeing how all the pieces fit once we get comfortable together."
Getting to that point will take some time. Because of the presence of 10 new players on this year's roster, Self said he expects this team to pick things up a little slower than some of his more experienced teams from the past.

He gave the example of the 2007 and 2008 squads, which featured experienced sophomores, juniors and seniors tracking toward a national championship.
"We were into how we're going to attack a matchup zone the first week of practice," he said of those teams. "This year, we may (get to) that the week of the first game because there's just so many other things that we've got to get to."
Some of them have been covered this summer. Through summer and preseason workouts — including boot camp — the KU coaching staff and strength coach Ramsey Nijem have given the newcomers a crash course on what it takes to play at Kansas.
Senior forward Cam Martin, a transfer from Division II Missouri Southern State University, recently said KU's veterans have been "really good leaders, just showing us the way and how things go here at KU."
There is no substitute for that kind of peer guidance. And Self has always valued and appreciated the role his upperclassmen take in setting the tone for any given season.
But, admittedly, Self knows that the idea of counting on how certain guys will react in certain situations is "pretty much an unknown for me" because it's not just one or two newcomers but several who need to get comfortable in their new surroundings.
Jalen Coleman-Lands, Remy Martin and Joseph Yesufu all have played — and produced — at the high-major Division I level. But they've never done it for Self at Kansas.
While Cam Martin believes that making a successful jump from DII to a DI blueblood can be done, he still has to show it before the masses believe it. And then there's the four freshmen, KJ Adams, Zach Clemence, Kyle Cuffe Jr., and Bobby Pettiford, and two new walk-ons in Charlie McCarthy and Dillon Wilhite.
For all of them, what comes next will be new and it will carry with it varying degrees of intensity for each of them.
That being said, Self believes this roster is ready for the next step in the journey, which he called "hooking them up."
"It'll get real here, starting (Wednesday)," he said. "I actually think that we're ready to practice. But we're not near ready to play."
Luckily for the Jayhawks, who figure to enter the upcoming season ranked in the top 3 of most, if not all, major polls, there's still more than a month before the season opener against Michigan State on Nov. 9 in New York City.