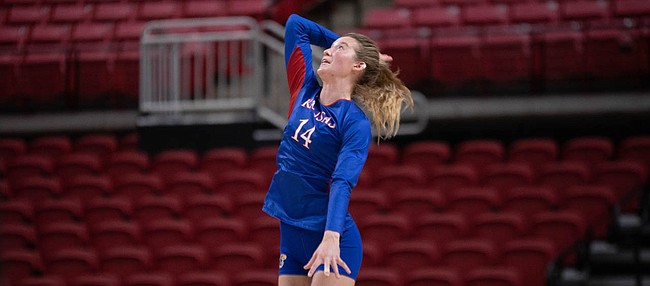 For the second night in a row, the Kansas volleyball team went five sets with Texas Tech, and for the second night in a row it was the Jayhawks who delivered down the stretch.
KU's win on Saturday night in Lubbock, Texas — 19-25, 14-25, 25-22, 25-15, 15-9 — gave the Jayhawks their eighth consecutive victory and the season sweep of the Red Raiders.
As the final scores indicate, KU got stronger as the match went on, starting off slowly and finishing with a dominant showing in the fifth and final set. With the fifth set tied at 9, KU scored the final six points of the night to win the match.
"We played a very quality team that was lights out the first half of the match tonight," KU coach Ray Bechard said. "And then we settled in and got things going. I was really encour-aged by the ability of our team to stick to the game plan. It was back-to-back nights of us find-ing different ways to win."
Freshman outside hitter Caroline Bien led the Jayhawks with career hights in kills (16) and aces (5), super-senior Jenny Mosser recorded her second double-double of the season, which included 12 kills and a season-high 17 digs, and the team recorded a season-best 11 aces.
Sophomore Caroline Crawford also reached double-digits in kills, with 12. Sophomore setter Elise McGhie led all players in the match with 41 assists.
"Everyone was great and Elise was great running the offense," Bechard said. "Crawford was great coming off the bench. Our serving was outstanding and our passing was consistent. The bench on the road was really, really a bright spot. When things weren't going well, the bench was enthusiastic and kept us going."
The win moved KU to 10-3 on the season and 2-0 in Big 12 play. Next up, Kansas will play host to Iowa State at 4 p.m. Friday and 4 p.m. Saturday.