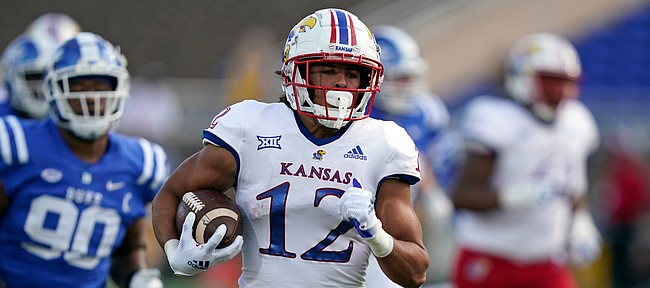 Durham, N.C. — It took a couple years and some patience, but redshirt sophomore Torry Locklin finally scored his first touchdown for the Kansas football team — and promptly added a second to his résumé on the Jayhawks' following possession — during KU's 52-33 loss at Duke.
Locklin, a former reserve quarterback, Wildcat QB and backup receiver for the Jayhawks, came into Saturday's game at Wallace Wade Stadium as the current No. 2 running back, with 13 career carries, 23 career rushing yards and zero receiving statistics of any kind.
Those numbers ballooned in a hurry, as Locklin caught a swing pass that went for 20 yards and a TD to open the second quarter, and a little more than five minutes later bolted for a 36-yard rushing TD.
"It was a blessing. It's been a minute," a chuckling Locklin said after the game. "But I owe that to my line and my receivers for making big blocks for me."
Document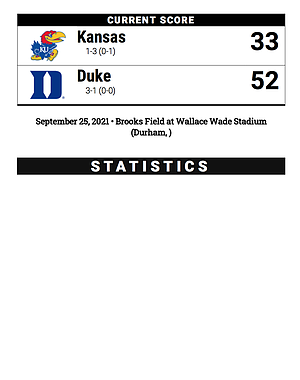 A versatile 6-foot-2, 205-pound athlete, who also contributes for KU on its kickoff teams, Locklin repeated complimented KU's offensive linemen, as well as the perimeter blocking of the Jayhawks' skill players, after the most productive day of his college career: seven carries for 47 yards, one catch for 20 yards and two TDs.
By scoring both a receiving and rushing TD in the same game, Locklin became the first Jayhawk to do so since running back Tony Pierson pulled it off against Iowa State in November of 2012.
On Locklin's two scores in particular, the execution up front and on the edge allowed him to easily find the space he needed to go make plays, he said.
His first career catch was a relatively easy one to make, as junior quarterback Jason Bean lofted it over a defender and into Locklin's hands in the backfield. Then, Locklin said, he just took advantage of "a big block" from left tackle Earl Bostick Jr., and another block from tight end Mason Fairchild to help him maneuver into the end zone.
The next time Locklin touched the ball, blockers on the right side opened up a substantial running lane. Right tackle Bryce Cabeldue and receivers Trevor Wilson, Lawrence Arnold and Tristan Golightly all paved the way for his 36-yard sprint for a TD.
The types of explosive plays Locklin and his teammates executed helped the Jayhawks finish with 530 total yards of offense and average 7.4 yards per play. Head coach Lance Leipold thought that was one of the promising developments from the defeat, and noted Locklin didn't even need "a ton of touches" to show off his speed and athleticism.
To finally make an impact for KU in his third season in the program felt satisfying for Locklin, a former two-star dual-threat QB recruit from Rockdale, Texas.
The previous coaching staff used him sparingly as a true freshman in 2019, and an injury only lessened his chances to contribute in 2020, when he didn't record any stats while appearing in three games.
"It was big," Locklin said of bouncing back, "especially from last year, me having a tough year, breaking my hand and everything."
The backup running back, like his teammates and coaches, was disappointed in the way the second half played out for KU (1-3) at Duke (3-1), but said he left encouraged particularly by the explosive plays the offense was able to create.
He said the toughest part of the past couple of seasons was the team's struggles on the field.
"But we're heading on the right track," Locklin added. "This game I feel like is starting to turn the tables for us. We've just got to be ready for next week."
KU travels again in Week 5, as the Jayhawks take on Iowa State (2-2) on Saturday (6 p.m., FOX Sports 1).