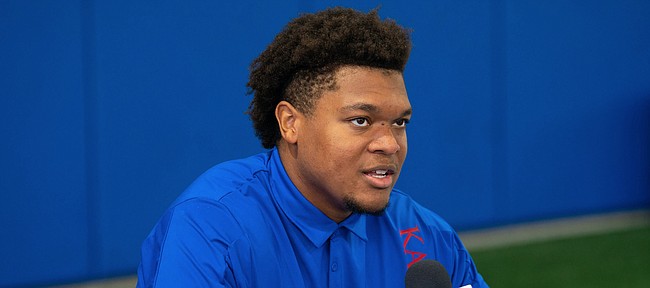 A starting tight end for the Kansas football team once upon a time, back when he was a true freshman in 2017, redshirt senior offensive lineman Earl Bostick Jr. has played for three different head coaches since he got to Lawrence.
A starter up front on the O-line beginning in last season (initially at right tackle), Bostick settled in at left tackle late in 2020, and that's where the 6-foot-6, 290-pounder from Barnwell, S.C., remains as head coach Lance Leipold and O-line coach Scott Fuchs try to rejuvenate one of the Jayhawks' problematic position groups from a year ago.
Ahead of KU's nonconference finale at Duke (3 p.m. Saturday, ACC Network), Bostick reflected on his career path and looked ahead to how KU's O-linemen hope to make progress.
Q: When you were first recruited to KU, did those coaches recruit you as an offensive lineman or tight end?
A: "It was a situation where it was like both. But when I first got here, it was looking like O-line. But then it was like, 'You know what, we can basically put you at a tight end.' And I was grateful for the opportunity."
Q: Did you like playing tight end, and did you think that was going to be your future?
A: "I loved playing tight end. That was my high school position and stuff like that. I appreciated the old coaching staff giving me the opportunity to try to prove myself at tight end. But as of now, as an O-lineman I'm just trying to prove myself in this position."
"You never know where they may need me at. So I'm trying to help the team as much as I can."
Q: You've been starting on the O-line consistently for a couple years now. How far do you feel like you've progressed at that position now that you're more established?
A: "I've progressed as an O-lineman pretty well, from just gaining the weight — probably like 40 pounds — carrying the weight properly, moving my feet, using my hands, stuff like that."
"And from starting at right (tackle) and then moving back to the left (tackle), I know some people say it's hard to do it. But I just feel like for me it's a little simple. I just had to flip my feet and stances and stuff like that, and flip the play in my head. That's all."
Q: What are the biggest challenges that come with being the starting left tackle?
A: "The biggest challenge, having a right-handed quarterback (Jason Bean), is making sure that he's always knowing that he's protected in his blind spot. That's the top thing. That's the top thing for me: making sure he's composed in the pocket while he's looking for his passing progressions."
"For the run game, just making sure no matter what that they can run the ball, making sure they have their holes open and making sure they can run through without a D-lineman or linebacker hitting them."
Q: What do you guys feel like the O-line needs to do to meet its full potential this year?
A: "The steps we need to take are basically having more chemistry. I feel like we need more time with each other. I know we only had about four weeks going into the season with fall camp, really, before we all just combined together."
"I feel like we just need more time with each other. Just knowing more about each other. Knowing our negatives and positives. Knowing what they can do better or what they can work on each day."