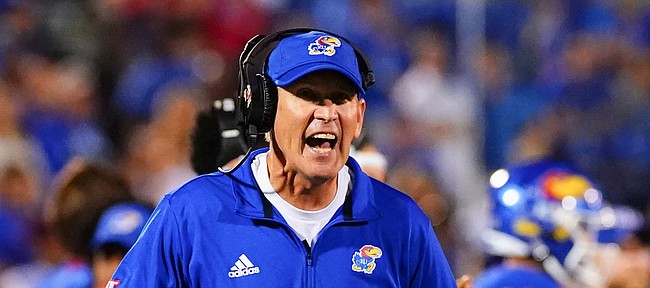 Lance Leipold, like most head coaches, takes on a number of responsibilities from the sideline during a game. One of his duties, the Kansas football coach said this week, is letting officials know when they miss a call on the field that impacts his players.
It was after starting quarterback Jason Bean got tripped up by a Baylor defender out of bounds this past Saturday that Leipold became particularly animated while arguing that a flag should've been thrown for a late hit.
Asked during his weekly press conference about the ESPN+ broadcast showing him yell at the officiating crew, Leipold said "that's my role."
"I know what I see and I'm pretty confident about it," Leipold added.
Bean said Wednesday he didn't notice the particular exchange during the Baylor game, but he did see a video of his head coach "getting after the refs" pop up on his Twitter feed this weekend.
While Leipold's tactics didn't shock the QB, Bean said it definitely was a side of his head coach he hadn't witnessed before.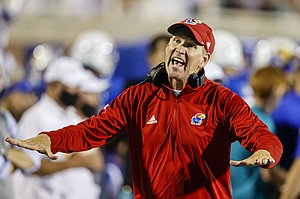 "I was pretty fired up about it," Bean said upon viewing Leipold's fiery approach, "because being around Coach Leipold, he talks, but you don't really ever see him get out of character like that. It's exciting, seeing that your coach is going to have your back no matter what the situation is."
Leipold is only three games into his time at KU (1-2 overall, 0-1 Big 12), but this is the former Wisconsin-Whitewater and Buffalo head coach's 15th season leading a program. Leipold joked that "unfortunately" showing his passion for the team and its players is how he goes about his business on game days.
"I probably feel like the cameras can find better things to focus on," a grinning Leipold said.
Not all of the Jayhawks spot their coach arguing on their behalves during the heat of competition. But senior starting left tackle Earl Bostick Jr. said he has noticed such instances during the first three games of the season.
"He's definitely a players' coach, trying to stand up (for us). He knows what's right and wrong and what should've been called," Bostick said.
That's typically what leads to Leipold shouting at a nearby official, too.
"When I know and see that a jersey's being pulled, I feel pretty adamant about it, especially when it happened five feet in front of me," the coach said.
What does that show KU's players?
"He's with us," Bostick said.
What's more, Leipold said on more than one occasion he already has heard he was on the right side of some squabbles. KU's head coach said the Big 12 office has let him know about missed calls after the fact.
"I get the reply that I was looking for, it's just two or three days too late," he said.
Leipold described his approach with officials as being similar to what he expects from his team. He said regardless of whether the scoreboard is in KU's favor, his expectations are high for his players or "anyone that oversees the game," and that goes along with the effort and strain he and his staff have preached since taking over the program a little more than four months ago.
"I've been that way for 15 years," Leipold said. "I'm probably not changing."