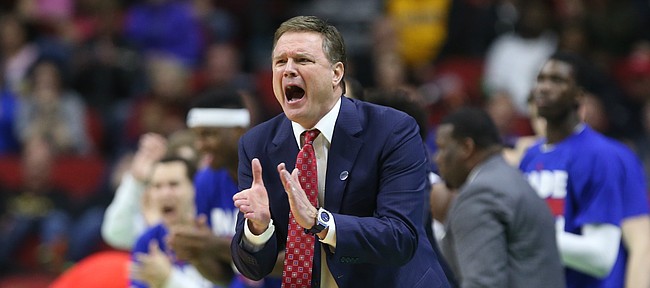 Kansas men's basketball coach Bill Self told the Journal-World that "a harder than average" boot camp ended early this week because the Jayhawks had accomplished all they needed to get done.
"They all did well," Self said. "We've had several years here when we didn't go the full 10 days, but they did everything we asked and they all worked hard and we didn't think there was any reason to keep it going."
Partly because of the fact that this year's roster features 10 new faces, Self said he and his coaching staff made sure to create as challenging of a conditioning camp as they ever have.
"We made it real hard this year," Self said. "And they handled it. They competed hard, they grew closer together, they fought through some stuff and they all now have the mindset that this is what it takes. It was a good boot camp."
Leading the way in that effort were returning starters Ochai Agbaji, Christian Braun and Jalen Wilson.
Self said fellow-returners David McCormack, Dajuan Harris and Mitch Lightfoot also set the tone and helped the newcomers battle through boot camp. But he said Agbaji, Braun and Wilson "were at a different level."
"Those were the three biggest standouts as far as conditioning and setting the pace," he said.
Asked if he had any specific conversations with the trio before boot camp began about how to conduct themselves, Self simply said, "I didn't ask them to do anything. That was a given."
Even with 10 new faces sprinting and sweating around the Jayhawks' practice gym during the eight days of this year's boot camp, Self said there was nothing new about the format of this year's session.
"It was all the stuff we've done in the past," he said. "But probably more intense than before."
Given the uptick in intensity, Self said he was impressed by how the newest Jayhawks performed.
"They didn't quit," he said. "They had numerous opportunities to lay down, but they fought through it every time. Hopefully they gained some confidence from that."
Cuffe, Martin on the mend
Self said freshman guard Kyle Cuffe Jr., and senior transfer Remy Martin were not full participants during boot camp.
Cuffe recently had his knee scoped to clean up a meniscus issue, and Martin was dealing with the effects of a sprained ankle he suffered after arriving in Lawrence.
Self said Cuffe would not participate at Late Night next Friday and is expected to be sidelined for another 2-3 weeks. Meanwhile, the Jayhawks anticipate Martin being close to 100% by Late Night and, as of Wednesday, were expecting him to participate.
Late Night excitement
With the end of September on the horizon, the Jayhawks are starting to turn their attention to the 37th annual Late Night in the Phog festival that annually ushers in a new season of Kansas basketball.
Self said Wednesday that he was hoping for a full Allen Fieldhouse on Oct. 1 and that he thought the excitement surrounding this year's team, the fact that the event was not open to the public last year and the performance by Run-DMC should bring plenty of excitement for Kansas fans.
Self also said the program would abide by any and all health regulations required by the ongoing COVID-19 pandemic.

In announcing the details for the 37th annual Late Night event last week, KU officials said that fans will be required to wear a mask over their nose and mouth while attending the event.
Late Night is scheduled for a 6:30 p.m. start, with doors opening for students at 4:30 p.m. and for the general public at 5 p.m. Admission is free and fans are encouraged to bring non-perishable food items to donate to Just Food of Douglas County.
First practice drawing near
While Tuesday marks the first official day that Self's squad can legally begin full-scale practices in accordance with NCAA rules, the Jayhawks will not begin until Wednesday.
Up until this point, KU's workouts have been limited to 20 hours per week.
But the KU coach who is set to enter his 19th season in charge of the program told the Journal-World that the team would wait until Wednesday to begin full practices.
Self said the Jayhawks would practice Wednesday, Friday and Sunday of next week before moving into five-days-a-week action from there.