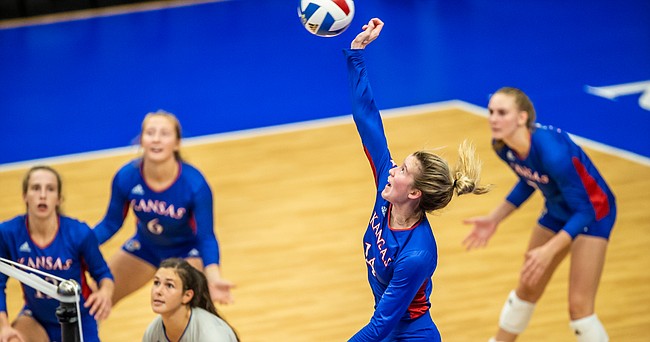 Kansas freshman Caroline Bien recorded double-digit kills in three straight matches to lead the Kansas volleyball team to three sweeps in taking the Kansas Invitational crown over the weekend.
After recording 11 kills in a Thursday victory over Delaware (25-15, 25-22, 25-15), Bien delivered 13 more on Friday in a win over Wichita State (25-22, 25-20, 25-16).
She outdid both of those numbers on Saturday, ripping 14 kills in a sweep of Kent State, 25-21, 26-24 and 25-17.
"(She's) pretty fearless," KU coach Ray Bechard said of Bien after Saturday's match. "She takes some pretty aggressive swings in big moments and right now she's playing free of mind and we hope she'll continue to do that."
The Big 12's preseason freshman of the year has been so much more than just an offensive weapon for the Jayhawks so far this season.
Initially recruited to KU as a libero, the 6-foot outside hitter from Saint Thomas Aquinas kept growing as KU recruited her and that changed the outlook for her college career. Instead of projecting as a defensive specialist, she became skilled enough to play all six positions and she has shown she is capable of doing that in college, as well.
"She led us in kills (14) and digs (18)," Bechard pointed out on Saturday. "That's a unique stat. She was our best back row defender today."
All of this in her first career appearances at Horejsi Family Volleyball Arena.
"I grew up going to the old Horejsi," Bien said after Saturday's match. "But this is great, too. The atmosphere is so electric. I just love it in here."
Bechard currently has the luxury of a lineup with two talented players who can play all six rotations. Super-senior Jenny Mosser — another kills machine at the net (32 this weekend) — plays all around, as well. And the two were all over the floor for the Jayhawks on Saturday, mixing in several strong serves, as well.
With Saturday's match all but wrapped up, Bechard turned to his deep bench — which is still without sophomore outside hitter Ayah Elnady, who is out with an undisclosed injury — to close out the third set. He put four reserves on the floor to deliver KU's final six points and paired them with two starters — Bien and Mosser.
"The six-rotation player in volleyball is a combination of hand-eye coordination, some finesse, some strength, some power," Bechard said. "You've got to be able to serve, pass, dig, block, hit. Kind of like a five-tool baseball player. And we're really fortunate to have two that can do that at a high level."
Those two were far from the only Jayhawks who played well on Saturday. Senior middle blocker Rachel Langs delivered eight kills and six blocks. Sophomore middle Caroline Crawford hit .500 in recording her seven kills. And sophomore setter Elise McGhie reached 40 assists for the match.
"We were really in sync today," Bien said. "Our motto is "grit and grace" and we tried to be as gritty as possible."
The Jayhawks now have won five of their last six matches and will look to take that momentum into another home tournament next weekend, when they welcome Kansas City, Missouri State and Albany to town for the Jayhawk Classic.
"The mission was obviously to win the tournament," Bechard said. "But are we a better team on the back side of it than what we started."
The stats and schedule say yes, and Bechard tends to agree, in large part because his team looked more organized defensively and had better balance on offense throughout the weekend.
He also saw a little bit of toughness when the Jayhawks were down 8-2 in the second set and rallied quickly to have it tied by the 13-point mark.
"We didn't panic. We didn't call timeout. We trust this group right now," Bechard said. "We know our best volleyball's ahead of us but we saw some really good growth this weekend."