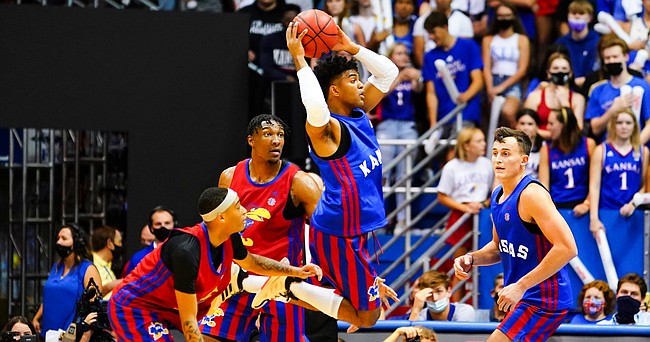 Shortly after hearing that he had been named the Big 12 Conference's preseason player of the year, Kansas point guard Remy Martin took the news in stride.
It wasn't that Martin didn't appreciate it. He did. He said Friday that he was thankful that the conference's coaches recognized his talent and ability and even happier that his family could take pride in him receiving the honor.
But the transfer guard from Arizona State who came to KU for his super-senior season has been around college basketball enough to know that the awards that come in the preseason aren't the ones that jump off the pages of your bio.
So instead of celebrating, he smiled, shrugged and got back to work.
"I didn't really care about it, to be honest with you," Martin said during a conference call with local reporters. "I've been a preseason All-American before and ended the season with nothing, so preseason stuff really doesn't matter too much for me. I think those awards are more for team awards, and I don't really get those awards if we don't win."
Martin said he was neither surprised nor overly thrilled by the honor simply because he had not given it much thought.
The main thing on his mind of late has been competing and doing whatever he can do to help this Kansas team prepare for the season opener on Nov. 9.
"It's nice to be honored and it's a blessing, but there's so much more that goes into that to be able to get that award," Martin said. "It's consistent effort, consistent play that you have to maintain. (Receiving this honor) pushes me more."
After spending short periods of time in Lawrence over the summer, Martin has been fully immersed in the Kansas basketball culture for the past several weeks.
That included preseason workouts, boot camp, the official start of practices, and, of course, Late Night in the Phog.
Asked to assess how the transition has gone thus far, Martin said he had adjusted rather easily. And he credits his teammates, the KU coaches and the Kansas culture for most of that.
"When we all have a common goal and we all know what the goal is, it all kind of figures out itself," he said. "
That goal is nothing new for this program or its fan base, and Martin is thrilled to now be a part of it.
"I want to win," he said. "I want to come here and try to help the team win as much as possible, whatever it is. And when everybody has that mindset of just doing what needs to be done to win, it kind of gels and makes life easier for everybody."
While he was able to compete fully at Late Night two weeks ago with no issues, Martin said Friday that he was now 100% and had moved past the ankle injury that lingered for much of September.
"I'm all good," he said. "I'm all healed up. The trainers have been great, helping me with my ankle and everything. So I'm 100%; I'm good."
That status has allowed the 6-foot, 175-pound guard from Burbank, Calif., to soak up everything Kansas has to offer. And while his past all-Pac-12 honors and dazzling statistics left him regarded by many as the top transfer during the offseason, Martin said the opportunity to start fresh in a new system and with a new focus has been a blast.
"Coach Self and the staff's been great," he said. "They've been teaching me a lot and they've been coaching me up and it's just been a fun time. And also a challenging time at practice. We're getting after it, we're having a good time and we're competing.
"Never in a million years would I think that I would have had another year. So it's different, but I'm happy that I just even have a chance to play basketball again, especially at this great university at a high level like this."