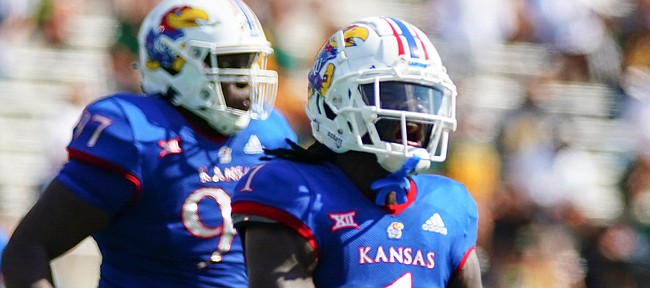 Anyone within earshot of Kansas football veteran Kenny Logan Jr. Thursday morning found out how much he is not looking forward to missing the first half of the Jayhawks' Saturday game at Iowa State.
That's when defensive coordinator Brian Borland shared that Logan vowed he will "never get another targeting penalty as long as he lives."
A hit Logan, one of KU's team leaders and a junior starting safety, made in the fourth quarter at Duke in Week 4 incurred a targeting penalty, leading to his disqualification from that game and a one-half suspension the following week.
A 6-foot, 205-pound junior from St. Augustine, Fla., who also serves as KU's primary kickoff returner, Logan enters the game at Iowa State (6 p.m. kickoff, FOX Sports 1) as the Jayhawks' leading tackler, with 37 total stops. Logan also has a team-leading four pass breakups, and has forced two fumbles and recovered a fumble already this season.
"I think we understand (Logan's) as strong a player as we have back there (in the secondary) right now," Borland said. "And a guy that's this is his kind of game, when he can come downhill and run that alley and put his pads on somebody."
With Logan forced to sit out the first two quarters versus the Cyclones (2-2 overall, 0-1 Big 12), Borland said he plans to use a three-man rotation at safety, with super-senior Ricky Thomas Jr. and true freshmen O.J. Burroughs and Jayson Gilliom trying to make up for Logan's absence.
"And then we'll kind of see in the first half how that's going and how they're doing," Borland said. "Right now I plan to play all those guys."
For Logan, taking on a lesser role — even in practices this week, because other safeties needed more reps to prepare for the ISU game — has been "rough," the D.C. related.
For the Jayhawks (1-3, 0-1) missing one of their top defensive players for an entire half isn't exactly ideal, either.
"Obviously not having Kenny's a big blow," Borland said. "But when the second half rolls around, I'm confidently hopeful that we're going to be in the ball game and he's going to jump in there and play."
The D.C. noted it's not that he thinks the other three safeties can't be counted on in the secondary, but he'll be happy when Logan is back on the field after halftime.