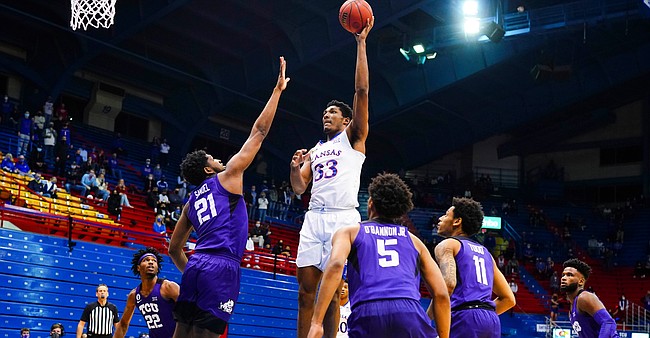 Kansas forward David McCormack was voted by the conference's coaches as the Big 12's Most Improved Player for the 2020-21 season.
McCormack is the second ever recipient of the newly created Big 12 postseason honor, and he was one of five Jayhawks to receive some love from the Big 12 coaches on Monday.
A junior from Norfolk, Va., who has started 27 games for the 11th-ranked Jayhawks, McCormack led the Big 12 with a shooting percentage of 53.6% in conference games.
He also ranks third in the Big 12 with six double-doubles and he reached double figures in scoring in 17 games, including 11 of the last 12.
After averaging 6.9 points and 4.1 rebounds per game in 18 starts last season, McCormack bumped his numbers to 13.1 points and 6.1 rebounds this season.
That was enough to land him a spot on the all-Big 12 second team, where he joined teammate Marcus Garrett.
"David definitely deserves that," Kansas coach Bill Self said Monday night on his "Hawk Talk" radio show with Brian Hanni.
Senior guard Marcus Garrett was a unanimous selection to the Big 12 all-defensive team. And he and McCormack received second team all-Big 12 accolades.
Junior Ochai Agbaji and sophomore Christian Braun received honorable mention nods. And redshirt freshman Jalen Wilson earned a spot on the all-newcomer team and also was a unanimous pick for the all-freshman team.
Monday's announcement marked the first time since the 1999-2000 season that the Big 12 coaches did not vote a Kansas player to the first team.
And it did not bother Self a bit.
"I thought it was actually pretty fair," Self said Monday night. "I think Ochai could have been on one of the teams and I think Jalen should have been honorable mention. … So I'm disappointed that didn't happen for Jalen, but, geez, that's not a big deal. He's going to have more opportunities in the future to do that."
Oklahoma State's Cade Cunningham (player of the year), Baylor's Jared Butler and Davion Mitchell, Oklahoma's Austin Reaves and West Virginia's Derek Culver were first-team picks.
McCormack and Garrett were joined by Andrew Jones of Texas, Mac McClung of Texas Tech (newcomer of the year) and Miles McBride of West Virginia on the second team.
And the third team included Texas guards Matt Coleman and Courtney Ramey, Texas Tech's Terrence Shannon, TCU's RJ Nembhard, Iowa State's Rasir Bolton and Baylor's MaCio Teague.
Baylor's Scott Drew earned the Coach of the Year honor. Coaches were not allowed to vote for their own players.
2020-21 All-Big 12 Team
(As selected by conference coaches; unanimous selection)
Player of the Year – Cade Cunningham, Oklahoma State (Fr., G)
Defensive Player of the Year – Davion Mitchell, Baylor (Jr., G)
Newcomer of the Year – Mac McClung, Texas Tech (Jr, G)
Freshman of the Year – Cade Cunningham, Oklahoma State (Fr., G)
Sixth Man Award – Kai Jones, Texas (So., F)
Most Improved Player – David McCormack, Kansas (Jr., F)
Coach of the Year – Scott Drew, Baylor
All-Big 12 First Team
Jared Butler, Baylor (Jr., G)
Davion Mitchell, Baylor (Jr, G)
Austin Reaves, Oklahoma (Sr., G)
Cade Cunningham, Oklahoma State (Fr., G)
Derek Culver, West Virginia (Jr., F)
All-Big 12 Second Team
Marcus Garrett, Kansas (Sr., G)
David McCormack, Kansas (Jr., F)
Andrew Jones, Texas (Jr., G)
Mac McClung, Texas Tech (Jr, G)
Miles McBride, West Virginia, (So., G)
All-Big 12 Third Team (tie in voting)
MaCio Teague, Baylor (Sr., G)
Rasir Bolton, Iowa State (Jr, G)
RJ Nembhard, TCU (Jr., G)
Matt Coleman III, Texas (Sr., G)
Courtney Ramey, Texas (Jr., G)
Terrence Shannon Jr., Texas Tech (So., G)
All-Big 12 Honorable Mention (Listed alphabetically by school): Mark Vital (Baylor), Jalen Coleman-Lands (Iowa State), Ochai Agbaji (Kansas), Christian Braun (Kansas), Mike McGuirl (Kansas State), De'Vion Harmon (Oklahoma), Isaac Likekele (Oklahoma State), Mike Miles (TCU), Greg Brown (Texas), Kai Jones (Texas), Jericho Sims (Texas), Kevin McCullar (Texas Tech), Sean McNeil (West Virginia), Taz Sherman (West Virginia)
Big 12 All-Defensive Team
Jared Butler, Baylor (Jr., G)
Davion Mitchell, Baylor (Jr., G)
Mark Vital, Baylor (Sr., G/F)
Marcus Garrett, Kansas (Sr., G)
Gabe Osabuohien, West Virginia (Sr., F)
Big 12 All-Newcomer Team
Jonathan Tchamwa Tchatchoua, Baylor (So., F)
Jalen Wilson, Kansas (R-Fr., F)
Greg Brown, Texas (Fr., F)
Cade Cunningham, Oklahoma State (Fr, G)
Mac McClung, Texas Tech (Jr., G)
Big 12 All-Freshman Team
Jalen Wilson, Kansas (F)
Cade Cunningham, Oklahoma State (G)
Mike Miles, TCU (G)
Greg Brown, Texas (F)
Jalen Bridges, West Virginia (F)