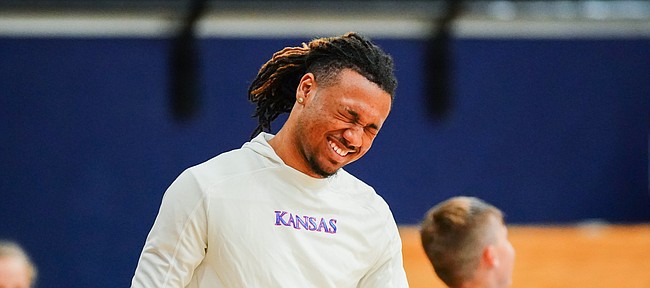 Topeka — With the soreness in his injured left foot dissipating, Kansas freshman point guard Bobby Pettiford experienced a different kind of pain on Tuesday, when the Jayhawks went through their first day of summer workouts with Pettiford as a bystander.
But even spectating wasn't all that bad for the KU newcomer, considering Pettiford already got cleared to ditch the walking boot that was a part of his wardrobe when he first arrived in Lawrence on Sunday.
"I'm good. It's still fun, because the energy level was so high. And I still get to lift (weights) with the team, except for certain squats and stuff like that," Pettiford said of joining the program in the midst of recovering from torn ligaments and a bone bruise in his left foot. "I feel like I can learn more, even by just watching certain things."
Speaking with reporters inside Lee Arena during a break while he worked at Washburn head coach Brett Ballard's basketball camp, Pettiford said Wednesday he thinks his foot will be back to 100% in about four weeks, but the exact timing will depend on how the bone bruising heals.
"I'm starting to get to catch and shoot. I'm just kind of getting my strength back," Pettiford said of the limited activities with which he's currently involved.
The young point guard from Durham, N.C., said he hurt the foot two and a half weeks ago, during a pickup run at Life Time, in nearby Raleigh. Pettiford estimated his left foot is at about 40% to 50% right now, but he can tell the pain is easing.
He got the injury treated at Duke Medical Center before having his first checkup since then earlier this week at KU.
"I had three torn ligaments, but that wasn't the worst part," Pettiford said. "The worst part was the bone bruising, like on the inside."
As eager as Pettiford is to join his new teammates in normal basketball activities, as he spoke with head coach Bill Self and the staff this week the incoming freshman began to understand patience will be the best policy for what comes next.
"The first game's in November," Pettiford said. "So we're taking it day by day."
For the time being, he's excited to be at least a little active. Pettiford said he can work on ball handling, some form shooting and other actions as long as he's not feeling any pain in his foot.
He just can't go through intense workouts or play five-on-five or be in situations where he's sliding defensively or going full out with the ball in his hands, and the like.
This summer, both before and after his foot is back to 100%, will be a crucial stretch for Pettiford. The 6-foot-1 guard from South Granville High (N.C.) said he weighs 195 pounds at the moment, but plans to be a "solid" 200 by adding muscle and getting stronger in his upper body before the season starts months from now.
"College is a different ball game. Them boys are 7 foot, 250," Pettiford said.
He feels as though he's well on his way to bulking up, too, considering this week he began lifting weights with one of his new roommates, KU veteran big David McCormack.
"Hold on, Dave. I just got here," Pettiford joked of what he had to tell the larger and stronger McCormack during one of their sessions.
The freshman point guard's substantial agenda for the offseason also includes preparing himself to thrive within KU's style of play, knocking down his 3-pointers and making sure he can get to his spots on the court.
And, with some improved strength of course, Pettiford wants to be a finisher in the paint as a guard, too.
"That floater's a killer in basketball," he said of one shot he hopes to perfect once he's back healthy.