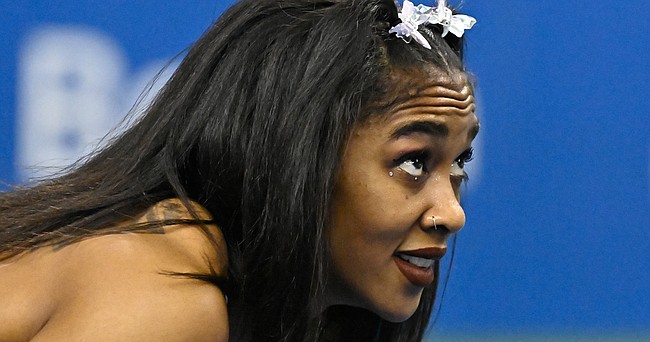 Despite being a debutant at the Olympics, Christina Clemons is already well known entering the track portion of this year's Olympic Games in Tokyo.
Clemons, a 31-year-old Olympic athlete and volunteer coach for the Kansas track and field program, became a fan favorite by wearing earrings shaped like miniature bags of Cool Ranch Doritos during the U.S. Olympic track and field trials in late June. She eventually qualified with a third-place time of 12.53 seconds in the 100-meter hurdles in Eugene, Ore.
Clemons, who actually bought the earrings in a mall the night before the event, was blown away by the reaction she received after the race. Her social media was as popular as ever, with people complimenting her choice of jewelry as much as her performance in the race.
"Anybody who knows me knows that I just like to have fun when I get dressed anyway," Clemons said. "When it comes to track, I don't change that just because I'm doing a sport. I just wore some Dorito earrings (because) they matched my uniform."
Within a couple days, someone within the Doritos company asked Clemons for her address. They then sent her two Cool Ranch Doritos bags with her face on them, one that included chips and one for just memorabilia. Clemons decided not to eat the chips, keeping both bags instead.
"I would have never imagined that," Clemons said. "It was a shock, and I was so excited about it."
It was honestly pure coincidence that this became as big as it did. Clemons wore cell phone-shaped earrings during her performance in the preliminaries. She then picked Cool Ranch Doritos for the biggest race of her pro career, simply because it went with her blue uniform.
But Clemons has been accessorizing throughout her track career. According to Clemons, her high school coaches at Westlake High in Waldorf, Md used to call her "pretty princess" because she would go to practice with her hair done to go along with an all-pink jumpsuit and earrings.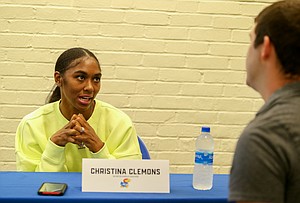 During a standout career for Ohio State University at the collegiate level, Clemons said she usually wore "Cheetah headbands" while competing in hurdles.
Clemons never put much thought into what she was wearing during a given race. A lot of her accessories were selected just before an event. It was just essential for her to wear something while competing to both express herself and send a message.
"I think it's important to be yourself," Clemons said. "I also think it is important to show your femininity in sports, especially to young girls who are looking up to us female athletes … You can still be feminine and cute while doing a sport."
Given how Clemons' career has gone since graduating from OSU in 2012, she deserves to have as much fun as possible while doing the sport she loves.
Clemons just missed out on qualifying for the Olympics in 2012, notching fifth in the finals of the U.S. trials that year. Her career was then derailed when she suffered a ruptured Achilles' tendon in 2013, and it has been a long road back ever since.
Following the first injury of her career, Clemons had to learn how to walk again before she ever thought about returning to hurdles. She was able to get back on the track, thanks to a commitment to physical therapy throughout the rehab process.
Then, this past year provided a whole different challenge.
Due to COVID-19, Clemons wasn't able to train with her coach in Montgomery, Ala. So she decided to move to Lawrence with her husband Kyle Clemons, who won gold in the 4×400 meter relay at the 2016 Olympic Games after a successful career at KU.
Kansas coach Stanley Redwine gave Christina Clemons the opportunity to serve as a volunteer coach this past year. It meant that Clemons could use the team's facilities while training for the Olympics.
"It has been a little different because I don't have a coach here," Clemons said of her training. "Ultimately, it's up to me to get it done. So, mentally, it can be a little tough, but I believe that it's caused me to develop my mental toughness."
It all worked out in the end for the talented hurdler. And Clemons doesn't mind that it took an extra nine years to get there.
"It makes it so much more special than I believe if I would have made the team in 2012," Clemons said. "It was like all of those years of disappointment and heartbreak and everything that I felt just came crashing down. It was like we finally did it. It meant so much to me."
Olympics schedule for Christina Clemons (100m Hurdles)
Friday, July 30 – Women's 100m Hurdles First Round (8:45 p.m.)
Sunday, August 1 – Women's 100 Meter Hurdles Semifinals (5:45 a.m.)
Sunday, August 1 – Women's 100m Hurdles Final (9:45 p.m.)