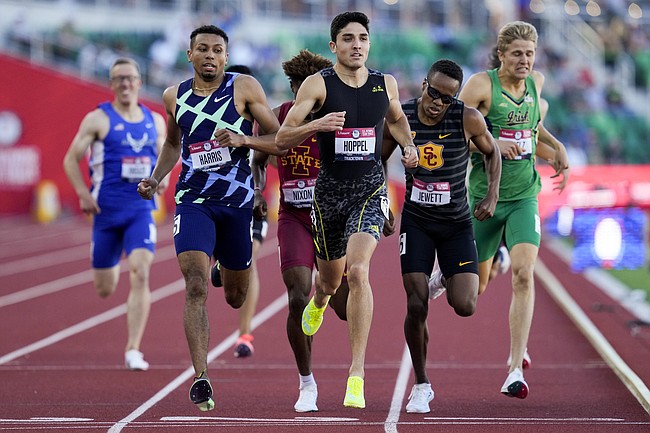 Five athletes with ties to the Kansas track and field program are slated to participate in this year's Summer Olympics in Tokyo, bringing pride to the KU program and head coach Stanley Redwine.
"I'm really excited for this moment because it's just, to me, a result of hard work paying off," Redwine said during a press conference in late June. "I think it's really good for KU when we have athletes and volunteer coaches that qualify for the Olympic Games. The amount of work that it takes in order to achieve that is really, really tough."
The Jayhawks slated to compete in Tokyo starting next week are: Mason Finley (men's discus), Bryce Hoppel (men's 800 meter-run), Gleb Dudarev (men's Hammer Throw), Alexandra Emilianov (women's discus) and Christina Clemons (women's 100-meter hurdles).
While the Olympics opening ceremony is set for 6 a.m. Friday — with a primetime television broadcast beginning at 6:30 p.m. — the track portion of the schedule won't take place until next week.
Finley, who is making his second trip to the Olympics, will be the first athlete from KU to compete. He will start with the men's discus throw qualification at 7:45 p.m. Thursday, July 29 in Tokyo.
Emilianov, Hoppel and Clemons are scheduled for their first action on Friday, July 30. Emilianov, who is representing Moldova, will compete in the women's discus qualification at 7:30 p.m. Hoppel and Clemons are slated to run their first-round races at 7:50 and 8:45 p.m., respectively. Dudarev, who qualified for Belarus, won't have his men's hammer throw qualification until 7 p.m. on Sunday, Aug. 1.
Redwine said that all of them have high expectations in their respective events.
"Everyone's thinking about medals, they're not thinking about (being) happy to be at the games," Redwine said. "That's kind of the way I think our coaches are preparing them and I think that's their mindset, so it's really exciting."
Finley is the lone athlete with experience in the Olympics after he made the finals of the Rio Olympics and eventually finished 11th overall in 2016.
Yet Redwine doesn't expect the inexperience to be an issue for any of the athletes because they all have competed on big stages before, including their respective Olympic Trials and international competitions in mid-June.
"I think the only pressure that they feel will be the pressure that they're putting on themselves," Redwine said. "I think, as a coaching staff, our job is to kind of help them to relax and be able to do what they do best."
Clemons, a former Ohio State track standout, is the only athlete who didn't actually put on a Jayhawk jersey at one point in her athletic career. Clemons, Hoppel and Finley all serve as volunteer coaches for the KU track and field team.
Many of the athletes and coaches will actually dress up in Kansas-related gear in Tokyo, which was shared to the public by KU track in a tweet on Monday. The Jayhawk logo is evident on all the different athletic shirts and polos.
KU track schedule at Tokyo Olympics
• Mason Finley (Discus)
Thursday, July 29 – Men's Discus Throw Qualification (7:45 p.m.)
Saturday, July 31 – Men's Discus Throw Final (6:15 a.m.)
• Bryce Hoppel (800 Meters)
Friday, July 30 – Men's 800 Meters First Round (7:50 p.m.)
Sunday, August 1 – Men's 800 Meters Semifinals (6:25 a.m.)
Wednesday, August 4 – Men's 800 Meters Final (7:05 a.m.)
• Gleb Dudarev (Hammer Throw)
Sunday, August 1 – Men's Hammer Throw Qualification (7 p.m.)
Wednesday, August 4 – Men's Hammer Throw Final (6:15 a.m.)
• Alexandra Emilianov (Discus)
Friday, July 30 – Women's Discus Throw Qualification (7:30 p.m.)
Monday, August 2 – Women's Discus Final (6 a.m.)
• Christina Clemons (100m Hurdles)
Friday, July 30 – Women's 100m Hurdles First Round (8:45 p.m.)
Sunday, August 1 – Women's 100 Meter Hurdles Semifinals (5:45 a.m.)
Sunday, August 1 – Women's 100m Hurdles Final (9:45 p.m.)