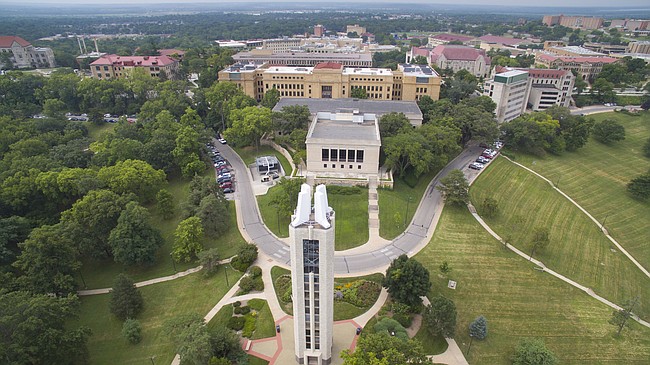 The names of 61 University of Kansas athletes appeared on the Big 12 Conference's 2020-21 Academic All-Big 12 Rookie Team, with 13 first-year Jayhawks earning a 4.0 grade point average.
KU had the third-most honorees in the Big 12, trailing Texas' 96 and West Virginia's 63.
The 13 KU freshmen who finished their first full years of college and competition with a perfect 4.0 GPA were: Angelina Arinze (track and field), Sophia Buzard (softball), Kara Church (swimming and diving), Kate Dreyer (soccer), Shira Elinav (soccer), Bradley Freidel (track and field), Kaitlyn Gee (softball), Lauren Gryboski (swimming and diving), Elise McGhie (volleyball), Molly Schultz (volleyball), Emma Steiner (rowing), Reis Vernon (football) and Kate Wienke (rowing).
The rowing team had a KU-best 13 athletes on this year's Academic All-Big 12 Rookie team, while the track and field team had 11.
Big 12 athletes are nominated for the honor by each institution's director of student-athlete support services. Honorees must be incoming freshmen who completed 24 semester hours of non-remedial coursework, while achieving a cumulative GPA of 3.0 or better. Plus, the athletes must have participated in at least one of their team's contests and been on the roster for the entire season.
Jayhawks on Academic All-Big 12 Rookie Team
KU baseball
Anthony Castonguay
Tavian Josenberger
Seth Sweet-Chick
KU men's basketball
Latrell Jossell
Gethro Muscadin
Bryce Thompson
KU women's basketball
Katrine Jessen
Mia Vuksic
KU football
Jalon Daniels
Ra'Mello Dotson
Luke Grimm
Karon Prunty
Caleby Taylor
Reis Vernon
KU men's golf
Davis Cooper
KU women's golf
Hanna Hawks
Joy Mannix
KU rowing
Cameron Boyd
Courtney Costain
Laine Draper
Mara Evans
Amber Haden
Kelly Hagedorn
Sydney Johnston
Natalie Seib
Emma Steiner
Tyler Tankersley
Stella Warren
Paige Wheeler
Kate Wienke
KU soccer
Mackensie Boeve
Kate Dreyer
Shira Elinav
Moira Kelley
Brie Severns
Avery Smith
KU softball
Sophia Buzard
Kaitlyn Gee
KU swimming and diving
Kara Church
Taylor Conley
Brooke Dalbey
Lauren Gryboski
Ellie Wehrmann
KU men's track and field
Bradley Freidel
Alvin Green
Douglas JaBrandion
Haakon Litland
Mackinon Mokoro
Cameron Wilmington
KU women's track and field
Angelina Arinze
Riley Colby
Kenadi Krueger
Hannah Robinson
Victoria Thomas
KU volleyball
Caroline Crawford
Ayah Elnady
Elise McGhie
Kaiti Parks
Karli Schmidt
Molly Schultz
Kim Whetstone