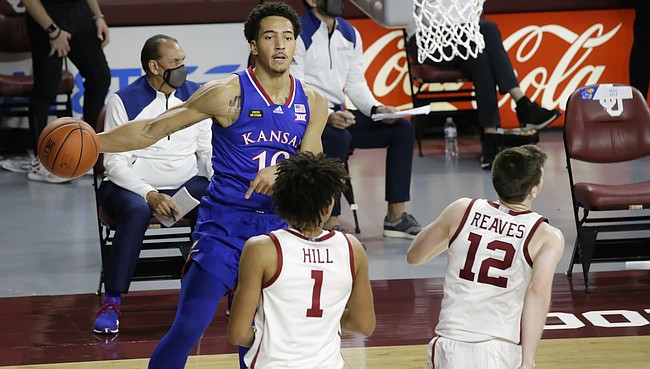 Round 1 of the John Guyer High reunion tour went to Jalen Wilson and the Kansas Jayhawks back on Jan. 9.
But Wilson's high school teammate, Oklahoma guard De'Vion Harmon, was the last one smiling on Saturday, after OU's 75-68 victory over No. 9 Kansas at Lloyd Noble Center in Norman, Okla.
For a while on Saturday, just after the jump, the KU-OU showdown was all about the two Denton, Texas, standouts, who combined to score 16 of the game's first 19 points.
Wilson scored eight of KU's first 11 points and helped the Jayhawks race out to an early 16-10 lead.
That included an easy layup right off the opening tip that gave the Jayhawks a 2-0 lead.
"When he got those two points, I was like, 'I can't let him start off easy,'" recalled Harmon of what sparked him in the early going. "I've got to get going.'"
The OU guard who led all scorers with 22 points backed up that thought by scoring Oklahoma's first eight points in helping the Sooners stay close during KU's hot start.
In his postgame interview with ESPN, Harmon said OU's mindset all week was about playing hard the way they did in a four-point loss in Lawrence two weeks ago.
"You know what KU can do," Harmon said. "They're a great team. Coach Bill Self has them guys on the top, and, for us, it was just about energy."
Although the possibility still exists that these two longtime friends could face each other one more time this season in the Big 12's postseason tournament, the head-to-head regular season matchup unofficially goes to Harmon. But just barely.
In two games against Wilson, Harmon combined for 31 points on 11-of-22 shooting (4-of-11 from 3-point range) along with seven rebounds and four assists.
Wilson, meanwhile, scored 22 points in the two games combined, on 7-of-11 shooting (4-of-6 from 3-point range) and also grabbed 11 rebounds and dished three assists.
Self gets a T
Kansas coach Bill Self was whistled for a technical foul midway through Saturday's loss after arguing a foul called against his team.
The foul came when senior forward Mitch Lightfoot went to the floor after a loose ball and landed on an Oklahoma player.
"Even though it may be a foul, you talk about bailing them out," Self said of the call that came with 1 second remaining on the shot clock. "I remember that play being called a little differently in another game that we had."
That came in KU's road loss to Oklahoma State, when KU freshman Bryce Thompson had an OSU player land on top of him during a scrum without being whistled for a foul.
Despite his frustration at the time, Self was not making any excuses after the game.
"Those things happen," he said. "And they especially happen on the road. And we've got to be tough enough to play through that."
OU guard Austin Reaves hit one of the two technical foul free throws to give the Sooners a 46-42 lead with 12:15 to play.
On the ensuing Kansas possession, Oklahoma was called for a body foul on a drive to the rim by KU senior Marcus Garrett.
Document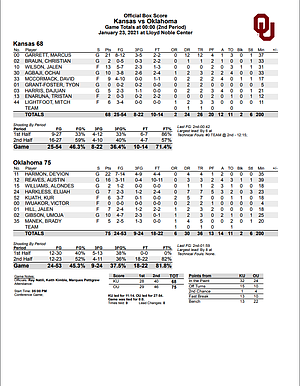 Record-setting semester
The Kansas men's basketball team's 3.44 combined grade-point average during the fall semester, breaking the program record of 3.31 set during the spring semester of last school year.
In all, KU's more than 500 student-athletes recorded a 3.31 GPA during the fall. That included 15 of the school's 16 varsity sports programs finishing above 3.0. Only the football team's 2.79 GPA fell below the 3.0 mark.
Self recently lauded his team's performance in the classroom, saying his players had taken advantage of being isolated because of the pandemic to focus on their studies.
And KU Athletic Director Jeff Long praised all of KU's student-athletes for their work in that department last semester.
"I continue to be astounded by our student-athletes' determination to achieve more academically." Long said in a statement. "I am so proud of their efforts as well as the support from our academic counselors, coaches and administrators."
This and that...
Saturday's loss snapped a three-game Kansas winning streak over Oklahoma. The Sooners have now won three of the last four games against KU inside Lloyd Noble Center... KU leads the all-time series with the Sooners 151-69, including a 20-20 record all-time at OU's current home venue... The Jayhawks are now 2-3 in true road games this season and 4-4 in games played away from Allen Fieldhouse... KU's 10-5 record is its worst through 15 games since starting the 2005-06 season with the same mark... Saturday's game marked the 62nd consecutive start of Ochai Agbaji's career.