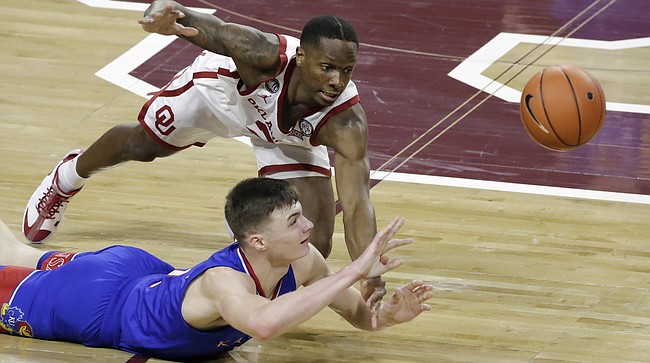 The ninth-ranked Kansas' basketball team dropped its third consecutive game on Saturday, falling 75-68 at Oklahoma to move to 10-5 overall and 4-4 in Big 12 play.
The loss dealt KU its first three-game losing streak since the 2012-13 season. And the 4-4 start is KU's worst in conference play since opening the 1988-89 Big Eight season at 3-8.
While there was some talk in the postgame press conference about how the Jayhawks let their latest game get away, the majority of the conversation was about the team's mental state, its psyche, and where the Jayhawks go from here.
Self shared a little of what he told his team about that during his postgame meeting with the media.
"The storybook season, as far as winning all the games and being a 1 or 2 seed, that's probably done," Self said. "What we have to create is a storybook ending. And that's still in play."
It won't come, of course, without some significant improvement.
And the strange thing about Saturday's loss at Oklahoma was that the Jayhawks actually showed improvement in two of the areas they were looking for it most.
After starting slow offensively in several games against Big 12 foes, KU drained six of its first 10 shots on Saturday to run out to a 16-10 lead.
Redshirt freshman Jalen Wilson scored eight of those 10 and looked to be headed toward an offensive breakthrough.
And senior Marcus Garrett, who Self said needed to shoot the ball more, did just that, knocking eight of 12 shots, including three of five from 3-point range, to lead Kansas with 21 points.
"Fortunately we had him today," Self said of Garrett. "Because if we hadn't, this would have been ugly."
But while those two improvements helped Kansas on the offensive end, the Jayhawks still had far too many lapses on the defensive end for them to matter.
"That was the difference in the second half," Self said. "We just didn't guard our man."
One such lapse came midway through the first half, when the Jayhawks went ice cold on offense — making just three of their final 16 shots of the first half — and watched Oklahoma rip off a 14-0 run that allowed the Sooners to claim control of the game.
"We went through a stretch where we didn't guard at all," Self said after the loss.
A similar stretch, late in the game, wound up spelling doom for the Jayhawks, who watched Oklahoma repeatedly force the switches they wanted — Self said OU is the best in the Big 12 at that — and then drove right to the rim for layups out of them.
Most often, that came with Wilson guarding the ball, so much so that Wilson was actually on the bench for much of the final two minutes, as Kansas tried to stage one last comeback.
"They were just spreading the floor and just trying to drive it downhill," Garrett said of OU's game plan. "I feel like there late (was when) it got away from us."
Garrett also noted that KU's early foul trouble in the second half, which put Oklahoma in the bonus with 14:20 still to play, contributed to KU's struggles.
OU made 18 of 22 free throw attempts on Saturday, compared to a 10-of-14 clip for Kansas.
Despite the sluggish stretch midway through the first half, the Jayahwks trailed by just one at halftime (29-28) and actually came out with some fire in the second half.
David McCormack, who was limited to 17 minutes after shooting 4-of-10 from the floor and missing several close ones inside, scored twice in the post to give Kansas a 32-29 lead. But Oklahoma responded with an 11-3 run to reclaim control.
Senior forward Mitch Lightfoot, KU's five-guard lineups and continued strong play from Garrett all gave Kansas a lift in the second half.
But none of that could overcome KU's defensive struggles with the game on the line. After falling behind 67-60 with 1:59 to play on a drive to the rim by OU's Umoja Gibson, KU never drew closer than four points the rest of the way. And that came when KU junior Ochai Agbaji, who finished with 10 points on 3-of-8 shooting, hit a 3-pointer on KU's next possession.
Document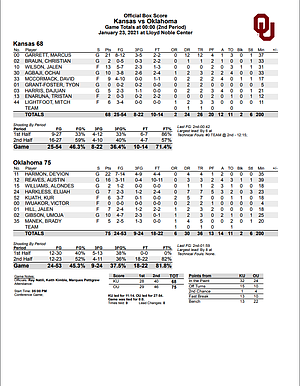 Six of Agbaji's 10 points came in the final two minutes, with KU running out of time.
Asked after the game what comes next for Kansas, which will play host to TCU on Thursday, Self took a literal approach to answering the question.
"Where do we go from here," he said, repeating the question. "Well, we go back to practice. We're just like 97% of the other teams in America. We've had a hard stretch, but, hell, we've played three road games, too, against three tournament teams."
Self made sure to point out, however, that even though he does not consider KU's recent losses to be bad losses, he does not deem them acceptable either.
"Before we play TCU, we definitely need to kind of stir it up and get our mojo back and play with energy," Self said. "We didn't not play hard. I don't think that's the issue. I don't think we played with the same energy that I would like and I don't think we played near as tough at game point as what I think we need. But I don't think it's broken. I do think that it certainly needs some repairing."
Garrett agreed.
"Basically, we have to come together," he said. "Something has to change. … I just know we have to get it together and I feel confident in us getting it together. We've got the best coach and he's going to make sure we're ready for our next game."