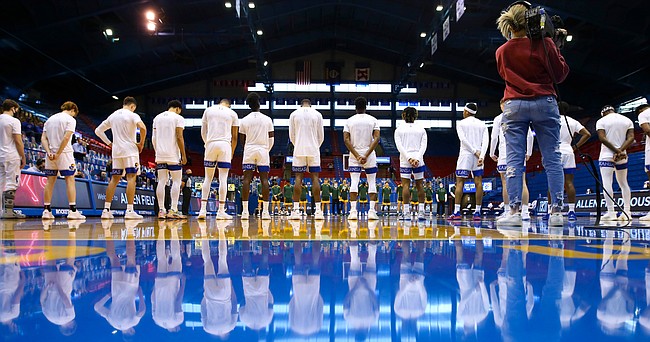 Two Kansas home games have been moved to Thursdays in the coming weeks.
The Big 12 Conference announced Thursday morning that KU's upcoming game with TCU at Allen Fieldhouse has been moved from Jan. 26 to Jan. 28.
In addition, KU's recently postponed home game against Iowa State, scheduled for Jan. 16, has been moved to Feb. 11. That change, provided the new schedule holds, sets up a rare set of back-to-back games between KU and Iowa State, with the KU-ISU game in Ames, Iowa, set for Feb. 13.
Both new Thursday games will tipoff at 7 p.m. and be shown on Big 12 Now via ESPN+, and both were rescheduled because of the impact of the COVID-19 pandemic on the TCU and ISU programs.
Iowa State paused all basketball activity on the night before its trip to Lawrence for a clash with Kansas. And TCU hit the pause button on Monday night when it was announced that Horned Frogs coach Jamie Dixon had tested positive for COVID-19.
Though not ideal to have an upcoming stretch of three games on Thursday, Saturday and Tuesday, between Jan. 28 and Feb. 2, KU coach Bill Self said he was not discouraged by the new dates.
"I think it's fine," Self said during his regular press conference Thursday. "I'm not going to complain about us having an opportunity to play this year, so I'm good with it."
The new schedule cuts down on KU's prep time for several of its upcoming games, but Self said both teams involved likely would be facing the same challenges and added that such adjustments have been common and necessary throughout college basketball this season.
"Everybody's going to have to do some things this year that's a little bit out of their comfort zone," Self said. "When you look around America, some teams are playing games coming off of not practicing for a week. So long as we stay healthy, I'm just happy to be getting the games in."