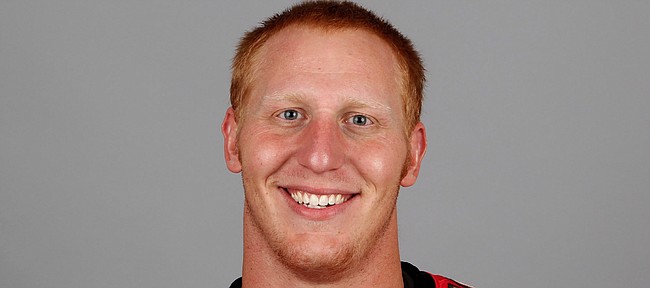 The newest assistant on head coach Les Miles' Kansas football staff, offensive line coach Lee Grimes signed a contract that could potentially keep him with the Jayhawks through the 2026 season.
The former O-line coach at Charlotte, Grimes' deal with KU is guaranteed for the first two years — covering the 2021 and 2022 seasons — and KU holds an option on each of the four years that follow.
The contract, which Grimes signed on Dec. 20, 2020, will pay him a base salary of $175,000 a year throughout the deal, even in the option years.

If at any point while he's under contract Grimes wanted to leave in order to take another job, the buyout would be expensive. KU Athletics would be owed $350,000 — the equivalent of two years of Grimes' salary — for another school to hire him away while he's under contract.
The only (a word typed in all capitals for emphasis in the contract) way Grimes could leave KU without a buyout would be if he was hired as the head coach of an FBS program.
The contract also says Grimes would need to get permission from KU for him or his agent or representation to discuss a job opening with another NCAA football program.
Just like other assistants on Miles' staff, Grimes has non-cumulative incentive bonuses in his contract tied to the KU program's theoretical postseason success. Each potential bonus amount is below and would be worth the listed percentage of his yearly base salary:
• 5% if selected for any bowl game or
• 7.5% for any bowl game win or
• 10% if selected for a New Year's 6 bowl game or
• 15% for a New Year's 6 bowl win or
• 15% for making the college football playoff or
• 20% for one college football playoff win or
• 25% for winning the national championship.
Additionally, there is a 5% bonus payment for KU appearing in the Big 12 championship game — regardless of the outcome.
Should KU decide at some point during Grimes' tenure to fire him without cause (a route KU took with former O-line coach Luke Meadows in November of 2020), he would be owed the remainder of his salary. Under the contract's structure the only way he could be owed more than the remainder of one year's pay was if KU fired him in the first year of the deal — the only period with more than one year guaranteed.
If KU had cause (misconduct of some sort) for termination, Grimes would not be owed any money beyond the day he was fired.