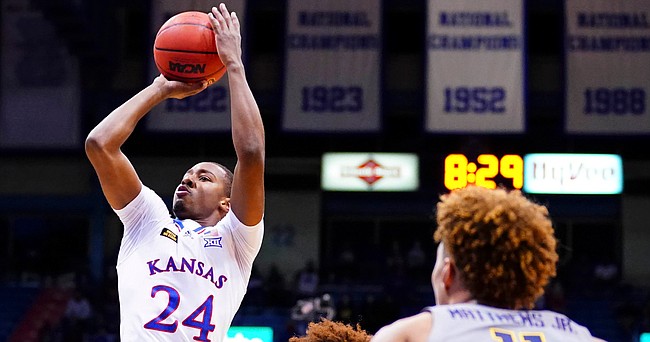 Kansas freshman Bryce Thompson has started practicing again.
Sidelined for the past several weeks and all but one of the Jayhawks' past 11 games, with back and finger injuries, Thompson is nearing a return to the court and could play as soon as Thursday against Iowa State.
"I don't know that this will be the case, but I'm hopeful Bryce will be back," Kansas coach Bill Self said on his "Hawk Talk" radio show on Tuesday night. "I'm hopeful we can get him in there. He'll give us some good minutes and he'll take some pressure off Marcus (Garrett) as well, as far as having to dribble it up every time and initiate (offense)."
Self said Thompson, who broke his right index finger in KU's loss at Oklahoma State on Jan. 12, practiced for the first time on Tuesday and was "full speed" while doing so.
Doctors, including a hand specialist, have determined that Thompson is ready for a full return. At this point, it's simply a matter of how quickly Thompson can feel like himself again on the court.
"It's stable where he can go," Self said of the injured finger. "It's another thing to be stable where he can go and be confident he can go as opposed to being worried that it doesn't feel right so therefore you can't have total range of motion because you are nervous it's going to hurt."
Self said he expected Thompson to be somewhat hesitant when he does return, adding that it's human nature for an athlete to favor an injury immediately after returning from being sidelined.
That, Self said, will get better with time. One thing he's not worried about is Thompson being in good enough shape to play again.
"I think it's safe to assume his conditioning is not awful," Self said of the 6-foot-5 freshman from Tulsa, Okla., who has appeared in just 10 games this season. "He does extra running on his own, works out on his own, does all this stuff (involving) individual improvement. It's a totally different deal being in game shape. Bryce is a well-conditioned guy. I don't think he'll be able to play 10 minutes at a time. I do think he's certainly in good enough shape to give us substantial minutes."
That's the hope in Self's mind, as Kansas has struggled to get much in the way of consistent production from its bench throughout the season. Before the injury, Thompson had emerged as KU's sixth man and was just starting to find his rhythm.
"I really think Bryce would have a great chance to be playing 20, 25 minutes a game if he'd never gotten hurt," Self said. "I think he'd be that. We'd see a different guy. He'd have total confidence he could play, not worry about screwing up as opposed to having a free mind and play."
Self said that last part contributed to the former five-star prep standout's slow and steady adjustment to the college game.
"He's still trying to please the staff, still trying to please me and still trying to figure out how to play his game while he pleases me," Self said. "That creates some indecision. When there's indecision he's not playing with confidence as much. I probably didn't roll with him as much as if we played some buy games. We didn't. Our schedule was hard."
And in some ways, the hardest part of it is still ahead. After three games against Iowa State and Kansas State in the next week, the Jayhawks finish the regular season with three teams ranked in the top 13 and then move on to the postseason.
Self believes that's still enough time — and incentive — for Thompson to come back strong and play a key role in how this team finishes and is remembered.
"It's been tough," Self said. "But he can finish strong. I met with him (Tuesday) and we talked about that. He has anywhere between eight (and) 14-15 games (remaining) depending how things go. He's played in 10 now. He still has a chance to have maybe 60% of a season left.
"I hope he's healthy enough he can contribute and play well because we need him to. We need him out there to buy some time and also to contribute to us being better. He's quick, a good athlete, can handle the ball, a good passer. As he feels more comfortable, he'll knock down shots."
Self added: "We'd be a better team if we could play our bench more, but we've got to win the game. I asked our staff, 'Do we play (the bench) midway through the second half (Monday against Oklahoma State) to try to get guys rest?' They said no because we had a drop-off. I don't think it should be that way. Mitch (Lightfoot) has been pretty solid. We've got to get the others just coming in and stabilizing us. I think Bryce will do that."
KU and Iowa State are scheduled for a 6 p.m. tipoff Thursday night at Allen Fieldhouse in the first of two games against each other this week.