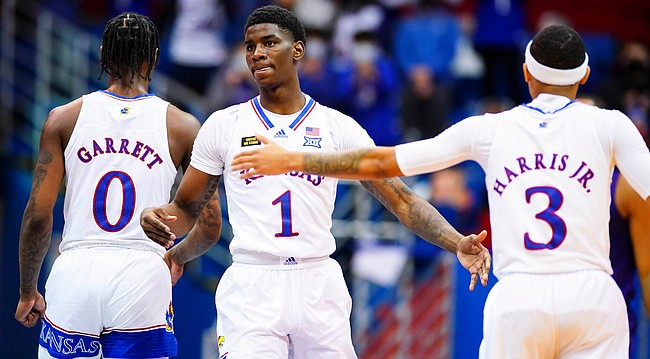 When you've been at a place as long as Bill Self has been at Kansas, it's hard to find things you haven't done or experienced.
But one such adventure is on deck for Self and the Jayhawks, who will play Iowa State in back-to-back games later this week, Thursday at home (6 p.m. on ESPN) and Saturday in Ames, Iowa (2 p.m. on ABC).
"We're playing them back to back, so I better like it," Self said Wednesday. "Our players better like it and embrace it. And I'm sure we will."
Technically, this will mark the third time that a Self-coached Kansas team has played the same team in back-to-back games. But it will be the first time they've done it in the regular season and in a three-day span.
The only other times it has happened came at the end of the 2003-04 season (Self's first), when KU played, and defeated, Missouri in the final game of the regular season and the opening game of the Big 12 tournament, and at the end of the 2017-18 season, when KU avenged the only regular season sweep suffered by one of Self's Kansas teams by knocking off Oklahoma State in the Big 12 tournament five days after losing to the Cowboys in the regular season finale.
Self said Wednesday that he's not exactly a fan of the idea of playing the same team so close together. But he quickly added that doing it this season was not something he would complain about. As he has said all along, playing amid the COVID-19 pandemic requires players and coaches to be prepared to roll with the punches.
Self does not see any real on-court advantages or disadvantages to playing back-to-back games against the same opponent.
"The team wins the first game is guaranteed a split," he joked. "So, to me, the team that wins the first game has the advantage.
"It'll be a little bit like an NCAA Tournament (setting) except you've got to drive four-and-a-half hours in between sites," he added. "That does stink. But, hey, both teams are playing on the same guidelines, so I don't think it'll be that big a deal."
Asked if there was any talking, considering the pandemic, about playing both games at the same site so both teams would have to travel, Self said he had not heard anything about that being discussed.
"The league never brought that up," Self said. "I don't think either school or athletic director or coach would go for that at all. I don't think that would be that would be a level playing field at all. So that was never talked about."
One advantage that players on both teams will have is the fact that their week will be made easier by being able to focus on the same personnel and similar scouting reports for two consecutive games.
Self and ISU coach Steve Prohm surely will make small tweaks to the game plan between Thursday and Saturday. But with the quick turnaround, there won't be much time to make wholesale changes if needed.
"We'll know them really well going into the second game," sophomore Christian Braun said Wednesday. "You're going to know everything that they're going to do, and there's going to be stuff that's tough to execute. I think defense is really going to matter. You've got to make them play bad, and whoever's the team that's ready to play both games will win."
Added redshirt freshman Jalen Wilson: "Playing the same team twice is always tough, no matter what. So we're just going to have to be focused and locked in on both ends. If anything, we'll just be more familiar with their plays, their players, how to scout them and just what they do."
Those things have changed quite a bit since the mid-January, when the Jayhawks first were supposed to host the Cyclones at Allen Fieldhouse.
COVID-19 issues within the ISU program forced that game to rescheduled to this week, and the Cyclones, who have yet to win a Big 12 game this season, have been much more competitive in the past couple of weeks.
"I actually think they're better than they've been at any time this year," Self said of the 2-12 Cyclones. "You look at their last three games, I think their scores certainly indicate that they're playing better. And they've got their full complement of guys. They've been hit pretty hard by the COVID situation."
In the three games Self reference, Iowa State lost by three to TCU, seven to No. 9 Oklahoma and four to No. 17 West Virginia.
Two of those three programs boast recent wins over the Jayhawks, who enter this one unranked and at 13-7 overall and 7-5 in Big 12 play.
"It's coach speak, but really (these are) the two most important games (of the season) because it's the next two games," Self said. 'But I think it adds value that it's the same team back to back."
KU leads the all-time series with Iowa State, 184-66, including a 95-16 in games played in Lawrence and a 54-10 mark in Allen Fieldhouse.
Probable Starters
Kansas (13-7, 7-5)
G – Marcus Garrett, 6-5, 195, Sr.
G – Ochai Agbaji, 6-5, 210, Jr.
G – Christian Braun, 6-6, 205, Soph.
G – Jalen Wilson, 6-7, 190, RS-Fr.
F – David McCormack, 6-10, 265, Jr.
Iowa State (2-12, 0-9)
G – Rasir Bolton, 6-3, 185, Jr.
G – Jalen Coleman-Lands, 6-4, 187, Sr.
G – Jaden Walker, 6-1, 196, Fr.
F – Javan Johnson, 6-6, 205, RS-Jr.
F – Solomon Young, 6-8, 255, RS-Sr.