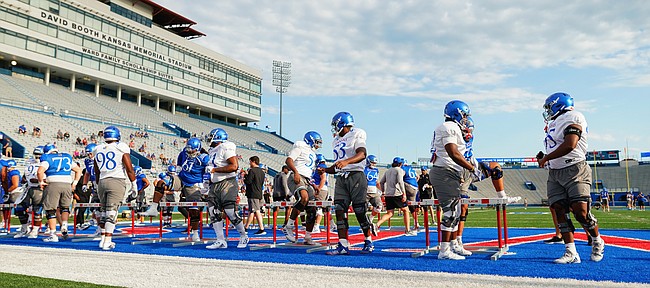 It's nearly game week for the Kansas football team and head coach Lance Leipold. But before those final days of preparation for the opener get here, Leipold and his staff have a few things they want to get accomplished.
The Jayhawks' head coach described what they're doing this week as methodically chipping away.
During practices they're looking at specific situations they might find themselves in on a game day this fall, and it goes beyond certain downs and distances for the offense and defense, and hitting on all the details of their special teams units. Leipold said this home stretch of the preseason also includes perfecting the mechanics of how the team operates on the sidelines, from headsets for the coaches to substitution packages.
"All those little things. And we'll continue to do that through the rest of this week," the coach said on Tuesday.
When Sunday arrives, Leipold added, the Jayhawks will turn their complete attention to their Friday, Sept. 3 season opener and installing the game plan for South Dakota.
With classes starting on campus this week, marking the end of the team's 15-practice camp, the coaches and staff also are introducing the players to how their weekly schedules will operate this season.
The time coaches are allowed to spend with the players dropped down to 20 hours this week, too, with the start of the fall semester. Accordingly, the extra time coaches had with the Jayhawks during afternoons and evenings the past few weeks is cut back and practice time is condensed.
This week, Leipold said, because the staff is now operating within the parameters of its in-season model, there is more time for coaches to review and install. He said video review of the morning's practice takes up the afternoon for the staff, and then most of the evening they are finalizing what will be worked on the next morning at practice.
At the University of Buffalo, where Leipold worked for the previous six years, fall semester classes don't start quite this early. So the new coaching staff is losing some of the extra teaching time — through more available camp hours — that Leipold and his former UB assistants are used to.
"And you know what we're up against as far as getting things done," Leipold said of having the team fully prepared for its season debut. "But I think our guys have done great, our coaches have been outstanding as far as getting this done in a timely manner for what they can handle. And now we just have to keep working as we get ready to install these game plans, and you've got to continue to work heavily on fundamentals."
The new staff members, of course, took over at a less than ideal time, coming in just after the Jayhawks completed their spring practice schedule. So the offseason they've spent with the players seems even more condensed.
Offensive coordinator Andy Kotelnicki said it feels a little to him like back when he played high school football or was coaching at the Division III level and basically had two weeks to get ready to play a game.
"Certainly excited to play," Kotelnicki said. "Wish you had more time to continue to do things with them. But we also do all this training to play those games."
D-line options
Just because a player on the KU football defensive line is labeled a tackle or end, it doesn't mean that will limit where he lines up this season.
KU D-line coach Kwahn Drake, when asked if former Buffalo D-linemen Eddie Wilson and Ronald McGee will line up next to each other on the interior of coordinator Brian Borland's base 4-3 defense, said they wouldn't be limited.
"Based on different packages and personnel, we have a multitude of (options) that will switch different guys up," Drake said.
In some packages, he said, an end might line up inside or a bigger, athletic tackle could line up wide.
"We like to train the guys across the board so that as injuries happen and things happen we can make adjustments," Drake said.
Bills sign Sims
Two days after getting released by the team with which he spent the past two seasons, former KU football receiver Steven Sims Jr. found a new NFL home with the Buffalo Bills.
Sims, an undrafted free agent in 2019 following a four-year career with the Jayhawks, spent the past two years with Washington before he was released.
The Bills announced Sims' signing on Wednesday. A returner and primarily a reserve receiver with Washington in 2019 and 2020, Sims joins the Bills with 61 career receptions, 575 receiving yards and five touchdown catches.