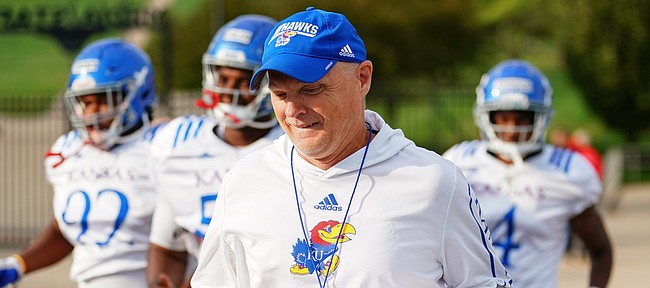 In just a few weeks, Kansas football head coach Lance Leipold and the assistants he brought with him from Buffalo will lead the Jayhawks into a Big 12 Conference game for the first time.
Defensive coordinator Brian Borland expects the new staff members will be abundantly prepared for their first taste of what the league has to offer.
"Honestly, we had every Big 12 opponent watched before we showed up here," Borland said of the scouting work he and other former UB assistants did to familiarize themselves with the Big 12 as they left the MAC behind.
"Since we've been here, over the summer as a staff we've watched every opponent throughout," Borland said of their further offseason preparation, which included putting together preliminary game plans and scouting reports for the Jayhawks' Big 12 slate and three nonconference matchups.
Asked during KU football's media day earlier this month whether he would tailor his defensive approach to the types of offenses the Jayhawks will see in the Big 12, Borland said the preseason had more to do with what his players needed to master right now.
Borland didn't think preparing defensive play calls in August for a team KU will face in October was the proper approach.
"We're really still trying to put together the basics of the defense we're trying to run here as a core," he said.
Although Borland spent the past several years at Buffalo preparing for MAC opponents such as Miami (Ohio), Bowling Green, Kent State and Toledo, Leipold's longtime defensive coordinator doesn't expect the Big 12 slate ahead will include vastly different styles and schemes than what he's used to seeing.
"It's just probably a higher caliber of person doing it," Borland said of the quality of athletes that play for Big 12 offenses.
While Borland utilizes a 4-3 base defense, there is some adaptability within the scheme. KU linebackers coach Chris Simpson, who worked with the D.C. each of the past six seasons at UB, explained that Borland's defense includes sub-packages, so the Jayhawks won't have to stay in a seven-player front when taking on an offense that spreads the field.
"We're going to get the best guys on the field to help us in the situation that we're in," Simpson replied, when asked how realistic it is to use a seven-player front and only four defensive backs versus some Big 12 offenses.
"Whether it's schematic or personnel wise, we always want to have options and answers for things like that," Simpson said.
As the revamped staff prepared this offseason, Borland said the coaches who were retained from the Les Miles regime proved to be "very helpful" as he went through the process of putting together those preliminary scouting reports and game plans for Big 12 opponents.
Leipold's defensive staff includes holdovers in cornerbacks coach Chevis Jackson, defensive line coach Kwahn Drake and defensive ends coach Jake Schoonover (who was hired by Miles early in the offseason), as well as former safeties coach Jordan Peterson, who is now a senior defensive analyst.
"They know about players and know about even coaches sometimes," Borland said.
KU's new D.C. also found himself "really impressed" by the analysts and quality control staff members within the program, and said that's been one of the perks of working at the Power Five level, where budgets and staffs are larger than what he's accustomed to.
"And what they do, the in depth-ness of what they do and the information they can provide, some of the minute details of things, and about opponents has been really outstanding," Borland said. "I'm really going to rely on those guys."