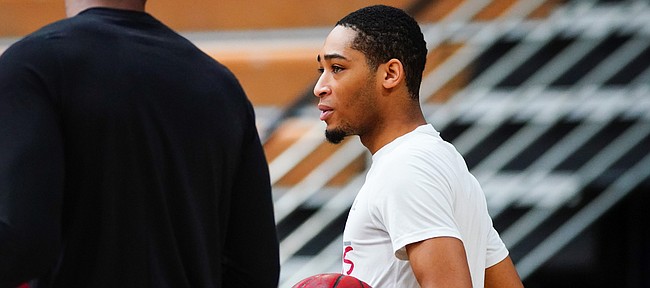 If Kansas point guard Dajuan Harris had it to do over again, he would start his first season as a Jayhawk the way he finished it.
"I feel like I could play way better than I did last year," the third-year sophomore recently said during a break at Brett Ballard's Washburn Basketball camp earlier this summer in Topeka. "I should've been more aggressive (earlier) instead of waiting until later in the season."
While that delayed aggression kept Harris from having a bigger role in the rotation earlier in the season, it also provided an easy blueprint for what the Columbia, Mo., native needed to work on in the offseason.
So far, things appear to be going well.
"Dajuan's just done fantastic," KU coach Bill Self recently told the Journal-World. "He (looked) good in his spring drills, he's getting more aggressive, more confident and I thought he had a great finish, a great last month of the season, for us. He's going to continue to grow and get better."
The growth part of Harris' development is both figurative and literal.
Harris recently made it clear that the KU coaching staff has pushed him hard to add bulk to his frame in the offseason. But the idea of getting physically bigger is only part of the equation.
The KU coaches also want Harris to grow mentally, using his skill set and quickness to be more consistent from game to game and week to week.
When the 2020-21 season ended, Harris was the only point guard on KU's roster who was slated to return. Since then, Self added commitments from Arizona State transfer Remy Martin and Drake transfer Joseph Yesufu and also signed prep guards Bobby Pettiford and Kyle Cuffe Jr.
All four newcomers can play point guard, but Self said their presence would not impact the role he envisions for Harris in any way.
"No matter what, he'll play the same minutes, I'd think," Self told the Journal-World.
How many minutes that will be next season remains to be seen. Last season, Harris averaged 16 minutes per game while playing in all 30 of KU's games.
That number ballooned to 29 minutes per game during KU's final four games of the season — three of which came in the postseason — and Harris' two most notable statistics from the 2020-21 season were his 64% 3-point clip (in just 14 attempts) and his 5.5 assists-per-40-minutes average, which speaks to his ability to make plays for others.
While no one is expecting Harris to replicate those numbers exactly, Self said the opportunity to do so should be there even with all of the new additions.
"He's a guy that if he starts, great, if he doesn't start, you know whatever," said Self of Harris' mentality about a starting role. "But he's a guy that is going to be a contributor as long as he's here. The better the players we have out there the more effective Dajuan can be."
Harris said he believes he has what it takes to be a starter at Kansas. But he's far more concerned about helping the team win and improving than where and when his minutes come.
"If I just lead and be aggressive all the time, I'll be good," he said. "(Self's) been telling me like every workout every day to be aggressive and that's what I've been doing. If we need some energy, I just bring the energy. I just want to win, you know. Win for my teammates. So, I play for them."