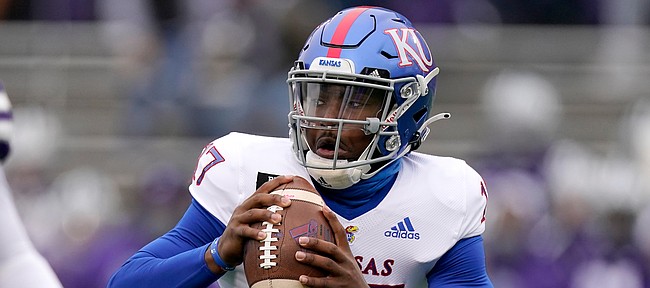 In the early stages of what very well could be a lengthy quarterback competition for the Kansas football team in 2021, a number of contenders are getting their chances to make their case for the job.
Sophomore Jalon Daniels, who started in six of nine games for the Jayhawks in 2020, said following the team's fourth spring practice that he and other QBs are rotating in and out to get reps, and working with a variety of teammates in the process.
"We're all switching," Daniels, the first QB to speak with the media this spring, told reporters on Thursday night. "Every single day at practice, switching ones, with the twos, with the threes," he added, referencing the first, second and third team groupings.
Interim head coach Emmett Jones, who last was made available for a media session on March 30, following spring practice No. 1, described the team's QB situation as "an all-out race" with "seven guys out there competing."
The three names that have been brought up by players most often so far during interviews this spring are Daniels and seniors Miles Kendrick and Miles Fallin.
True freshmen Conrad Hawley and Ben Easters also arrived at KU early this spring, each hoping to work his way up the depth chart.
And depending on everything that happens between now and the start of the season in September, former North Texas starting QB Jason Bean, who will transfer in this summer, could potentially end up beating out everyone else.
"Hey, whatever happens happens," Daniels said, when asked whether the competition might last into August and preseason camp. "It's in the coach's decision and I trust them to make the right decision. It doesn't matter who becomes QB No. 1. We're all going to push each other as if we're QB No. 1."
In the meantime, Daniels said he and other QBs who are on campus right now are getting chances to take reps with the first team during practices.
"We're all going to get the same amount of reps and we're all going to keep working every day," Daniels said.
Daniels, who started as a true freshman before turning 18 during the season last fall, is going through spring practices for the first time.
The 6-foot, 203-pound QB from Lawndale, Calif., said a lot is being thrown at him, especially with a new offensive coordinator, Mike DeBord, coming in since the conclusion of last season.
"But it doesn't matter. I feel like it's all the same as fall camp," Daniels said of the ongoing QB race. "All the quarterbacks are pushing each other, just like Thomas MacVittie and Miles Fallin and Miles Kendrick did last season."