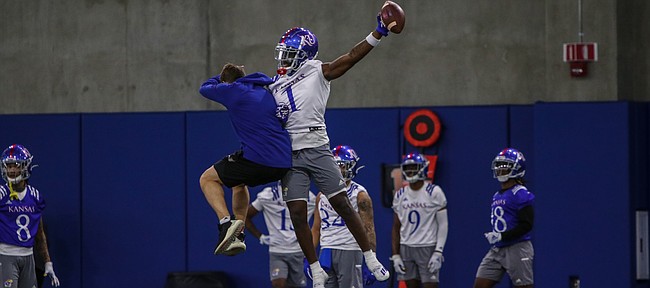 Now a junior on the Kansas football roster, Kenny Logan Jr., one of the Jayhawks' breakthrough contributors on defense in 2020, is currently experiencing spring practices for the first time in his college career.
The Jayhawks didn't get any springtime sessions in a year ago, due to the pandemic, and Logan was still a high school senior in Florida when the Jayhawks had spring ball in 2019, ahead of his freshman year.
"The first couple of practices have been kind of fun," Logan told reporters on a video conference call Thursday night, following KU's second practice under interim head coach Emmett Jones.
"We've been out there having a lot of energy. Guys flying around," Logan reported. "Just happy to be back on the field, happy to be back on the green grass with our brothers. So we're out there competing every day."
The closed practices, according to Logan, have been characterized by competition.
When asked to identify some of the Jayhawks who have been "flying around" and making plays, the junior defensive back rattled off the names of several young defensive players: redshirt freshman cornerback Ra'Mello Dotson, freshman safeties Jayson Gilliom and O.J. Burroughs, freshman cornerback Jacobee Bryant and redshirt freshman defensive lineman Caleb Taylor.
"All of those guys are coming in, pushing, working hard every day, trying to get better," Logan said. "That's definitely promising for the future."
A super-senior who returned to KU for an extra year thanks to the NCAA's blanket waiver that provided all players with another season of eligibility, Nate Betts has moved from safety to linebacker this year.
Betts said he has been encouraged by the energy the defensive players are bringing to practices early on this spring.
"Everybody's around the ball. We're getting turnovers," Betts said. "That's the main thing that stands out."
Even though both Betts and Logan were upbeat, Logan didn't think he had witnessed anything so spectacular that he would consider it a memorable highlight.
"Not yet. Not yet," Logan said with a smile. "It's still early."
The Jayhawks will have the weekend off, coinciding with the holiday. When Jones wrapped KU's second of 15 practices, Logan said, the coach's message involved the work still ahead of them.
"Continue to keep pushing forward," Logan shared. "We're not where we want to be yet. This is just the beginning. Keep having energy and keep making plays."
Offense in early stages of install
KU junior center Colin Grunhard, who just joined the Jayhawks as a graduate transfer from Notre Dame this semester, provided an update on the Jayhawks' offenses after practice No. 2.
He described the system being put into place by new coordinator Mike DeBord as "a great scheme."
"We've only gone through our first three installs," Grunhard shared. "It's a great offense, very similar to what I'm used to — it's a pro style offense."
Without giving away too many details, Grunhard said KU's quarterbacks can "make some great reads" in the offense, which also sets up offensive linemen to execute double team blocks.
"It's a lot of fun to play in," Grunhard attested.
Additionally, the veteran O-lineman said KU's new O-line coach, Lee Grimes, is introducing techniques that fit in with DeBord's system.
"It's been all good so far," Grunhard said. "We're just ready to put some pads on."
That will come beginning next week, when the Jayhawks are scheduled to practice on Tuesday, Thursday and Saturday.
Jones still working with WRs
While Jones has a lot more on his plate this spring than he did during his first two years at KU as an assistant, the interim head coach said this week he still works with the Jayhawks' receivers.
While other responsibilities come with the territory of being in charge of the whole program, Jones said he still meets with KU receivers in the class room like usual and still goes over fundamentals with them on the field.
"That's like my baby right there," Jones said of working with the receivers, "so it's hard to let that go."
During practices, Jones said, he is able to branch off and observe other position groups and leave the receivers working with another assistant as he handles head coaching duties.