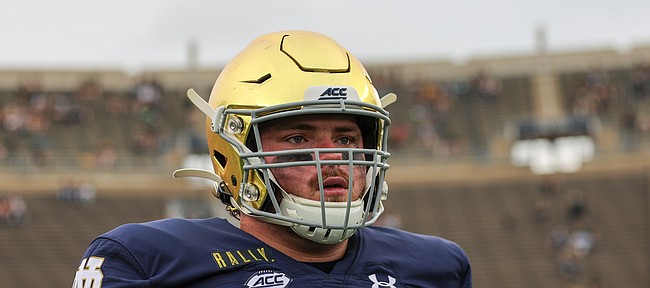 When Colin Grunhard was a freshman at Notre Dame, the Fighting Irish were coming off a 4-8 season — a disaster by that program's standards. Now the offensive lineman is at KU, where 4-8 would be viewed as progress, and Grunhard is hoping to bring some of his former team's winning mentality with him to Lawrence.
A walk-on at Notre Dame, Grunhard saw firsthand what it took for the Irish to go 43-8 under head coach Brian Kelly over the course of the previous four seasons.
"Everything matters. The little things matter," Grunhard shared Thursday night during a video conference call with reporters, following the KU football team's second spring practice.
A 6-foot-1, 290-pound grad transfer with two years of eligibility remaining, Grunhard said whether it's a workout in the weight room or finishing a block on the field, he learned at Notre Dame that a zeroed in approach makes a difference.
He said that requires players "at all times, no excuses, just doing what's required of you."
A former standout high school center at nearby Bishop Miege, Grunhard played in three games as a reserve for Notre Dame (10-2) in 2020. But he figures to make much more of an impact for the Jayhawks, who started four different players at center during an 0-9 season a year ago.
"My only job here is to help KU win," Grunhard said, downplaying his role. "If I can help KU win in some way, I'm going to do it. I'm looking forward to it. We have a long spring season ahead of us."
In part, Grunhard chose to join the Jayhawks because he's working on his MBA and he wants to find a job in the Kansas City area when he's done with school. But he also thinks he can help KU win.
"That's my only job," he said. "I don't care if it's starting, or if it's a backup or if it's in the stands. My only job here is to help KU win."
Though he said leaving Notre Dame behind for a new team wasn't easy, Grunhard also was looking forward to a change.
"The guys around here made it a lot easier," he said. "The O-line are all great guys. Quarterbacks, running backs, wide receivers, D-line, everyone's been accepting and great teammates so far."
The transition also was eased due to Grunhard having high school friends from the Kansas City area who are at KU. Plus, he was plenty familiar with Lawrence already.
Colin's father, Tim Grunhard, who played at Notre Dame from 1986-89 and started for Notre Dame's 1988 national championship team, was an assistant at KU from 2012-13. Back then, the younger Grunhard said, the family had a condo in Lawrence.
"I was up here almost every weekend in the fall," he said, adding the family used to go to KU basketball teams, too.
"It's been a great transition so far," Grunhard shared. "Having a lot of fun and looking forward to keeping this spring going."
Throughout his first interview since joining KU football this semester as a mid-year transfer, Grunhard brought up "the little things" and lessons he learned while playing at Notre Dame.
When he was part of that nationally renowned program, Grunhard said he saw that the "biggest" changes begin in the weight room. And according to the Jayhawks' newest center, since Grunhard got to KU he has seen that type of work being accomplished with the help of strength coach Ben Iannacchione.
"We're working out hard. When we're running, we're running hard," Grunhard said. "Everything matters."
That "everything," he pointed out, even includes how the players treat their shared space in the KU football locker room. Grunhard said the Jayhawks are stressing the importance of keeping their lockers clean, an example of another "little thing" being emphasized by interim head coach Emmett Jones and the staff.
"Everyone's just working on getting better one day at a time," Grunhard said. "For me, that's what I'm focusing on."