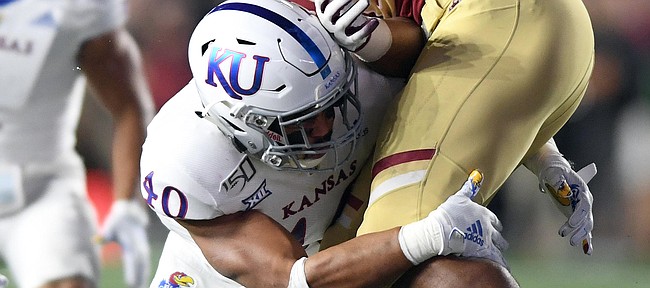 Dru Prox doesn't know exactly when or how it happened, but the Kansas linebacker remembers vividly the surge of emotions that accompanied the season-ending shoulder damage he suffered in the Jayhawks' Big 12 opener nearly a year ago.
"Pain. I was very upset," Prox recalled. "I was very mad that happened when it happened, because I felt like I kind of had let my team down at that point."
An unnecessarily cruel and raw initial reaction to being forced off the field, Prox said that's just how he felt after one of his arms popped out of a shoulder socket three times during KU's 2019 matchup with West Virginia.
"I just felt like I would've made a difference if I could've kept playing that season," Prox said Wednesday during a video conference with reporters, speaking for the first time since experiencing the setback on Sept. 21, 2019.
The season was still young when Prox's issues sidelined him, but the linebacker from Kaufman, Texas, already had emerged as a breakthrough performer for the KU defense during his redshirt junior year.
Prox recorded nine or more tackles in each of the Jayhawks' first four games, and finished his abbreviated campaign with 39 total stops, a forced fumble and 2.5 tackles for loss.
Although his head coach, Les Miles, didn't share publicly in the weeks following Prox's injury that the linebacker would not return (perhaps a form of gamesmanship, not sharing that information with upcoming opponents), Prox revealed he learned "probably like two or three days" after the WVU game that he would have to wait until 2020 to play again.
Surgery was next on his agenda. And as the season went on without him, Prox, KU's leading tackler at the time of his injury, went from making key stops for the defense to observing from afar.
"It was totally different," said Prox, who watched the remainder of the season on TV. "It kind of sucks not to be out there and experience that emotion with your team, just because there's so much emotion going on in the game of football."
For Prox, the anguish at least came with the eventual knowledge that he would be granted a medical redshirt and given an extra year of eligibility.
Now with at least a couple seasons left in his college career — the NCAA granted a blanket waiver for all fall sports athletes, giving them an extra year of eligibility due to the COVID-19 crisis — Prox is expected to pick up in 2020 right where he left off.
Miles called Prox KU's best tackler on last year's defense.
"He just needs to play like Dru Prox," Miles said. "He'll know the calls. He'll be as athletic as there is. He'll be ready to play."
While recently discussing Prox for one of KU's promotional videos, defensive assistant coach Chidera Uzo-Diribe said Prox loves football and the coach can tell the linebacker wants to be on the field.
"He wants to get better, he wants to learn and then ultimately his goal is the NFL," Uzo-Diribe said. "Guys who want to be in the NFL, they have an extra gear that they want to reach day in and day out, and Dru's one of those guys."
Although Miles shared in late August that Prox was "nicked" with some undisclosed ailment, the linebacker said Wednesday, 10 days out from his return in KU's Sept. 12 season opener, that it was "no concern at all" and "in the past." Prox is back to full participation at practices, he said, with no limitations.
Now that he's close to getting back onto the football field he desperately missed, Prox said this season he wants to provide leadership for the KU defense and more.
"I feel like I'm going to use last year as a stepping stone," Prox said. "I've been watching a lot of film from last year and the four games I did get to play. I want to build on that and do better than I did last year."