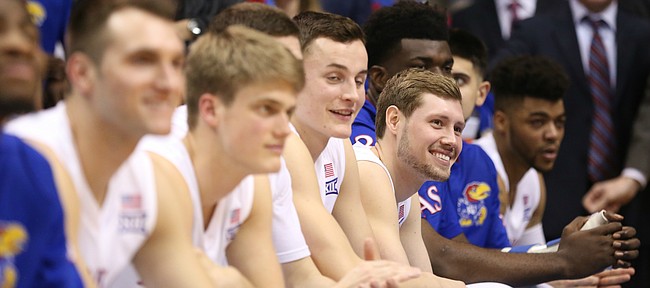 Already well into his career as a professional basketball administrator, former Kansas basketball walk-on Tyler Self, the son of KU head coach Bill Self, on Tuesday was named the general manager of the NBA G League's Austin Spurs.
The announcement was made via press release and included the news that the Austin Spurs had named Matt Nielsen its new head coach.
Tyler Self, who played at KU from 2012-17, takes over the top spot after serving as Austin's assistant general manager during the 2019-20 season. He replaces Landry Fields, who left for a job in the NBA with the Atlanta Hawks organization.
Prior to that, the younger Self, who turned 27 last week, started with the Spurs organization in the summer of 2017, serving first as a quality assurance assistant with San Antonio's basketball operations department.
He graduated from KU in 2016 with a degree in sports management.
After finishing his master's degree in business administration, Tyler Self said in 2017 that getting involved with the management side of basketball was where his heart was taking him.
"I'm not gonna be picky about what I want to do or what they ask me to do, but coming into it I definitely think that more management stuff is something I want to do long term," he told the Journal-World that summer. "But I also would have no problem being on the court more and interacting with players, too. I kind of feel like that's something I know better as of now. But whatever happens, happens, and I'm just really thankful and looking forward to the opportunity."