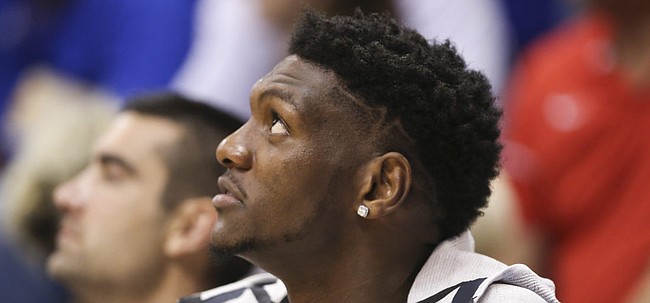 A man has reportedly lost vision in his left eye after an alleged altercation with former University of Kansas basketball player Silvio De Sousa, according to court documents.
De Sousa, 22, is facing a charge of aggravated battery, a level-5 or midlevel-severity felony, in connection with an alleged incident that occurred at 2:36 a.m. Jan. 1 outside a Lawrence bar.
An affidavit supporting the charge says that a man told Lawrence police that he heard a man — later identified as De Sousa — arguing with two women outside Brothers Bar & Grill, 1105 Massachusetts St., and he told De Sousa to "shut the (expletive) up." The man said De Sousa then punched him with a closed right fist.
Kansas coach Bill Self told the Journal-World Oct. 28 that De Sousa — who announced his decision to leave the team on Oct. 16 — was not aware of the details from that incident "until a couple weeks ago."
"These allegations were surprising to Silvio, as they were to us," Self said at that time. "Once we discussed the details, he decided it was in his best interest to opt out and focus on this matter. We mutually agreed that was the best course of action."
Allegations in affidavits have not been proved in court. Defendants in criminal cases should be presumed not guilty unless and until they are convicted.
According to the affidavit, the alleged victim — face bloodied — found an officer at Lawrence's hospital around 2:40 a.m. Jan. 1. He was later transferred to another area hospital for surgery to try to repair his left eye and orbital area, but first gave police his account of the events.
The man reportedly said he stepped outside the bar because he was hot. He said he then heard two women arguing with a man, whom the doorman and video surveillance later identified as De Sousa, and told the man to "shut the (expletive) up." He said he fell to one knee when De Sousa then struck him in the eye with his fist; when he stood up, De Sousa was being held back by others.
The man's mother later told police that he is mildly autistic and she was his legal guardian, according to the affidavit. She said the man has been diagnosed with pervasive developmental disorder, which is under the larger umbrella of autism. In August, the mother said a doctor had confirmed that the man would not regain vision in his left eye despite multiple doctor visits and surgeries, according to the affidavit.
The doorman who was working at Brothers the night of Jan. 1 told police he had seen De Sousa slap or strike the man on the back of his head twice while the man was leaning against a parking meter or light pole, according to the affidavit.
Lawrence police Detective M.T. Brown wrote in the affidavit that he had spoken with several other witnesses between January and September who said they saw De Sousa strike the alleged victim with an open hand.
De Sousa allegedly spoke with Brown and Detective Lance Flachsbarth himself on Oct. 15 — the day before he announced his decision to leave the team — and told them that while he and his friends were waiting for an Uber outside the bar, a man had become "verbally abusive" to one of De Sousa's friends.
De Sousa reportedly said he had "swatted" at the man but missed him the first time, then did it again and struck him in his cheek. He told the detectives that the man did not fall when he was struck, and that when he left, the man wasn't bleeding, according to the affidavit.
Detectives told De Sousa that other witnesses' accounts contradicted his statement; he said nothing further after that, according to the affidavit.
De Sousa is scheduled to appear in court for a first appearance, where he will be formally charged, on Dec. 17.
The affidavit says that Lawrence attorney Hatem Chahine is representing De Sousa, but Chahine could not immediately be reached for comment Tuesday. Neither Chahine nor any attorney had entered a formal appearance in the case as of Tuesday, according to online court records.