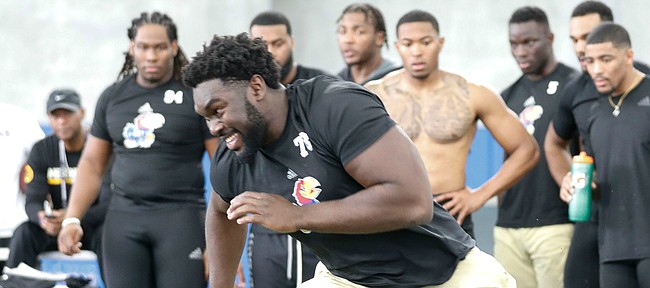 Fresh off a productive and potentially career-making trip to Indianapolis for the NFL pre-draft combine last week, Hakeem Adeniji still wanted to show scouts a little more at the Kansas football program's annual pro day.
Adeniji's performance on the larger stage went so well that he already has workouts set up with four teams, including the Kansas City Chiefs, but the offensive lineman suited up with 17 of his former KU teammates to do some position drills and agility work Thursday at the Jayhawks' indoor practice facility.
The 6-foot-4 prospect from Garland, Texas, admitted feeling fatigued after a long day at the NFL combine this past Friday, and explained he was so "hyped up" for the chance to prove himself that it was easy to feel "burnt out" by the end of it.
Photo Gallery
KU football 2020 pro day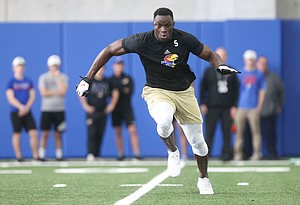 Former KU football players, including draft combine invitees Hakeem Adeniji and Azur Kamara, go through the program's pro day, in front of NFL scouts, Thursday, March 5, 2020, at KU's indoor practice facility.
That's one reason he decided to participate in KU's pro day, even though he received a lot of promising feedback after the combine and could have sat it out.
"They said they liked my movement, and what I was doing in the drills and looked pretty explosive as far as the jumps and (40-yard dash)," Adeniji shared. "And they said I'm coming up, as far as my draft stock, so that's definitely good to hear."
Some teams have told Adeniji and his representatives that he could go as early as the second day of the three-day draft, though he didn't specify whether that meant the second or third round was considered his best case scenario.
Adeniji went through some O-line drills with Kevin Feder and also participated in the L-cone drill, finishing the change-of-direction foot race in 8.08 seconds.
"I wanted to do a little bit better, kind of tripped up on the turf a little bit, but it was all good," the upbeat Adeniji said.
"This is what I've worked for my whole life, and I'm trying to make every moment the best moment and enjoy things and obviously do as good as possible as a competitor."
KU head coach Les Miles, a big proponent of Adeniji's over the past year, said the team's former starting left tackle impressed at KU's pro day, as did Lawrence native and Free State High graduate Bryce Torneden.
"You'd be surprised to find out what the scouts think," Miles added.
KU's head coach thought several Jayhawks proved at the pre-draft showcase that they've developed, as scouts from 28 NFL teams observed.
"There's some serious want to be attached to that league, and today sure has been good," Miles said.
Like Adeniji, linebacker Azur Kamara, KU's other NFL combine invitee, went through some drills at the program's pro day.
"His measurables are unbelievable," Miles said of what has helped Kamara gain attention. "He weighed (242), his arms are longer than they should be (35 and 1/4 inches), and just an extremely talented guy. Ran a 40-yard dash (4.59 seconds at the combine), so pretty, pretty talented."
Several Jayhawks remarked after the pro day that the defensive backs stood out, as Torneden, Hasan Defense and Elmore Hempstead Jr. all were mentioned as some of the impressive prospects in that setting.
Torneden, who checked in at 5-foot-9 and 190 pounds, was excited about his 35-inch vertical in particular.
"I didn't necessarily hit some measurements that I was expecting," said Torneden, who also ran his 40 in 4.57 seconds. "But I don't think I necessarily had a terrible day or anything. And then bench, of course, I left some on the board (19 reps at 225 pounds), for sure, but I think I put up a pretty good number. And then position drills, that was a big thing for me."
Miles thought receiver Daylon Charlot performed well, too. And the 5-11, 203-pound wideout from Patterson, La., said afterward his ability to run down some deep balls thrown by quarterback Carter Stanley helped him grab some attention.
"They say my hands were really big, you know, I can catch well, run routes well, track the ball well — just everything out here that we've done today. They said I did a really good job," Charlot related of what he heard from scouts. "I feel like today was just like a big interview, basically."
Past Jayhawks return
Members of KU's 2019 roster weren't the only ones competing at the pro day. Adeniji, Charlot, Defense, Feder, Hempstead, Kamara, Stanley, Torneden, Jelani Brown, Codey Cole III, Deante Ford, Mike Lee, Darrius Moragne, Shaq Richmond and Najee Stevens-McKenzie were joined by three Jayhawks who also participated in the 2019 pro day. Receivers Jeremiah Booker and Kerr Johnson Jr., as well as KU's former standout linebacker Joe Dineen, were back for more.
The hope for each was to again show scouts their potential. Dineen, who signed with Denver this past summer as an undrafted free agent and later joined Jacksonville on its practice squad, said he attended on the advice of his agent.
"I think it was good to get my name back out in front of scouts and just to (have them) see me move and stuff like that," said Dineen, a Lawrence native and Free State grad. "I think it'll be beneficial but now we wait, so we'll see."
Miles was glad to have Dineen and other players he never actually coached on hand for the event.
"This was the best place for him to come back and get a look, OK, and we're very loyal to Joe," Miles said. "He was a great player here and a captain. We were thrilled that he came back and had the opportunity to run yet again."
Best times and marks
Not all of the Jayhawks who were seniors in 2019 partook in every drill, but here were the leaders from that group in each category tracked by scouts at the pro day:
• Vertical jump: Torneden, 35 inches
• Broad jump: Stevens-McKenzie and Defense, 10 feet, 4 inches
• Bench: Cole, 22 reps of 225 pounds
• 40-yard dash: Hempstead, 4.5 seconds
• 5.10.5 run: Ford, 4.03 seconds
• L-cone run: Defense, 7.06 seconds