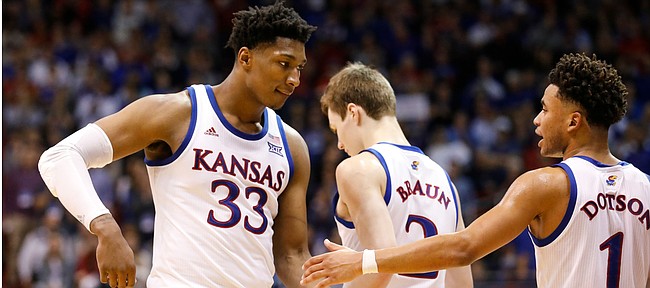 No. 1 Kansas Jayhawks (26-3 overall, 15-1 Big 12) vs. TCU Horned Frogs (16-13 overall, 7-9 Big 12)
Time: 7 p.m. | Location: Allen Fieldhouse, Lawrence, Kansas
TV: Big 12 Now/ESPN+ | Radio: IMG Jayhawk Radio Network
Log on to KUsports.com for our live game blog coverage and follow the KUsports.com staff on Twitter: @KUSports @mctait @bentonasmith @SJacksonLJW & @ByBradenShaw
Keys for Kansas
1. Focus on 3D
TCU continues to lead the Big 12 in 3-point shooting in terms of volume — 44% of their shots are 3-point attempts — and that path is the Horned Frogs' best shot at pulling off the upset against the Jayhawks on KU's senior night.
Just ask Baylor.
In last weekend's win over the then-No. 2-ranked Bears, Jamie Dixon's team shot 45% from 3-point range (9-of-20) and scored 75 points against one of the nation's top defenses.
The Frogs scored a whopping 54 of those 75 points in the second half.
TCU has drained 10 or more 3-pointers in a game eight times this season and is 8-0 in those contests. That includes a school-record 18 3-point makes in a nonconference win over Louisiana in November.
TCU was not as hot in its first meeting with Kansas. In that one, in Fort Worth, Texas in early February, the Frogs hit just 5-of-22 (22.7%) from 3-point range on a day they scored just 46 points against the stingy KU defense.
The Jayhawks, at 35%, are actually a better outside shooting team than TCU, which enters this one shooting 34.2% from 3-point range. But Kansas does not rely on the outside shot nearly as much, nor does it feature a lineup with quite as many
While the Jayhawks benefited from an off night for TCU in Fort Worth, you can expect TCU's 3-point total in this one to be closer to their Big 12-leading average of 8.4 per game.
If they don't, the Jayhawks could roll. TCU ranks last in the Big 12 Conference in overall offensive efficiency and KU features the Big 12's No. 1-ranked team in defensive efficiency.
Few teams have had success in Allen Fieldhouse in the Bill Self era, but many of those that have have used hot nights from behind the arc to give Kansas problems.
The Horned Frogs can do that if they get hot. But if they don't, it's hard to see them having enough offense elsewhere to stay in the game.
2. All eyes on Fuller
The last time Kansas and TCU faced one another, TCU freshman P.J. Fuller scored 10 points on 4-of-8 shooting in 22 minute off the bench.
This time, the Jayhawks are facing a much more confident Fuller, who is coming off of a 21-point explosion in his team's win over Baylor and is the reigning Big 12 Newcomer of the Week.
At 6-foot-4, 175 pounds out of Seattle, Fuller, who played at Findlay Prep in Las Vegas, is a talented young player with good all-around skills and the ability to get hot at any moment.
He enters this one averaging just 5.8 points per game for the season while shooting 37.4% from the floor and 25% from 3-point range.
While those numbers don't necessarily scare anybody, his emergence as a threat beyond TCU standout Desmond Bane has been huge for this team. And Fuller's confidence is at an all-time high, thanks in large part to his teammates starting to feel more comfortable relying on him.
3. Make the moment count
With a one-game lead in the Big 12 standings, with two games to play, the Jayhawks have a shot to clinch at least a share of the conference title with a win tonight.
Second-place Baylor took care of business in overtime on Monday night against Texas Tech, keeping the Bears alive in the race and putting a little pressure on the Jayhawks to win to maintain their lead.
While that makes the stakes plenty high for this one, Self talked Tuesday about the importance of senior night in the big picture of the program and a given player's career. And that merely adds meaning to what is already a pretty important game.
"All players, and especially here at Kansas, only will remember a handful of games," Self explained. "And I think this will be the one they remember the most, unless we play for all the marbles. I do think it's a special night for the kids and I think it's also special for coaches and for fans to be able to see a certain group that they've watched grow up before their eyes. With one-and-dones you can't do that."
While that specifically is important for Azubuike and senior guard Isaiah Moss tonight, their teammates typically want to make sure they send the seniors out on a winning note, as well.
And with Azubuike playing through an injury, look for the rest of KU's rotation guys to all step up just a bit to help ease the burden of not having their anchor at full strength.
Marquee Matchup
KU forward David McCormack vs. TCU center Kevin Samuel
Regardless of how healthy Azubuike is by the time tipoff rolls around, McCormack is going to have an important role in this one.
"We're going to need David to play big," Self said Tuesday.
As one of the only players on the KU roster with the size to fill at least some of the space normally occupied by Azubuike, McCormack will be a big factor on the glass and as a defensive presence.
The rebounding he can do. In 15.1 minutes per game this season, McCormack is averaging 4.1 rebounds per contest. Spread out over 40 minutes, that number jumps to double digits and we've seen McCormack have big games on the glass before.
It's been a while, though. While the 6-foot-10 sophomore has six games of 7 or more rebounds this season, his most recent one came Jan. 18 at Texas.
Azubuike's almost certainly not going to play 30+ minutes in this game. So the opportunity will be there for McCormack to impact the game at a much greater rate than he has in recent weeks.
It will be interesting to see how the blocked shots statistic plays out if Azubuike is either limited or does not play.
TCU is the Big 12's best rejection team, blocking 13.8% of its opponents' field goal attempts this season.
Kansas, thanks largely to the career season delivered by Azubuike as a rim protector, is right behind in second place at 13.7%.
McCormack doesn't do a whole lot in that department. But Samuel does.
Samuel's 10.5% block percentage is second in the Big 12 — behind Azubuike's number of 11.2% — and his 2.8 blocks per game lead the Big 12 and rank 10th nationally.
The TCU sophomore's 11 double-doubles rank second in the conference to Azubuike's 13, and the TCU big man has had at least five blocks in a game eight times this season.
The last time these two teams met, it was a war between Azubuike and Samuel in the paint. And considering McCormack likely will received at least a chunk of Azubuike's minutes, it's going to be crucial for him to both be ready to compete with Samuel's force and intensity while staying out of foul trouble at the same time.
Jayhawk Pulse
The Kansas Jayhawks have won 36 consecutive home finales dating back to the 1983-84 season, a massive streak that has made for plenty of fun senior nights throughout the past few decades.
Senior night tonight belongs to Azubuike and Moss and while neither figures to steal the show with his speech, both have played critical roles in Kansas winning 26 of 29 games and entering March as the nation's No. 1 ranked team.
Azubuike is in national and Big 12 player of the year conversations and has proven, once again, that he is as big of an individual force as there is in the college game today.
Moss, who came to KU as a graduate transfer from Iowa, has picked up his game of late and been an important role player for the Jayhawks from start to finish.
"Without him, we wouldn't be where we are," Self said of Moss.
In addition to those storylines and KU's ability to clinch a share of the Big 12 title with a victory, tonight's game features a matchup of the Big 12's top two scorers — Devon Dotson at 18.2 points per game and TCU's Bane at 16.1 — and represents a massive opportunity for TCU to pick up one more committee-impressing victory before the end of the season.
After facing then-No. 2 last weekend, the Horned Frogs' battle with No. 1 Kansas tonight marks the first time in school history that TCU has played the No. 1 and No. 2 ranked teams in the country in back-to-back games.
Coincidentally, the last team to beat the Nos. 1 and 2 teams in the country in consecutive games was Kansas in the 2008 Final Four.
Kansas leads the all-time series with TCU, 19-2, including an 8-0 mark in Lawrence and a 7-0 record inside Allen Fieldhouse.
TCU's lone victories in the series, which dates back to 1952, came in the 2017 Big 12 tournament, when KU played without suspended standout Josh Jackson, and in the infamous "Topeka YMCA" game in which Self said his team in a 2013 loss at TCU was the worst Kansas team put on the floor since James Naismith's early teams lost to Topeka YMCA.
Probable Starters
No. 1 Kansas
G – Devon Dotson, 6-2, 185, Soph.
G – Ochai Agbaji, 6-5, 210, Soph.
G – Isaiah Moss, 6-5, 208, Sr.
G – Marcus Garrett, 6-5, 195, Jr.
C – Udoka Azubuike, 7-0, 265, Sr.
TCU
G – Edric Dennis Jr., 6-3, 190, Sr.
G – Desmond Bane, 6-6, 215, Sr.
G – P.J. Fuller, 6-4, 175, Fr.
G – Jaire Grayer, 6-5, 210, Sr.
C – Kevin Samuel, 6-11, 250, Soph.