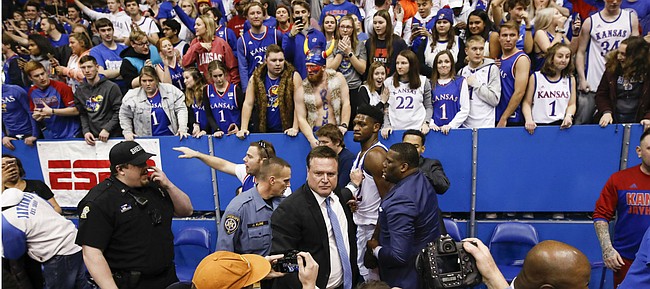 Kansas forward Silvio De Sousa has been suspended from the team indefinitely for his role in Tuesday night's fight between the Kansas and Kansas State men's basketball programs.
KU coach Bill Self announced the suspension just before noon on Wednesday.
"I have suspended Silvio De Sousa indefinitely pending the final outcome of the review by KU and the Big 12 Conference," Self said in a statement. "As I said last night, we are disappointed in his actions and there is no place in the game for that behavior."
Both programs are still waiting for final word from the Big 12 Conference on all of the punishments that will be levied as a result of the melee that followed the Jayhawks' 81-60 victory over Kansas State at Allen Fieldhouse.
De Sousa, who missed all of last season while waiting for a ruling on his eligibility regarding his role in the recent college basketball recruiting scandal that led to an FBI investigation, was at the center of Tuesday's incident.
After having the ball stolen from him in the game's final seconds, De Sousa recovered to block the shot by K-State's DaJuan Gordon and then stood over him as the final horn sounded.
That inspired a heated reaction from players on the K-State bench, who sat mere feet away, and De Sousa and several Kansas State players then engaged in shoving and punching as the fracas spilled into the handicap seating section behind Allen Fieldhouse's south goal.
During the fight, De Sousa at one point grabbed a stool and held it high over his head before dropping it behind him as assistant coaches tried to grab the stool from him.
Self and K-State coach Bruce Weber both said on this morning's Big 12 teleconference that they were still in communication with the conference office about how to proceed, with Weber saying he thought something would be known sooner rather than later.
— Stay tuned for more on this developing story.