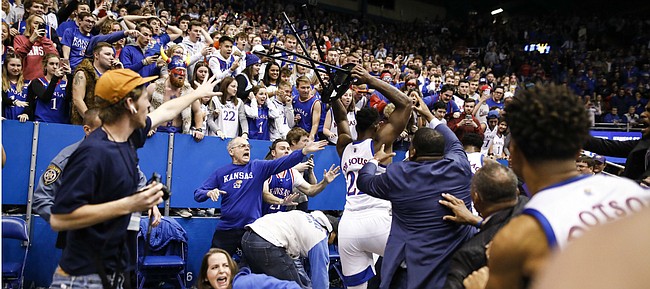 Roughly 14 hours after players from the Kansas and Kansas State basketball teams brawled in the south end of Allen Fieldhouse, KU coach Bill Self did not yet have an update Wednesday morning on the coming "consequences" that will be doled out in the wake of the confrontation.
"It's only 10 a.m., and we're still in the process of communicating with the league office and everything else," Self said, before adding there will be "penalties" for KU players involved, regardless of the Big 12's ruling.
"I'm not at liberty, nor do I know at this particular moment," Self said during his slot on the previously scheduled Big 12 teleconference, "what will be appropriate at this time, because we're still in the process of discussing."
Just before noon, Self announced KU had suspended Silvio De Sousa indefinitely, pending the final outcome of the university's and Big 12's review of the incident.
Self said he and KU officials watched various videos of the fracas that marred the Jayhawks' 81-60 win in the Sunflower Showdown.
Photo Gallery
Kansas basketball v. Kansas State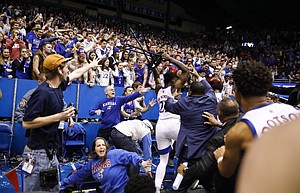 View a gallery of images from Tuesday night's game between the Jayhawks and Wildcats at Allen Fieldhouse.
"Everybody has reviewed all angles that you could possibly have, you know, much more than what probably the general public has," Self said. "And there will be consequences, as I stated. We're still in the process of communicating with league office officials and everything else."
One video that surfaced on social media late Tuesday night shows much of how the altercation escalated, after De Sousa blocked DaJuan Gordon's layup attempt and stood over the K-State guard in the game's final seconds.
The footage recorded from the student section on the south end of the fieldhouse by Cameron Collins shows De Sousa being shoved to the floor by K-State's Antonio Gordon. De Sousa responded by coming up swinging in the direction of the Wildcats' David Sloan. It was then that De Sousa and James Love began engaging in a fight, and players and coaches from both programs descended upon the melee.
Asked the morning after the rough scene what he thought about how it all transpired, Self said his opinion on the hows and whys of it didn't matter.
"The bottom line is that in competition, and obviously it's heated, some things can escalate sometimes, and you never ever want that. This was not part of that. This was not part of heated competition," Self said of the fight, which broke out in the final seconds of a game that wasn't close.
"We'll accept responsibility for the role in which we played and obviously, we did play a role. I'm not saying that K-State was innocent in this by any stretch but I am saying I'm only going to comment on on our situation," Self went on. "I'm not saying they're guilty. I'm just saying I want to comment on our situation, and what I can potentially have influence on, and that would be the actions of our guys. Regardless of what has transpired, always having discipline and keeping a cool head and being responsible and being unselfish. And certainly that did not occur (Tuesday) night within our group."
KU's coach reiterated he didn't want to comment on any actions of K-State's players.
"People saw, and it's very obvious what took place, and I think that you had a situation that that escalated because of emotions getting the best of the situation," he said.
Self said Tuesday night he expected to announce punishments for KU players involved on Wednesday.
Weber weighs in
K-State head coach Bruce Weber didn't have many concrete updates on the aftermath of the brawl, as of Wednesday morning, when it was his turn to field questions on the teleconference.
Weber began by reiterating he was "very, very saddened" by the incident.
"Obviously there's many people to blame, and I'm the head of our program. So it falls back on me that the incident occurred. It's a shame. It shouldn't have happened," Weber said.
"As far as punishment goes, right now the league office is reviewing all their video," Weber added. "They will make decisions on suspensions, with the coordination with our administration and our staff and I would expect that would be sooner than later. Again, it's just sad and disappointing."
Generally, Weber said, K-State's coaching staff at various points of a season addresses with players the need for them to keep their cool and not leave the bench.
"Yeah, I mean we talk about it. Curtis Shaw, (Big 12) head of officials, comes and visits at the start of the season with our players, talks to them. We talk about sportsmanship," Weber said.
In other situations, K-State's coach said, the Wildcats have avoided major confrontations.
"There's always little incidents where guys get into it over a jump ball, and everyone jumps up. And you know, I think our coaches are very, very alert to hold a guy back, keeping guys off the court and realizing that it could cause further damage for them and our team," Weber said.
Obviously that wasn't the case in the final moments of the rivalry game against KU. Weber said based on conversations he had with his players afterward, they thought time had run out and the game was over when they left the bench to participate in the melee.
Both teams left the floor once the fight was broken up, and went to the locker rooms before the game officials brought them back to the court to play one last second.
Self spoke with one fan
As KU's head coach referenced after the game Tuesday night, he was particularly disappointed that the fight took place among the crowd, where some fans who use wheelchairs watch home games.
Self said Wednesday morning he wasn't "totally aware" of everything that took place with the fans who were in the midst of the fight, but knew contact was made with at least one.
"It obviously escalated and went into the ADA section, and I actually did speak with one of the persons that was there at the time and was hit — not hit physically, but backed into or whatever — to the point where I'm sure that we'll correspond with her today to see how she's feeling today," Self said. "But I do not know basically everything that transpired or talk to anybody more than that one person."