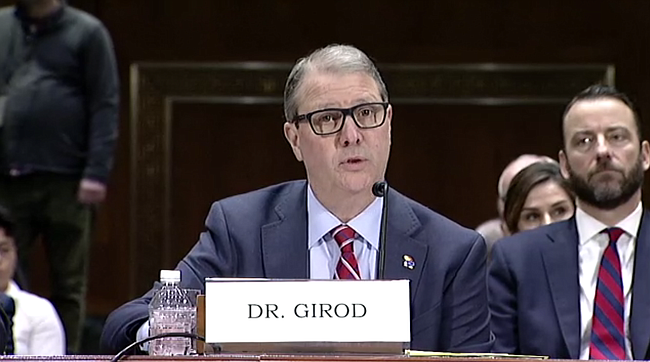 At a congressional hearing on student-athlete compensation, University of Kansas Chancellor Douglas Girod said that if an opportunity arose for student-athletes to earn value from their names, images or likenesses, KU would support it.
"As a university chancellor, one of my responsibilities is to support opportunities for students while they are enrolled at KU — whether that is an internship, a chance to study abroad, or a chance to do research with a company in our region," he testified Tuesday morning in Washington, D.C. "Today, I want to support this new opportunity for those student-athletes who have the potential to earn money while competing at our institution."
Girod said that it was clear to him that in the interest of "national consistency, fairness and equity," a federal solution was required, as opposed to a "patchwork" of state legislation.
In September, California passed a law that would enable college athletes to have endorsement deals, preventing universities from restricting student-athletes from profiting off of their names, images and likenesses (NIL).
Currently, there is NIL litigation pending in over half of states, NCAA President Mark Emmert said. He concurred with Girod in his opinion that nationwide legislation is needed.
Emmert and Girod were two of five witnesses to testify at the hearing on Tuesday, which was titled "Name, Image, and Likeness: The State of Intercollegiate Athlete Compensation." U.S. Sen. Jerry Moran, a Kansas Republican, led the hearing.
The other witnesses were Big 12 Commissioner Bob Bowlsby, National College Players Association Executive Director Ramogi Huma and NCAA student-athlete advisory committee chair Kendall Spencer.
"KU acknowledges that it is a new day in college athletics," Girod said. He emphasized the importance of prioritizing the interests and welfare of student athletes and preserving the collegiate athletic model.
"The bottom line is, there are ways to allow student-athletes to benefit from name, image and likeness while maintaining the benefits of the collegiate athletic model," he said.
More than 98% of student-athletes do not go on to compete professionally nor have significant opportunities to earn income from name, image and likeness, Girod said. Those 98% do benefit from the education and resources they receive at their respective institutions as student-athletes, however.
"We must be cautious not to risk losing what is so valuable for the 98% while addressing the specific needs of those blessed to take their athletic talents to the professional level," he said.
Girod concluded by stating that major athletic departments, such as KU's, have important links to all aspects of the university, such as student recruitment, donor relations and the enrollment of a diverse student body.
Both Bowlsby and Emmert expressed trepidation that, if not handled correctly, student-athlete compensation for name, image and likeness might be construed as payment for athletic play.
Emmert said it is imperative to distinguish college and professional sports, noting that payment to students for their names, images and likenesses cannot become a "vehicle to deliver pay for athletic performance" or an inducement to "select or remain at a particular NCAA school."
Bowlsby was hesitant about the possible repercussions of student-athlete compensation.
"I find myself supportive of the concept but daunted by the shadow that lies between the idea and the reality," he said, noting that he believes boosters and donors could disrupt the recruitment process.

"College sports is not a vocation and the participants are not employees," he said, noting that "the potential for harm is present."
---
Girod comments on NCAA notice of allegations against KU
About two hours into the hearing Tuesday, Sen. Marsha Blackburn, R-Tenn., told Emmert she felt the NCAA was failing to be transparent, consistent and fair, and said she believed this could cause some athletes to skip college and go straight to professional sports. She said she saw Girod nodding his head and asked if he would like to comment.
Girod acknowledged that KU is currently involved with an NCAA Notice of Allegations, and although "we don't believe the evidence necessarily supports the allegations," he said, "we support the system."
The most serious of those allegations involve KU basketball and center around three former Adidas representatives who have been convicted of federal fraud charges related to a scheme to pay the families of recruits to attend certain schools, including KU. The NCAA in September charged the KU basketball program with three serious violations and a lack of institutional control. It also directed a "responsibility charge" against coach Bill Self, whose communications with those Adidas representatives were a focus of the case.