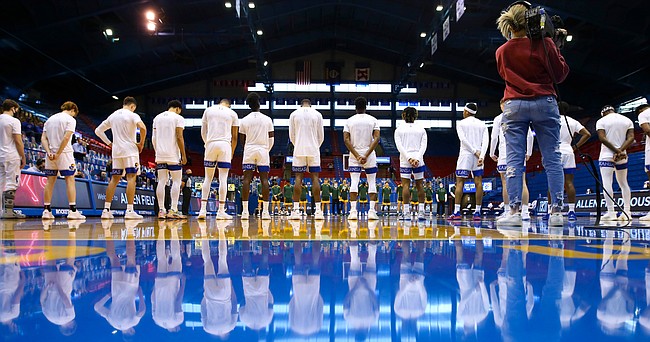 No. 3 Kansas Jayhawks (7-1 overall, 1-0 Big 12) vs. No. 7 West Virginia Mountaineers (7-1 overall, 1-0 Big 12)
Time: 8 p.m.
Location: Allen Fieldhouse, Lawrence, Kan.
TV: ESPN2 | Radio: IMG Jayhawk Radio Network
Log on to KUsports.com for our live game blog coverage and follow the KUsports.com staff on Twitter: @KUSports @mctait @bentonasmith & @SJacksonLJW
Keys for Kansas
1. Rebound, rebound, rebound
Kansas coach Bill Self on Monday had a really simple way of looking at his team's top-10 showdown with West Virginia at Allen Fieldhouse.
"The game starts when the ball's shot," Self said.
Self was not talking about the first shot of the game, though. Nor was he talking about the best shot of the game. He was, however, talking about the battle on the boards, where West Virginia has clobbered opponents so far this season – particularly on the offensive glass.
As you might expect, Bob Huggins' Mountaineers rank tied for 11th nationally with 15 offensive rebounds per game. That same group, led by big men Derek Culver and Oscar Tshiebwe, ranks 12th in offensive rebounding efficiency, per KenPom.com, getting 38.2% of the team's misses back.
On Monday, Huggins said rebounding was the only thing his team has done consistently well so far this season. A couple of hours later, Self and a couple of KU players said the Jayhawks have to rebound well to win.
"As soon as the shot goes up, you know that they're going to rush to the glass," KU junior David McCormack said of Culver and Tshiebwe. "So finding them early and getting a body on them, that eliminates quick put-backs or anything like that. From then on, it's more of a battle of who can get to the ball first and secure it."
While acknowledging that McCormack and senior forward Mitch Lightfoot will need to play big for Kansas in this one, Self also said the KU guards also have to focus on the rebounding battle.
"Everybody can rebound," redshirt freshman Jalen Wilson said on Monday. "(Senior) Marcus (Garrett) had 10 rebounds last game, so anybody can do it. You've just got to be in the right position and be focused. I think we all know how to box out well and get low, so that's what we're going to have to do."
2. The more physical team wins?
When breaking down KU and West Virginia's lone losses to top-ranked Gonzaga earlier this season, the main thing that Self pointed out about the WVU-GU game was that the Mountaineers punched Gonzaga in the mouth in the first half.
He didn't mean it literally, of course, although Huggins' teams are known for their physicality. The Mountaineers' ability to force their style of play on the Zags early helped WVU take a halftime lead and stay in the game until the end.
"They played them a lot better than we did," Self said. "... In their game, it felt like West Virginia could win. In our game, It felt like Gonzaga eventually was gonna break away."
In order for Kansas to control this one, the Jayhawks likely are going to have to match WVU's style or at least be willing to absorb it when it comes. That should not be a problem, according to Wilson.
"I'm all for that kind of game," Wilson said Monday when previewing the matchup.
KU's second leading scorer did not play against the Mountaineers last season while redshirting because of a broken ankle. But he did observe them up close. And he has tried to take what he learned from those viewings — as well as what he's seen on film — into this week's preparations.
"The biggest thing I learned was how physical they are on both ends of the floor," Wilson said. "They're a team that is going to try to punch you in the mouth and just continue to do it throughout the game and foul a lot, so we're just going to have to come and try to play hard, play harder than them.
3. Finish strong in every way
Whether you're talking about getting to the rim, closing out a possession or finishing the game, all three figure to be crucial in this matchup for Kansas.
Self likes his team's first-shot defense, but the Jayhawks' ability to finish possessions defensively has left a little to be desired.
In some instances, the Jayhawks have played quality defense for 27 or 28 seconds only to see their opponent get an easy basket on a put-back via the offensive rebound.
At other times, KU's foes have scored late in the shot clock after Kansas suffered a breakdown in the final few seconds of their halfcourt defense.
"We haven't finished possessions," Self said Monday. "I don't know how many times this year we've allowed teams to score with under for three or four seconds on the shot clock. I mean, it's the worst that we've ever been at that."
Kansas has not let those defensive lapses hurt them in the big picture because of their ability to make plays at game point.
The Mountaineers have lost the only game against a KenPom Top 50 team they have played this season, and the Jayhawks are 3-1 against Top 50 teams so far.
Those three Kansas victories have come by a total of five points, proof positive that the Jayhawks have always had an answer late with the game on the line.
Given the fact that KenPom is projecting another nail-biter in this one, the Jayhawks' recent trend of being able to finish the game with some of their basketball of the night could go a long way in deciding this one.
Marquee Matchup
KU junior David McCormack vs. His Approach
It would be easy to look at this game and say that unless McCormack puts up a certain amount of points and grabs a certain number of rebounds, the Jayhawks could be in trouble.
But Self is not interested in looking at specific numbers to determine whether his junior big man played well or not.
"I really think that we need to quit thinking about what we really in a perfect world want to see," Self said Monday while previewing the WVU game. "I think we need to be thinking about it in more simplistic ways."
Rebounding outside of your area, being more of a physical presence, sealing and creating angles in the post and more attention to detail when setting a ball screen are all examples of what Self believes his bigs can and should be bringing to this offense.
"There's a lot of things that I think carry a lot of value that a big brings to the table without necessarily meaning points," Self said. "When we worry about those things and you complete those assignments, you're going to score more points because you're worried about all the right things."
McCormack said he and Self had conversations about several of those things during the past few days and he appreciated the opportunity to reset his focus.
"I definitely think every player can use a reminder (to) focus on the little things," McCormack said. "Because that's how you build and grow. I think it was definitely a necessity for coach to talk about it and just touch on those points."
The general theme of Self's requests centered on more and better activity from McCormack — active hands, stronger post-ups, better intensity on ball screen defense, etc.
"Those are the things that I'd like to see," Self said. "I think sometimes we get in a situation where (we say), 'Well, we need David to do this or we need David to do that,' from a points standpoint. And I think that's telling him the totally wrong thing. I think, (if you) worry about what you can control, those things happen naturally."
Confidence is a big part of the equation for any player. And if McCormack, who has gotten his season off to a rough start offensively, can deliver quality minutes against a top-10 team and two talented bigs, it could do wonders for his play the rest of the way.
Jayhawk Pulse
Tonight's game is the second of two high-profile Big 12 battles for Kansas to open the conference season and the last of 2020 for the Jayhawks.
After this one, KU will be off until Jan. 2, with the players slated to spend a few days at home with their families for the holidays before returning to Lawrence on Dec. 27 to start preparing for another top-10 battle with Texas at Allen Fieldhouse.
Most years, it's a lower-profile game against a non-conference opponent that sends the Jayhawks into the winter break. And history has shown that that type of game has not always been kind to Kansas.
This one should have the Jayhawks' full attention, though, and sets up to be yet another thrilling matchup in a series that has delivered some of the wildest moments of the past decade.
KU leads the all-time series with WVU, 14-5, with all 19 meetings coming under Self. The Jayhawks have won eight of the last nine meetings and are 8-0 all-time against West Virginia inside Allen Fieldhouse.
Bob Huggins, meanwhile, is 5-18 all-time against Kansas, 5-14 during his time with the Mountaineers.
KenPom, which has both teams ranked in the top 10 in defensive efficiency, has KU as a two-point favorite in this one, with a 57% win probability.
The Jayhawks opened as four-point favorites in Las Vegas, but that line has quickly dropped to KU by two.
Probable Starters
No. 3 Kansas
G – Marcus Garrett, 6-5, 195, Sr.
G – Ochai Agbaji, 6-5, 210, Jr.
G – Christian Braun, 6-6, 205, Soph.
G – Jalen Wilson, 6-7, 190, RS-Fr.
F – David McCormack, 6-10, 265, Jr.
No. 7 West Virginia
G – Miles McBride, 6-2, 200, Soph.
G – Sean McNeil, 6-3, 210, Jr.
F – Emmitt Matthews Jr., 6-7, 215, Jr.
F – Derek Culver, 6-10, 255, Jr.
F – Oscar Tshiebwe, 6-9, 260, Soph.