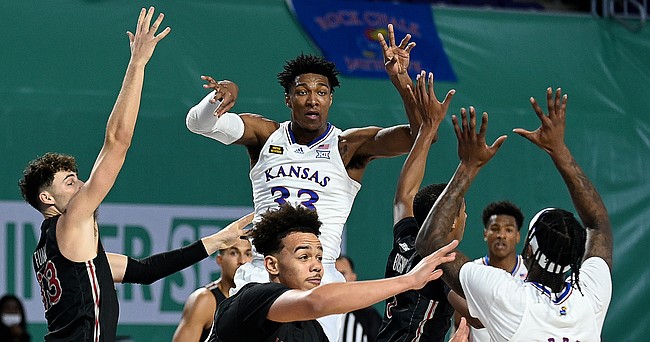 No. 7 Kansas Jayhawks (1-1) vs. No. 20 Kentucky Wildcats (1-1)
Time: 8:30 p.m. | Location: Bankers Life Fieldhouse, Indianapolis, Ind.
TV: ESPN | Radio: IMG Jayhawk Radio Network
Log on to KUsports.com for our live game blog coverage and follow the KUsports.com staff on Twitter: @KUSports @mctait @bentonasmith & @SJacksonLJW
Keys for Kansas
1. Get McCormack going
Kansas big man David McCormack had a rough opening week to his junior season, and KU coach Bill Self thinks he knows why.
"I think he just put too much pressure on himself," Self said Monday ahead of tonight's clash with the Wildcats. "I pumped him up pretty good, deservedly so, about what I think he can do, and then in his mind he's probably got a little bit of, 'I've got to be as good as Dok or be as better than Dok.'"
In reality, that's not at all what Self wants. Instead, he simply wants McCormack "relax and go be who he is."
"Because who he is is a terrific offensive player, a very, very, very good rebounder and a guy that can certainly be a better low-post defensive presence, too," Self said.
None of that was on display in his first two games of the season, where the 6-foot-10 junior combined to play just 31 minutes and shot 5-of-15 from the floor with nine rebounds and seven turnovers.
Despite those numbers, Self and KU junior Ochai Agbaji said Monday that McCormack's approach to the two practices since last week's sluggish start had been terrific.
"He had a great attitude," Agbaji said. "Whether it's high or low, he's always going to stick with the team. I thought he showed great maturity and (understood) that everything's not always going to be going his way. We know that, we trust him that he's gonna play good and that his better days are coming."
Given his size and strength, McCormack's play against a big Kentucky front line that has out-rebounded opponents by nearly 20 boards per game to open the season will be a big key for Kansas in this one.
Self said Monday that McCormack, who tweaked his knee in the win over Saint Joseph's, did not practice Saturday and did "minimal" work on Sunday.
"He's nicked up a little bit," Self said. "But I don't think it's anything from a structural standpoint or anything like that that's going to keep him from being out there competing."
2. Turnovers become easy buckets
Kentucky coach John Calipari and freshman guard Terrence Clarke both said on Monday that they thought the Wildcats defense was solid in Sunday's 76-64, home loss to Richmond.
But the stats did not fully illustrate that.
The Spiders shot 59.4% from the floor in the second half (43.3% for the game) and Calipari said the easy buckets Richmond got off of Kentucky's 21 turnovers played a huge role in the high percentage.
While the Wildcats no doubt will look to clean things up in that department, the four freshmen in the starting lineup and 10 new faces who were not on the roster last year could be vulnerable against the kind of pressure defense that Marcus Garrett, Ochai Agbaji, Dajuan Harris and the other KU guards can play.
Calipari said his players "messed with the ball" a little too much against Richmond, instead of making quick decisions on when to attack the rim and when to give it up to a teammate.
Both Calipari and Clarke said they saw a lot on film Monday morning that can help them correct their turnover woes. But the stage and the opponent could make that difficult.
If the Jayhawks can apply ball pressure and live in the passing lanes, turnovers — and therefore easy buckets — could be theirs for the taking.
Kentucky is big and tough at the rim and if the Jayhawks find themselves having to get buckets in the half court all night, it could be a much tougher task and likely would play right into Kentucky's hands.
3. Continue to come together
Past Champions Classic games have proven that the outcome is not always the most important part of these games.
That's especially true for young teams or teams still trying to find their footing, that need not only time and reps to figure out how they fit together, but also the experience of testing themselves against other elite programs and competition.
Because of their experience, the Jayhawks are ahead of Kentucky in that department. More on that in the Marquee Matchup.
But even with a handful of players on the roster who have been there and done that, this team is still figuring out how all of this year's pieces fit together.
They made strides in Fort Myers, Fla., last week, bouncing back from a tough loss to Gonzaga with a solid effort against Saint Joseph's. And they left Florida feeling good about the direction they were headed.
"We're just figuring each other out, you know, trying to feel each other out," said sophomore guard Christian Braun said after the St. Joe's victory. "We've got guys that haven't played in years (and) guys who haven't really played together, but that'll come."
Added Self on Monday morning, after two more practices following last week's back-to-back games to open the season: "I think we're learning more and more about our team."
That trend should continue, win or lose, tonight.
Marquee Matchup
Kansas experience vs. Kentucky youth
The five players who started Kentucky's Sunday loss to Richmond — four freshmen and a senior — have combined to start just 40 college basketball games, with graduate transfer Olivier Sarr owning 33 of them.
To say that Kansas, which features two players who have appeared in 100 college games by themselves (Marcus Garrett and Mitch Lightfoot), has the edge in experience would be putting it mildly.
In addition to Garrett and Lightfoot, who also have combined for 60 career starts, the Jayhawks can rely on the wisdom and comfort of juniors Ochai Agbaji (55 games, 49 starts) and McCormack (65, 33) and a couple of sophomores who have played big minutes for the Jayhawks in the past before, as well.
"I feel like we have that to hang our hat on," Agbaji said of KU's core of veterans. "We've got guys that have played in big games, big moments like this. So you know we're ready for it and we know what to expect."
While the edge in experience is something any team or coach would always prefer to have, Agbaji pointed out that it won't mean much if the Jayhawks don't play hard and execute against a team that has the talent needed to beat anybody.
"They're a great team," Agbaji said, noting that the Wildcats' length and athleticism on the wing stood out when he was watching them play Richmond. "They're young team, but still, it's going to be Kansas versus Kentucky, their first go-around with a with a blue blood, so it's going to be amped up and I know they're going to be ready and we're gonna be ready. It's going to be a high level game."
On the sidelines, Calipari and Self cancel each other out in terms of experience in these types of games. Both have been in every imaginable coaching situation and both love to bring their teams to battle against each other.
Calipari said Monday that the past 24 hours, and whatever remaining time he has until tip-off will be spent trying to get UK's players mentally ready for what they'll encounter and how they can improve on their Sunday performances.
"I've got to teach them how to play winning basketball," Calipari said in a Zoom call with the media. "We've got good players, but they're not ready to play winning basketball the way they're playing right now."

As for his take on Kansas, Calipari praised the Jayhawks' resolve when they got down big against No. 1 Gonzaga last week.
"They're not afraid," he said. "They're a veteran (team), they'll fight. It's going to be a hard game for us. We know it. … The great thing is we're playing basketball."
Jayhawk Pulse
There will be no resting for the Jayhawks throughout the first couple of weeks of December.
Tonight's matchup with Kentucky in Indianapolis will be the first of four games in the next eight days — Dec. 1, 3, 5 and 8 — and it comes on the heels of back-to-back battles to open the season.
After waiting for months to get back to campus and wondering if there would even be a season in the first place, you won't hear so much as a peep out of anyone associated with the program about the opportunity to do what they love to do.
"The reality of it is we're not the team that we will be and Kentucky's not the team they will be," Self said Monday. "This particular game will be such a prideful game that I know that our guys will really look forward to competing against them and I know their guys will, as well."
Tonight's meeting, which was originally scheduled for Nov. 10 in Chicago but moved to Indy, without fans, because of the pandemic, will be the eighth in the past 10 seasons between college basketball's top two programs in all-time wins.
Kentucky leads the overall series 23-9, but the Jayhawks have won three of the last four meetings and are 3-4 against UK in those seven prior meetings in the past decade.
The Wildcats are 2-1 against the Jayhawks all-time in the Champions Classic, with wins in 2011 and 2014 and a loss in 2017.
As of Monday evening, KenPom.com had this one as a two-point win for the Jayhawks but only gave Kentucky a 40% chance of victory.
That means, six out of every 10 times the numbers were run, the Jayhawks come out on top but rarely by anything close to a sizable margin.
If that doesn't provide a clear indication of the value of each possession, nothing will.
Probable Starters
No. 7 Kansas
G – Marcus Garrett, 6-5, 195, Sr.
G – Ochai Agbaji, 6-5, 210, Jr.
G – Christian Braun, 6-6, 205, Soph.
G – Jalen Wilson, 6-7, 190, RS-Fr.
F – David McCormack, 6-10, 265, Jr.
No. 20 Kentucky
G – Devin Askew, 6-3, 198, Fr.
G – Brandon Boston Jr., 6-7, 185, Fr.
G – Terrence Clarke, 6-7, 194, Fr.
F – Cam'Ron Fletcher, 6-6, 215, Fr.
F – Olivier Sarr 7-0, 237, Sr.