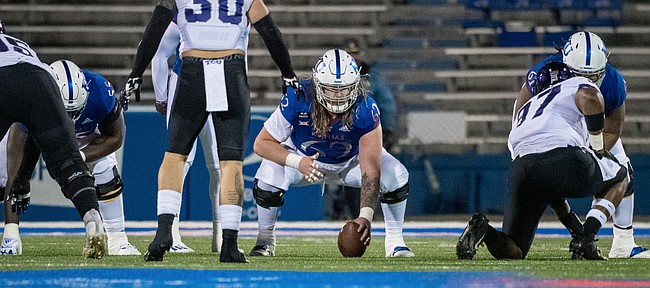 Kansas football coach Les Miles hasn't minded sending some of the program's youngest athletes onto the field this season, but Saturday's home loss to TCU featured an even greater reliance on inexperienced players than usual, with the Jayhawks starting three true freshmen on the offensive line.
Center Garrett Jones and right tackle Bryce Cabeldue both made their first career starts, while Armaj Adams-Reed, who also started at right guard in KU's home loss to Iowa State, made his second.
"Obviously it was a little scary," Cabeldue told reporters this week of his state of mind entering his first game in a primary role. "I was a little anxious. But I was just happy to be there, happy to be able to contribute to the team."
While the revamped, younger O-line, which included senior Malik Clark at left guard and junior Earl Bostick Jr. as the new starting left tackle, didn't drastically change the direction of a struggling KU offense in a 59-23 defeat, Miles called the group's play up front "pretty good," considering the presence of three first-year players.
That's not to say Miles gave the true freshmen a pass, though.
"We can not have negative plays," Miles said, when asked for his assessment of the O-line, "and certainly (our) center threw the ball over (the quarterback's) head a couple times, and that just didn't sit well with anybody."
As Miles referenced, Jones sent two errant shotgun snaps flying out of the reach of true freshman QB Jalon Daniels. The first came in the first quarter, on 2nd and 11 at KU's own 25-yard line. It was a minor miracle that Daniels sprinted down the ball and secured possession without the play turning into a safety or defensive touchdown for the Horned Frogs. And two plays after the QB recovered the ball at the one-yard line, punter Reis Vernon had little room at the back of the end zone, leading to a rushed punt with minimal hang time and a 37-yard punt return TD for TCU's Derius Davis.
The next botched snap from Jones happened shortly after KU scored its first TD and Kwamie Lassiter II recovered an onside kick late in the first, with KU trailing 24-6. The first play of the short-lived series lost another 23 yards for the offense, as freshman running back Amauri Pesek-Hickson recovered the loose ball to avoid a turnover.
Looking at what transpired from a big picture perspective at least, Miles wasn't overly concerned about Jones as a center.
"That was freshman to freshman," the coach said of the two negative exchanges. "And every spring ball has a period of time, sometimes it's as much as a week, where the snapper can not get the ball to the quarterback, as a true freshman."
Miles gave Jones, a 6-foot-2, 307-pound lineman from Berrien Springs, Mich., a vote of confidence, projecting him as a good fit at center for the program.
"Tough kid. Made some mistakes," Miles said. "But we're going to get those fixed."
Following those two snapping snafus, Jones wasn't always completely on the money, but he did seem to recover, according to junior quarterback Miles Kendrick.
"I saw composure from another young guy who is stepping in for replacing someone," Kendrick said of Jones. "He had a few mistakes, but all of us did on the field (Saturday). He bounced back, got composed."
Kendrick, after a game in which six freshmen started for the offense and two more started on defense, went on to praise all of the freshmen who have played key roles for KU (0-8 overall, 0-7 Big 12).
"The sky's the limit for those guys," Kendrick said, "especially Garrett Jones."
The veteran QB, after KU posted a season-best 227 passing yards in defeat, had an upbeat outlook for the trio of first-year starters on the O-line.
"We've been preaching, we've been building them up these past two weeks, just telling them to be ready for their opportunity," Kendrick shared. "They came out and they did a great job. They fought, and they fought hard. They did some great things and they did some things I think that we can build on."
KU also had its first 100-yard rusher of the season versus TCU, as Pesek-Hickson ran for exactly 100 yards on his 22 carries in his first career start.
Cabeldue admitted their performance wasn't ideal, but he thought the young blockers made some strides in a challenging situation.
"Obviously as three freshmen out there we didn't do as good as an offensive line full of juniors and seniors," the young right tackle said, "because there's obviously a lot of mental breaks inside of there."
The hope for both the KU staff and the players is that the time being invested in the youngest O-linemen will benefit the program down the line.
"It's been really good," Cabeldue said, "being able to get the young guys in to where we're going to be able to win more games in the future, because our offensive line is just getting better and better."