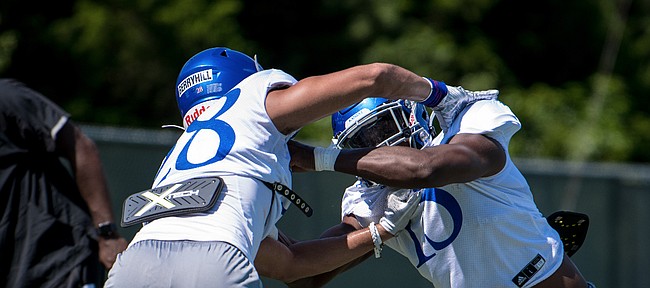 Though much of the conversation revolved around the Kansas football offense when head coach Les Miles and a handful of players had their first media session of the preseason earlier this week, some defensive assistants provided a slight peek at the progress on that side of the ball Friday.
Heading into his second season as the defensive coordinator for the Jayhawks, D.J. Eliot shared during a KU-produced episode of "Camping with the Jayhawks" that he thinks the unit has had some promising moments.
"Ive been excited about all of our young players and all of the ability they have and all the plays that they've made," Eliot said, without naming specific individuals who impressed. "But they still have a lot to learn. So where we're at right now is we have some good, young, talented players, but we have to have a chance to catch up on the assignments and the plays."
It's possible some of that youth could be on display in the KU secondary at times when the season begins. The Jayhawks' first-year safeties coach, Jordan Peterson, won't be able to call upon some of the defensive leaders that KU relied upon in 2019, such as Bryce Torneden and Mike Lee.
Peterson said the Jayhawks who were behind those two on the depth chart last year likely will have to step up.
"The guys are experienced in that it's their second year in the system," Peterson said of returning players who already have played for an Eliot-coached defense. "They just haven't had to do it live when bullets are flying. It's about feeling comfortable, taking charge of the defense. The guys are growing. We're not where we need to be yet by any stretch of the imagination. But we're making tremendous strides."
The Jayhawks have at least one tested veteran at safety in junior Davon Ferguson, who started in five games in 2019. With Lee and Torneden no longer around, Ferguson is the team's leading returning tackler, with his 57 total stops.
"He's got natural leadership qualities about him and he's a very instinctual football player," Peterson said of the junior from Baltimore. "So things kind of come natural to him when it comes to football schemes. You've just got to tell him something once and he can see it in his mind, which helps him trigger on the field. That part's a big benefit for him."
According to Peterson, other safeties have found ways to make a solid first impression at preseason camp, too, including senior Ricky Thomas.
"He's another one of those guys who is a vocal leader and lead by example kind of guy," the defensive assistant said. "Another guy who will really take charge and make all the calls and the checks in the back end, so he's caught my eye."
Peterson also praised the work ethic of senior Nate Betts and predicted sophomore Kenny Logan Jr. will continue to develop.
Other safeties on the KU roster include senior Julian Chandler, junior Nick Caudle, sophomore Ryan Malbrough and sophomore Nick Channel.