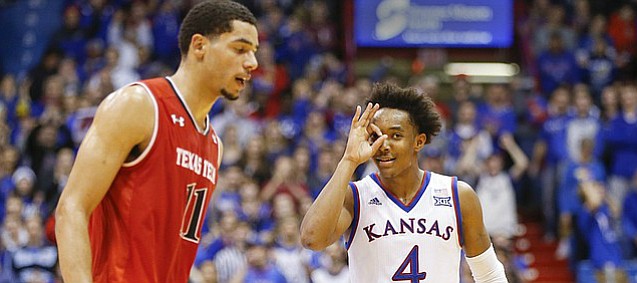 Forced to adjust because of the COVID-19 pandemic limiting crowd sizes, Brian Hanni gathered an unprecedented group of former KU sharp-shooters to compete in this year's Rock Chalk Roundball Classic.
Like in years past, all of the proceeds raised from the event — which also includes a silent auction online that goes live on Monday — will go to benefit local families of children fighting cancer.
Unlike previous years, however, this year's event will feature a televised 3-point contest instead of a live-action game between former KU greats.
Eleven of the top 12 Jayhawks on KU's all-time 3-point shooting list will participate in one way or another, with Tyrel Reed (12th all time with 176 career 3-pointers) taking the place of Frank Mason III (ninth, 185), who is busy competing in the NBA playoffs with the Milwaukee Bucks in Orlando.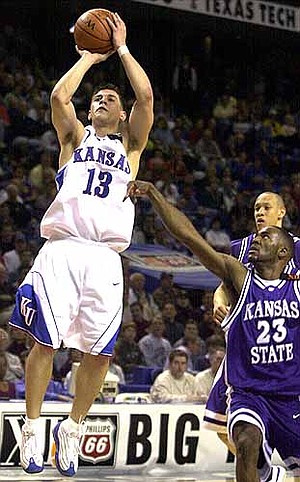 Other than that, it's the best of the best from the past four decades of Kansas basketball.
For years, Hanni has wanted to include a 3-point and slam dunk contest into his annual charity game. But it's never been feasible because of the schedules and availability of the competitors.
This year, KU's 3-point king, Jeff Boschee (first, 338), along with "Downtown" Terry Brown (eighth, 200), Kirk Hinrich (fifth, 236) and Svi Mykhailiuk (fourth, 237) will join the Roundball Classic fun for the first time.
Hanni said it was Brown's commitment that helped the 3-point contest — dubbed "Shooting for the Stars" — come to life.
"We've got a guy who's north of 50 now competing with a 22-year-old like Svi Mykhailiuk. How cool is that," Hanni recently told the Journal-World.
Others who will compete for the 2020 3-point crown include Devonte' Graham (second, 296), Billy Thomas (third, 269), Sherron Collins (sixth, 232), Brandon Rush (seventh, 205) and Mario Chalmers (10th, 180).
Hanni has spent the past few weeks arranging the production, from soliciting help from television crews to filming some shooting sessions on an iPhone.
The 60-minute shootout, which will air on television networks across Kansas and be streamed online at 7 p.m., will feature 25 shots per competitor in Round 1.
Each contestant will shoot five shots at five different spots from behind the 3-point line and the five best scores will advance to the finals.
From there, the competitors will pick what Hanni called their "money spot." They'll get 10 more shots from that location in the final round.
"If Mario chooses to shoot from the same spot where he hit the big shot against Memphis, he'll explain why," Hanni said. "If Svi wants to shoot from the spot where he hit the clutch 3 against Duke in the Elite Eight, he can shoot there and he'll tell us why he chose that spot."
The Jayhawk with the highest combined score will be crowned the 2020 champion.
Hanni said he enjoyed witnessing some of the ribbing that has gone on between a few of the KU greats as the competition unfolded.
"The best trash talk was hearing from guys asking who the camera crew was for so and so or if that really was another shooter's first take," Hanni said. "That was a blast to see and it quickly became clear that most of these guys are still very competitive and really want to win this thing."
As for Hanni, who grew up cheering for half of these guys and called games that several of the others played in, he said he was not rooting for anyone in particular.
"I'm just so excited that they've been so generous with their time and we were able to put this thing together," he said. "As an organization, we're pretty proud of the pivot we came up with it. We feel like this is a unique idea that, if done right, which it will be, can yield some pretty fantastic results for our beneficiaries."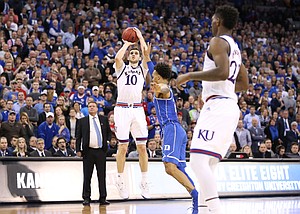 Despite the abrupt change in the format and condensing what is usually a weekend-long fundraising effort into a 60-minute shootout, Hanni said he remained hopeful that the Roundball Classic would raise "life-changing money" for the three families who will benefit from this year's event.
In addition to the broadcast and online auction, Hanni's organization, along with Baby Jay's Legacy of Hope, will be auctioning off KU memorabilia and 10 30-minute Zoom calls with former KU greats.
Dave Robisch, Nick Collison, Scot Pollard, Alonzo Jamison and several members of the 1986 Final Four team all have pledged their services to the Zoom aspect of this year's event.
For a full list of auction items and complete television listings, as well as to learn more about this year's beneficiary families, visit www.rockchalkroundballclassic.com.