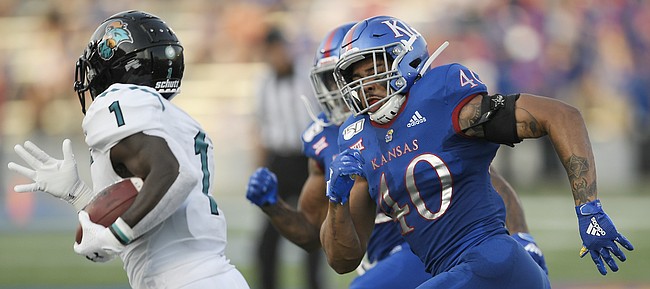 The Kansas football team didn't have to deviate drastically from its original schedule to complete its revised 10-game calendar.
KU announced Friday night that Coastal Carolina will serve as the program's lone nonconference opponent as the Big 12 continues moving toward playing a condensed season this fall.
The Jayhawks' original 2020 schedule had KU traveling to Conway, S.C., for a road matchup with Coastal on Sept. 26, before the COVID-19 pandemic altered football dates nationwide, wiping out some conferences' plans completely.
Because KU's conference leadership determined nonconference games would be played at Big 12 venues, head coach Les Miles' second season in Lawrence will begin Sept. 12 at home, with a rematch against the same Chanticleers who visited David Booth Kansas Memorial Stadium in 2019 and handed the Jayhawks the first loss of Miles' tenure.
The Chanticleers won, 12-7, at KU in Week 2 of 2019. KU will now travel to Coastal Carolina in 2021, because this year's trip had to be altered.
Coastal plays in the Sun Belt Conference, and the league announced earlier this week it plans to play eight conference games and as many as four nonconference games in the months ahead.
The Chanticleers had an open date on Sept. 12, because their game at Eastern Michigan was canceled when the MAC pulled the plug on fall sports.
Coastal replaced Southern Illinois, which was supposed to play in Lawrence on Aug. 29, as KU's first opponent on the schedule. Even though the Salukis had open dates on their schedule in September and the Missouri Valley Football Conference is allowing its teams to play nonconference games this fall, KU went another direction. In an SIU release earlier this week, the Salukis listed KU as an opponent in 2024.
SIU wasn't even the first team KU had penciled in for its opener. Earlier this summer, KU had to find a new opponent for its debut — set for Sept. 5 at the time — when New Hampshire's fall sports were canceled.
The original KU schedule also had the Jayhawks playing host to Boston College on Sept. 19. The schools have not announced what year that game will be played.
The Jayhawks will have an open week Sept. 19 before all Big 12 play is slated to kick off on Sept. 26. KU is scheduled to open its league schedule in Waco, Texas, at Baylor.
KU's new 2020 schedule
Sept. 12 — Coastal Carolina
Sept. 19 — open
Sept. 26 — at Baylor
Oct. 3 — Oklahoma State
Oct. 10 — open
Oct. 17 — at West Virginia
Oct. 24 — at Kansas State
Oct. 31 — Iowa State
Nov. 7 — at Oklahoma
Nov. 14 — open
Nov. 21 — Texas
Nov. 28 — TCU
Dec. 5 — at Texas Tech