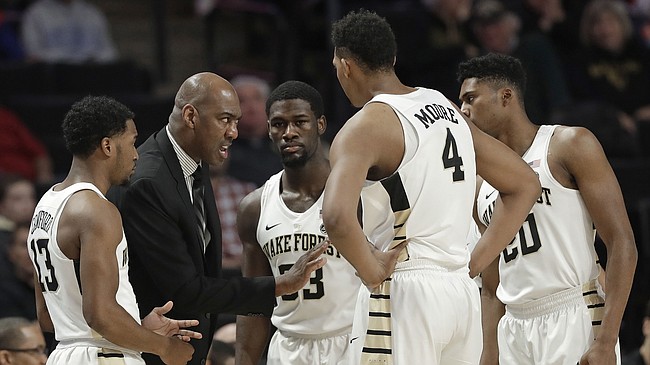 Danny Manning has been dismissed as the head basketball coach at Wake Forest after six seasons at the helm, the school announced Saturday.
Under the 53-year-old Kansas alumnus, Wake Forest finished the 2019-20 season at 13-18 overall and in a last-place tie in the ACC at 6-14. Manning's teams won six or fewer conference games in five of his six seasons and finished in second-to-last place three times.
"After a comprehensive review of the men's basketball program, I have determined that it is time for a change in our head coaching position," Wake Forest Athletic Director John Currie said in a news release.
Manning, who signed a six-year contract extension with Wake Forest in 2017, is reportedly owed more than $15 million as outlined in the buyout clause in his contract.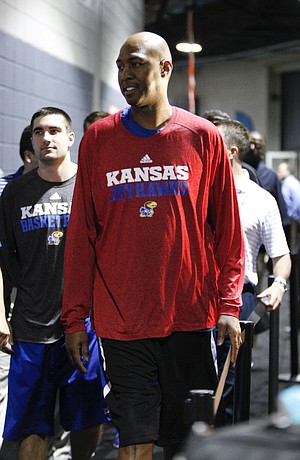 "I am very thankful for having had the opportunity to lead the Wake Forest men's basketball program," Manning said in the release announcing his dismissal. "I am very proud of the numerous student-athletes I had the pleasure of coaching, especially the student-athletes who earned their degrees."
In six seasons at Wake Forest, Manning led the program to an overall record of 78-111 and one trip to the NCAA Tournament. That came in 2017, when the Demon Deacons lost to Kansas State in a First Four matchup in Dayton, Ohio.
The Demon Deacons' best ACC finish under Manning came when they went 9-9 and finished in ninth place during the 2016-17 season. After that run — his lone winning season at Wake Forest — Manning received the Skip Prosser Man of the Year Award, and one of his players, forward John Collins, was selected in the NBA draft as the No. 19 overall pick by Atlanta.
Collins was one of three players currently in the NBA whom Manning coached at Wake Forest. Manning also coached six players who earned all-conference honors during his six seasons.
Manning, the all-time leading scorer and rebounder in Kansas basketball history, went to Wake Forest after a successful two-year stint at Tulsa. Prior to that, he was on KU coach Bill Self's staff for nine seasons and helped the Jayhawks to the 2008 national championship, two Final Four appearances, five trips to the Elite Eight and eight Big 12 regular-season titles.
A handful of former Kansas players — Brett Ballard, Steve Woodberry and Rex Walters — and one former KU manager, Justin Bauman, also worked on Manning's staff at Wake Forest.
"Appreciate Danny for giving me an opportunity!" Walters tweeted on Saturday morning shortly after the news broke. "Enjoyed working with the young men at Wake Forest and wish them all the best of luck!"