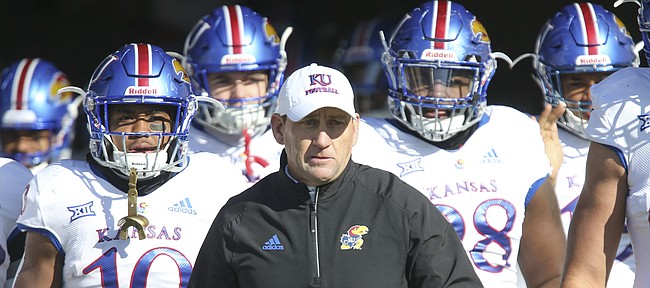 Unbeknownst to the public, former Kansas football coach David Beaty issued a response in his personal capacity to the Notice of Allegations KU received from the NCAA in September 2019.
In it, Beaty — who went 6-42 in four seasons as the Jayhawks' coach and was fired in November 2018 — says the minor NCAA violations levied against him in the NOA were "concocted" by KU officials and are ultimately the result "of an institutionally initiated investigation" designed to avoid paying him a $3 million contract buyout.
The Journal-World obtained the response Tuesday through a request under the Kansas Open Records Act.
The violations, according to past statements by Kansas Athletics officials, were discovered while completing routine exit interviews after the 2018 season. After finding that Beaty may have allowed more coaches than are permitted under NCAA rules to give coaching instructions to players, KU self-reported the violation to the NCAA.
This allowed more time for the university to respond to more serious allegations levied against its men's basketball team, and Beaty was simultaneously charged with minor, Level III NCAA violations. Though the university's ultimate response was made public in March, Beaty's never was.
Even if the charges against Beaty were justified, he said in his response, the punishments he has already suffered have exceeded any punishments the NCAA might hand down.
For more than a year, the resolution of Beaty's case, the former coach said, has been "held hostage by the slow-moving men's basketball investigation and its resulting egregious allegations."
Beaty, as has been previously reported through unsealed court depositions in his related lawsuit against KU, said he was rejected for "multiple" coaching positions during the 2018-19 football hiring season. Investigative restrictions prohibited Beaty from disclosing circumstances around the allegations to prospective employers — but at the same time, he says, KU was mischaracterizing how severe the alleged misconduct was and the level to which Beaty was involved in it.
NCAA rules generally restrict institutions from commenting on specific aspects of Notice of Allegations cases, and Kansas Athletics spokesman Dan Beckler said KU couldn't comment directly on allegations levied in Beaty's response.
The university did not acknowledge the response from Beaty and his team of attorneys when it issued a blistering public response to the Level I charges levied against the men's basketball team in early March. It did release responses from KU men's basketball head coach Bill Self and one of his assistants, Kurtis Townsend, in their individual capacities at the same time as it released its own response.
Beaty argues in his response that despite documented interviews with Kansas football players as part of the investigation, the myriad meetings involving former video coordinator Jeff Love where Love allegedly provided coaching instruction to players simply couldn't have happened.
The meetings, which supposedly took place in early 2018, are alleged to have taken place during the football offseason and before KU football players had returned from winter break, Beaty said.
Once players returned on Jan. 15, 2018, Love was only present on campus for one full week during the rest of January, Beaty's response argues. Love also attended a multi-day video coordinators convention in Las Vegas and was traveling out of state during the time in question. The response links to attached exhibits documenting Love's travel, but those exhibits were not made public.
"There simply is no way the testimony solicited from (redacted) as to January meetings with Love is accurate," the at times heavily redacted response reads.
Beaty also alleges that KU is in possession of recruiting records that detail his own absence from campus every weekday from when students returned to campus through Feb. 2, 2018. If true, the records could undercut part of KU's argument that Beaty knowingly allowed an extra coach to instruct players.
Also, Beaty's response details a deposition interview with Jeff Smith, a KU Athletics compliance officer, in which Smith says he never saw Love meeting with KU quarterbacks or heard talk of Love actively coaching players.
The response concludes with Beaty's account of KU's process in discovering and bringing forward the allegations. On Dec. 4, 2018 — well after it had fired Beaty, but around three weeks before when Beaty would have been owed part of his $3 million contract buyout — KU "hurried" to interview over a dozen coaches and players about the coach's tenure, the response says.
Ten days later, Beaty says, KU notified him of the violations and that the contract buyout wouldn't be paid. Beaty had not been given a chance to interview with the university regarding the charges, the response says.
"[Beaty's] reputation and career have been irreparably harmed, irrespective of the findings of [the NCAA], as the actual and ultimate findings in these situations (even vindications) are never covered with the fervor and appetite as the original allegations," the response reads.
The NCAA is set to respond to KU's response to the overall Notice of Allegations by May 5. It's unclear if the NCAA is required to address Beaty's response.