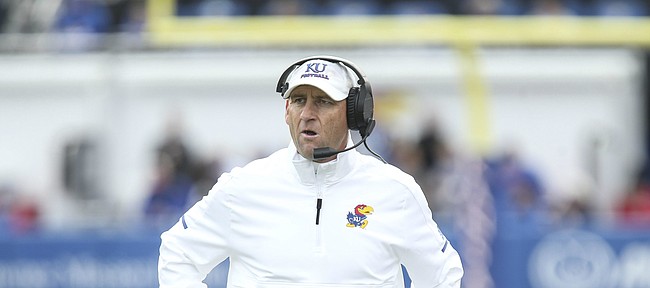 Story updated at 5:23 p.m. Wednesday:
Former Kansas football coach David Beaty testified in a February deposition that he lost his shot at a coaching position at the University of Texas after KU Athletic Director Jeff Long intervened in the hiring process.
Beaty testified that he had a verbal agreement to accept the job at Texas, and that he was even given a Texas university identification number. But then, Beaty said, Long called Texas AD Chris Del Conte and mentioned "egregious behavior" by the 49-year-old coach. After Long's call, Beaty said, the job offer seemed to be off the table — and Beaty has since had to make a living as an Uber driver and motivational speaker.
Beaty currently works at a fireproofing company in Dallas while he continues to seek long-term football employment, he testified. A Texas athletic department spokesperson did not return a request for comment Wednesday seeking confirmation that Beaty had, in fact, been offered a position at the university.
Beaty's 247-page, wide-ranging deposition focused on allegations that he used more coaches than are permitted by NCAA rules — the justification Kansas Athletics used to fire him without paying a $3 million buyout — as well as his knowledge of the firing process.
The former coach, who was with the university for four seasons, named high-profile KU donor families — the Andersons, Fritzels and Sutters — in addition to former Williams Education Fund Director Matt Baty as people who told him the KU athletic department was searching for a reason not to pay him his buyout money.
Beaty disputed the allegation that he used former video coordinator Jeff Love as a countable coach, and he also disputed several former KU quarterbacks' accounts of Love occasionally running position meetings when Beaty had to be elsewhere.
Beaty's deposition was unsealed Tuesday after a series of rulings from a federal judge in Kansas City, Kan. U.S. District Judge Kathryn H. Vratil also denied Beaty's request to have a portion of the lawsuit against Kansas Athletics ruled on without a trial.
Beaty and his team of Texas-based attorneys asked in December for a summary judgment on whether KU's athletic department breached his contract by retroactively firing him for cause and not paying a $3 million buyout after discovering potential NCAA rules violations.
To be granted a motion for summary judgment, a party must show that no material issues of fact are in dispute and that the case can be decided as a matter of law.
Vratil did not find grounds for summary judgment, ruling that Beaty was "attempting to read into the contracts a right that is not there."
Put simply, Vratil found the contract was written in a way that leaves the reasons KU would have to fire Beaty open to interpretation. The contract also doesn't prohibit KU from going back and firing Beaty with cause, and it's not within the court's right to add language to a contract, which is what Beaty's team was asking the judge to do, Vratil said.
Vratil went on to say the factual record "creates genuine issues of material fact on (Beaty's) claims that (Kansas Athletics) breached their agreements by terminating Beaty's contract without cause and refusing to make the required payments."
The crux of Beaty's defense is layered. He argues that his contract states that the primary and only relevant function of his contract was coaching the KU football team and that not meeting performance standards wasn't a justified cause to fire him without paying a buyout.
The contract, Beaty's team argues, is ambiguous about whether his duties extend to maintaining a culture of compliance with NCAA rules and regulations — which is what KU Athletics is using to justify not paying Beaty's buyout costs.
Vratil disagreed with that argument in Tuesday's filing. The contract, while ambiguous in some areas, is clear that Beaty's job was to ensure the football program was in line with the rules of the sport's governing body, she said.
Since Beaty's motion for summary judgment was denied, the case will go to a jury trial if it is not settled. The deposition seemed to indicate the case was headed for a trial, as one of Beaty's attorney made a comment that he would "reserve our questions for the time of trial" as the deposition ended.
It's currently unclear what the timeline is for the case's legal progression, but there are still outstanding material requests that could shape how it unfolds.
Namely, Beaty's lawyers on April 1 signaled their intent to subpoena T.J. Gassnola, the former Adidas executive embroiled in KU basketball's ongoing recruiting scandal, for any relevant documents on KU's relationship with Beaty; those documents have not been unsealed.