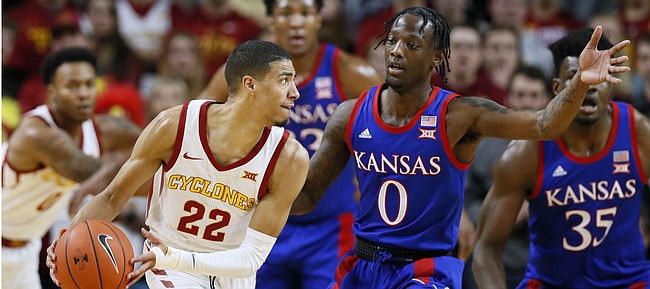 The reigning Naismith Defensive Player of the Year will be on the 2020-21 KU basketball roster.
Junior guard Marcus Garrett on Wednesday announced his plans to return to Lawrence for his senior season.
"We have achieved a lot in my three seasons at Kansas and I am looking forward to adding to that entering my senior year," Garrett said in a release after announcing his return on Twitter. "I completely intend to play in the NBA and know I have to continue to improve my game to reach that lifelong goal. There is no better place to do that than my senior year at KU. We have great coaches and staff and I have great teammates to reach our goals. But most importantly, I'll graduate from KU."
The news came one day after sophomore starter Ochai Agbaji announced his return and two days after sophomore point guard Devon Dotson declared his intention to enter the NBA draft.
Garrett's return is big news for the Jayhawks from both a leadership and experience perspective — he's appeared in 100 games in three seasons for the Jayhawks.
During his first season with the Jayhawks, the Dallas native helped the program reach the Final Four. In each of the past two seasons, his role increased dramatically, and he became one of the most reliable players in the Kansas rotation.
"Marcus should have so many goals in front of him heading into his senior season," Kansas coach Bill Self said in the release announcing Garrett's return. "One of them being a two-time national defensive player of the year. Another is being a point guard, having the ball in his hands, and basically taking ownership of our team. It's time for him to take claim that it is his team as much as anybody else. I think Marcus will be the catalyst in what our team is next year from a toughness standpoint and leadership position."
As a sophomore, Garrett battled injuries and made 13 starts in 30 games while becoming known for his prowess as a defensive stopper.
This season, he started all 31 games during top-ranked KU's 28-3 season, earned Big 12 and national defensive player of the year honors, was a unanimous addition to the all-Big 12 defensive team and also landed on the all-Big 12 second team after averaging 9.2 points and 4.5 rebounds per game.
Garrett led the Big 12 in assists (4.6) and assist-to-turnover ratio (2.7-1) and ranked among the Big 12 leaders in steals (fifth at 1.8).
He also averaged 4.5 deflections per game, including 6.9 per game during his last nine outings.
Throughout his career, Garrett's versatility has been every bit as important to the program as any of his statistical achievements. Self has often commented on Garrett's ability to guard four positions on the floor. And during the 2019-20 season, when Dotson missed KU's game at Oklahoma because of a hip pointer, it was Garrett who filled in at point guard, leading the Jayhawks to a road win early in conference play.
"There's no doubt who our point guard will be next year," Self said of Garrett after the win at OU.
Although Garrett has not appeared on many mock drafts throughout his time with the Jayhawks, ESPN.com draft expert Jonathan Givony had the 6-foot-5, 195-pound KU junior listed at No. 68 in his most recent list of the top 100 prospects for the 2020 NBA draft.
Garrett had the option of testing the NBA waters leading up to the 2020 draft before deciding whether to stay at KU or turn pro. But he decided to skip that step altogether, announcing instead that his focus was on one more run with Self and the Jayhawks.
"With the way everything ended, I told him (going back to Kansas) was the best thing for him," Garrett's uncle Matt Watts told the Journal-World shortly after Garrett was named the Naismith Defensive Player of the Year. "He had a great season, but what I told him was (that) all he can do is improve. I think he's going to come back not really trying to become the defensive player of the year again, but he's just going to play hard like he always does."