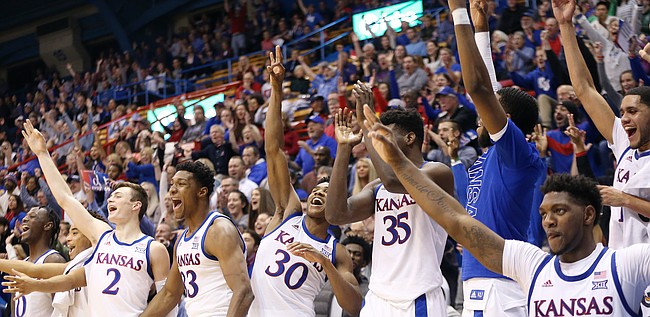 By the time Isaiah Moss drilled a 3-pointer at the 13:56 mark, the outcome had all but been decided.
Just 82 seconds after checking in for his unofficial debut, Moss netted his first points as a Jayhawk thanks to the extra pass by freshman Christian Braun. The 3-pointer by Moss, a graduate transfer from Iowa, stretched KU's lead over Pittsburg State to 18 points at the time.
The Jayhawks eventually rolled to a 102-42 victory over the Gorillas in their final exhibition contest Thursday night at Allen Fieldhouse.
Next up for No. 3 Kansas is a highly-anticipated showdown with No. 4 Duke, which will take place in Madison Square Garden on Tuesday in the Champions Classic to officially begin the 2019-20 season.
"I thought we played pretty well," KU coach Bill Self said. "Statistically, we did some good things but that might be a little bit unbalanced because they missed some wide-open shots. I thought there were some good things that happened."
But it was a treat for Kansas fans to watch this team, which had its full complement of weapons for the first time during one last tune-up game on Halloween night.
Moss, who ended up playing just five minutes, wasn't the only Jayhawk back on the floor after missing KU's 86-56 win over Fort Hays State one week ago. Sophomore point guard Devon Dotson returned to the starting lineup after being sidelined during the exhibition opener.
"It felt good getting back on the court," Dotson said. "It was good getting back into the swing of things."
Photo Gallery
KU cruises past Pittsburg State in exhibition finale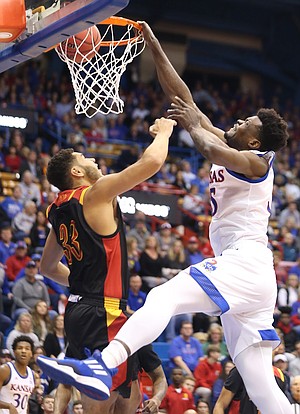 KU cruises past Pittsburg State in exhibition finale
It was evident from the start how a full-force squad could look, too. Sophomore David McCormack, who earned the start, was responsible for four early buckets to help Kansas jump out to an early lead that it wouldn't relinquish.
McCormack scored three times and notched one assist, which was an excellent pass from the top of key to center Udoka Azubuike, who finished off the sequence with a slam. It was a surprising start after there were concerns about whether Kansas could play with two bigs following the exhibition opener.
Yet the Jayhawks were seemingly better in every aspect compared to a week ago, and much of that was a credit to the lineup being at full strength for the first time.
"It was good, especially moving into next week," Agbaji said. "Seeing our lineups and seeing what rotations work best for us. I think that was important. But it was good having everybody back."
Nine different KU players scored in the first half alone, which led to a 20-point advantage within the first seven minutes of the game. And the Jayhawks were able to blow the doors completely open in a variety of ways.
Kansas scored multiple baskets in transition, which were made possible by a concerted effort on the defensive end. Agbaji threw down a windmill flush in transition at the 17:23 mark off his own steal to set the tone from the start.
"It was athletic," McCormack said of Agbaji's slam. "But I've seen him do better."
The Jayhawks were quick to push the ball in transition off turnovers, utilizing both Dotson and sophomore Marcus Garrett at point guard to do so. When KU's offense had to run half-court sets against Pittsburg State, some against a zone defense, the extra passes gifted plenty of open looks from deep.
Tristan Enaruna connected on a baseline 3-pointer on a kick-out pass from Dotson with 7:23 left in the first half. After the Gorillas pulled within 18, Agbaji nailed back-to-back triples late in the first half to keep the game well out of reach.
"I'm impressed with the whole team," said PSU coach Kim Anderson, who is in his third season at Pitt State. "I think their depth is good. Getting Moss back and Dotson back, shooting the ball well. That makes a big difference from the other night."
After leading 49-22 at intermission, the second half was much of the same for Kansas. The Jayhawks displayed crisp ball movement throughout the night and multiple players were involved in the lopsided affair.
Chris Teahan eventually checked into the game with 5:09 remaining, with the Jayhawks leading 94-36. The rest of the Kansas walk-ons soon followed, and ultimately helped the Jayhawks get over the triple-digit mark on the scoreboard.
In the end, a dozen different Kansas players scored against Pittsburg State. Agbaji paced the offensive attack with 19 points on 7-for-8 shooting from the floor. McCormack (13) and Dotson (12) also finished in double figures.
Eight players were responsible for KU's 27 assists, which came on 40 made field goals. Dotson led the team with seven assists in his first game back, and Agbaji added six assists.
"That is great," Dotson said. "We are moving the ball and finding the open man."
Now, the Jayhawks will play in games that matter, starting with an ultimate measuring stick against a fellow blue blood in Duke. Still, if Thursday night's performance was any indication, KU's full-strength squad is prepared for such a challenge.
"It means a lot," Agbaji said. "It is an early test to see where we are at. We can get a lot out of this game."