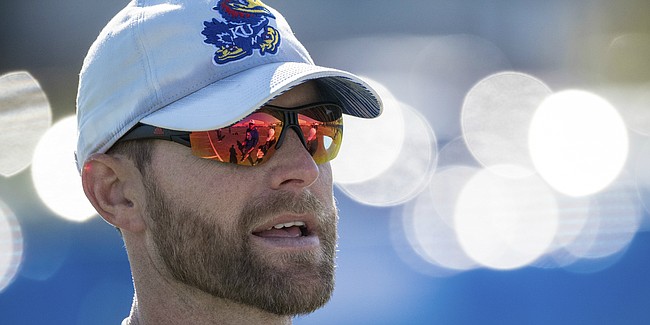 It takes about 10 seconds for anyone talking to him to get a feel for why the Kansas football players like new offensive coordinator Brent Dearmon so much.
Funny and full of knowledge, interesting and intelligent, confident and dedicated, Dearmon put all of those traits on display Thursday afternoon at the KU football facility while meeting with the media for the first time since being promoted to O.C. last weekend.
From the pronounced Southern accent to the endless bag of one liners, Dearmon, a football coach's football coach, knows how to grab the attention of a room and keep it.
That quality can only help the KU offense he now oversees. But in order for Dearmon and the Jayhawks to get what they truly desire out of moving him into the spot previously occupied by Les Koenning, he's going to have to do more and his efforts are going to have to translate to points and production on Saturdays.
Dearmon knows that — perhaps better than anybody — and that's why on Thursday, amid the Tecmo Bowl and "Rain Man" references and jokes about his 2009 Toyota Corolla, Dearmon laid out a clear picture of his goal for the final six games of the 2019 season.
"In order to win football games, you've got to run the ball," said the man who wrote a book on RPO (run-pass-option) offense. "When we've got the best looks, we're going to run the football."
That declaration no doubt pleased Dearmon's father, who coached him in high school and was himself an offensive line coach at various levels.
"When I was about 4 years old, I could draw up trap and midline and belly and all that stuff that happened up front or I didn't get to eat dinner at night," Dearmon joked. "And my father allows me still to come home for Thanksgiving if I do that."
The fact that the Alabama native sounds like he was born to be a football coach, looks the part and has one heck of a story about playing the second half of a college playoff game after getting what he calls a "second mouth" ripped into his chin during his playing days at Bethel College, merely adds to the fit.
That wound, by the way, which Dearmon gladly showed off through photos on his iPhone on Thursday, required 36 stitches to close and the wicked scar is still visible beneath his reddish beard.
"For me, I think who kind of stirs the pot matters," he said of his new role. "So when you go in a practice, the way it's called, the energy it's called with, the demand of what we expect on this play, the detail... Like I said, we're not just going to change the whole world and change read keys and change how we block things. We're just going to try to get better at the way we're teaching it, get better at the way we're doing it."
While that means the KU offense will continue to feature Pooka Williams and put quarterback Carter Stanley in good position to make easy plays, it also could mean new life for a couple of Jayhawks who have yet to make a splash this season.
"On any bye week that tends to happen, not just with a coaching change," Dearmon said. "It wouldn't be crazy to see one or two guys (emerge), but it ain't like you're going to see 12 new players on offense out there."
Identifying those guys, keeping the current contributors happy and giving them all more chances to succeed will be the most important part of Dearmon's job from here.
Although he said Thursday that the offensive coaches collectively would put together KU's game plan each week for the rest of the season, it's Dearmon's name and face that will be tied to all of it.
Dearmon came to Kansas as part of what he described as "a leap of faith" with his career.
Leaving his comfortable post as the head coach at his alma mater was the leap. Now is when he'll need the faith.
"I was not expecting that call," said Dearmon of getting word from KU coach Les Miles last week that it was promotion time. "I was ready, but I just wasn't expecting it to happen in that way. I've got a two-and-a-half-week old newborn (son) at the house, so I wasn't getting much sleep already and it's been a really fun week."