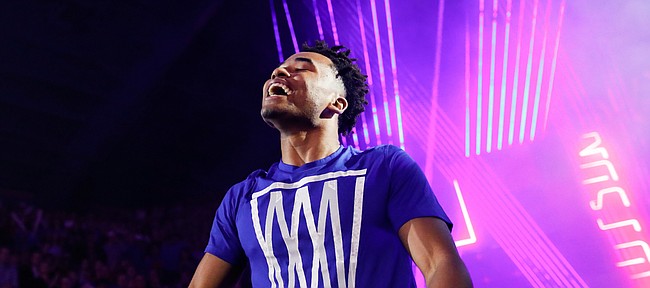 This Kansas basketball season is going to be a movie.
And a packed Allen Fieldhouse on Friday night proved the program's fans are ready to suspend their disbelief, throw down some popcorn and take in the show.
Same as it's not enjoyable to watch "Avengers" and sit there critiquing it, talking about how unrealistic it is when Thanos snaps his fingers and other inconceivable characters disintegrate into the atmosphere, it probably doesn't do an adoring fan base any good to watch the Jayhawks preoccupied with the fact that the NCAA is coming after their beloved basketball program with everything it's got.
They no doubt took their lead from Bill Self, who already had declared he wouldn't let the black cloud floating above the fieldhouse be a distraction for him or his team.
Photo Gallery
Late Night in the Phog 2019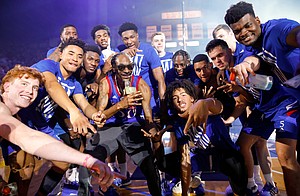 View a gallery of images from Kansas Basketball 2019 Late Night in the Phog
And Friday night's festivities proved to be KU's version of a living, breathing "This is fine" meme.
Earlier in the night, before his team scrimmaged for 12 minutes, Self told the fans he heard a long time ago "bad publicity is better than no publicity," unable to suppress a grin as the fans ate it up, showering him with cheers.
"I actually don't believe that for a minute, but it felt pretty good to say it," Self added.
"As you guys know, we're kind of going through some choppy waters right now," KU's coach went on, referencing the alleged three Level 1 violations and lack of institutional control lined out in the NCAA's Notice of Allegations.
Self followed up the allusion to the unpleasantness by declaring he had never been more proud to be KU's coach, as he heads into his 17th year in charge.
Love it or hate it, it's actually the perfect approach for him to take in terms of keeping any worries out of the minds of KU players. It doesn't seem any of this will be wrapped up before this season ends, and a KU team led by Devon Dotson and Udoka Azubuike looks primed for a deep March run. Even if the hammer comes down on KU, the punishments most likely would have no impact on this year's results.
It was a happy group of Jayhawks on the floor as they headed into the season, as most in the building sacrificed the reality of the program's alleged punishable actions for the benefit of enjoying the present. Even the at times stoic Udoka Azubuike couldn't suppress a grin much of the night.
With a laser light show, smoke machine and theatrics galore — Snoop Dogg's performance included the world-famous rapper wielding a cash-shooting gun — the night doubled as a chance for KU to tell the NCAA it couldn't care less.
Though Self would say after the event of Snoop's artistic choices: "But that's not the direction that anybody at the school would want that to go at all, regardless of the entertainment it provided many."
This is going to be a long fight. And KU is going to keep playing elite college basketball and leaning into its status as an infallible blue blood while future punishments remain up in the air.
Whether you put reality on pause for the next few months and embrace this KU basketball team and season is up to you. It's clear that's the path Self, this group of Jayhawks and many of its fans already have chosen.