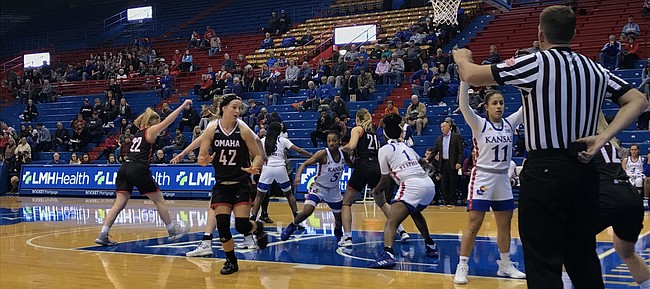 Fighting through defenders, Kansas sophomore Aniya Thomas somehow maintained her dribble and got back to the top of the key. Quickly, Thomas moved the ball to the corner and found freshman guard Zakiyah Franklin, who drove inside for a contested layup.
It was resourcefulness and hustle plays like this from Thomas that got KU women's basketball back on track after a rough start for a 63-48 victory over Omaha Wednesday.
"I thought we kind of fell into that trap of taking what the defense gives you instead of taking what we want to take," Kansas coach Brandon Schneider said. "But fortunately down the stretch (we), Brooklyn (Mitchell) in particular, made enough plays to help us get enough points to win."
Although KU started the game with two quick buckets from Thomas and sophomore guard Brooklyn Mitchell, the Jayhawks just as quickly cooled off. Momentum shifted into the Mavericks' favor after a couple layups from center Elena Pilakouta.
And it didn't stop there as Omaha went on a 12-2 run, holding KU to 1-of-9 shooting from the floor over the next five minutes.
However, KU took back control following the media timeout in the first quarter. Omaha started turning the ball over and the Jayhawks took advantage. Following a tough bucket from Mitchell, and back-to-back 3s from freshman guard Holly Kersgieter and senior forward Mariane De Carvalho, the Jayhawks regained the lead.
And the second quarter was more of the same, with Thomas' creative dribbling and second-effort setting the tone for the Jayhawks. The quick hands of Thomas, Franklin and junior forward Tina Stephens created plenty of transition opportunities for KU and kept Omaha off balance.
The Jayhawks grabbed eight steals in the first half, while Omaha turned the ball over 16 times. KU also scored 15 points off turnovers before halftime.
While it wasn't perfect — a late closeout from Franklin allowed a 3-pointer from Omaha guard Claire Killian to cut the lead to 7 just before halftime — the Jayhawks were still very much in control at the break, leading 33-26.
Mitchell and Franklin led the way with 6 points each in the first half, with De Carvalho and Kersgieter right behind with 5 each.
KU managed to stretch its lead to double digits in the third quarter as the aggressive defense of Jayhawks continued to disrupt the passing lanes. After an early layup, Omaha didn't score in the third quarter until the 3:04 mark.
However, after the Mavericks ended their scoring drought, they put the pressure right back on KU. Omaha ended the quarter on a 7-0 run to cut the Jayhawks' lead to 41-36 heading into the fourth quarter.
"When you're playing poorly offensively, it can affect your defensive energy and juice," Schneider said. "And there were some stretches in there where I thought that was the case."
And after two buckets from Omaha guard Ella Ogier to start the fourth quarter, Kansas coach Brandon Schneider was forced to call a timeout to regroup.
Schneider said the conversation during the timeout was a three-part approach: challenging the Jayhawks, making a defensive adjustment and pushing Mitchell to be more aggressive.
"During that timeout, I kind of got a vibe from him like, 'Somebody needs to step up. Somebody needs to seal the deal,'" Mitchell said. "So I kind of just took that and ran with it."
But even though Thomas got a contested layup to go out of the timeout, Killian hit a corner three to tie the game at 43-43. Shortly after, while KU and Omaha traded buckets, Thomas picked up her fourth foul and was forced to go to the bench.
KU responded with Franklin hitting two free throws and Mitchell scoring back-to-back layups. All of a sudden, KU was back on top 52-45, which forced an Omaha timeout.
Eventually, turnovers caught up to Omaha — the Mavericks finished with 27 on the night — and KU stretched the lead back out to double digits en route to the victory. Mitchell said it came down to execution at the free throw line.
"Stay locked in, because you never know how the game's going to go," Mitchell said. "You've got to make those free throws because sometimes the game really does come down to making free throws and who is more focused than the other team."
KU next takes on UMass Lowell at home on Sunday at 1 p.m.
Kansas 63
Brooklyn Mitchell 15, Zakiyah Franklin 13, Mariane De Carvalho 9, Aniya Thomas 9, Holly Kersgieter 7, Tina Stephens 6, Bailey Helgren 3, Niccolly Ramalho 1. Totals: 23-of-71 FG, 2-of-13 3PT, 15-of-25 FT.
Omaha 48
Elena Pilakouta 15, Rayanna Carter 8, Mariah Murdie 6, Ella Ogier 6, Claire Killian 6, Mikaela Ekdahl 5, Kia Wilson 2. Totals: 21-of-48 FG, 3-of-13 3PT, 3-of-7 FT.
Recruiting news
It was also an eventful day off the court as KU signed three recruits prior to Wednesday's game.
Mia Vuksic, 5-10, guard, Sibenik, Croatia
Chose Kansas over Texas Tech, Illinois and Wichita State.
Said Schneider: "Mia is a big scoring guard who has a very quick release and deep range behind the arc. She has a tremendous work ethic and her passion for the game is evident in every possession she plays."
Ioanna Chatzileonti, 6-2, F, Athens, Greece
Chose Kansas over North Carolina and Tennessee.
Said Schneider: "Ioanna has a great feel for the game and an elite skill set offensively. She can score it at every level and is a terrific passer. She has competed at the highest levels of international competition."
Katrine Jessen, 6-3, F, Skovlunde, Denmark
Chose Kansas over Fresno State, Loyola Marymount and Maine
Said Schneider: "Katrine is a versatile forward with an extremely high basketball IQ. She can post, she can drive it and she can stretch it with her range. Her length and athleticism also aids her ability to defend both 4's and 5's."