Salt Lake City — It took just six-plus minutes for Kansas sophomore Marcus Garrett to send a message.
Garrett checked into the game at the 17:42 mark, and he struck a few minutes later. After he made a layup with 13:58 left in the first half, Garrett elected to pick up Northeastern senior Vasa Pusica as he dribbled up the floor.
Once Pusica got near midcourt, Garrett swiped toward the ball and poked it away. Garrett beat Pusica to the rock, finishing the sequence off with a layup to give KU its first separation of the day during its eventual 87-53 win over Northeastern Thursday at Vivint Smart Home Arena.
"It was very big," Garrett said. "I just saw how he was dribbling the ball, I just reached. I always feel good making a move when I reach for the ball."
It was that kind of night for the fourth-seeded Jayhawks, who overwhelmed the 13th-seeded Huskies en route to their 13th consecutive first-round win in the NCAA Tournament.
Garrett fueled KU's stifling effort on the defensive end, as he locked down Northeastern's leading scorer. The Jayhawks, who used a four-guard lineup most of the game, did switch a lot on ball screens to help Garrett out.
Still, Garrett was usually tasked with defending Pusica, who entered the contest averaging nearly 18 points per game. Pusica finished with seven points on 2-of-13 shooting, including 2-for-6 from downtown, in 31 minutes.
"I just wanted to make him take tough shots, stay connected to him," Garrett said. "Make him have a hard time bringing the ball up."
Garrett set the tone in his matchup with Pusica, keeping the talented point guard from scoring through the first 12 minutes of the contest. Pusica's first bucket came via a triple at the 7:59 mark, though Kansas already led by double digits at that point.
The rest of the night didn't get much easier either. Pusica, who hit seven 3-pointers in the CAA Championship, was held to lowest scoring output since Nov. 18. Prior to Thursday, Pusica had scored at least 11 points in 21 consecutive games.
Photo Gallery
Kansas basketball v. Northeastern (NCAA tournament)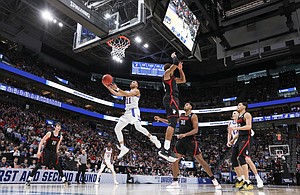 View a gallery of images from Thursday's opening-round game between the Kansas Jayhawks and Northeastern Huskies in Salt Lake City, Utah.
"Our game plan was to hard edge him, make him change direction and certainly go over every ball screen and every dribble handoff," KU coach BIll Self said. "The switching helped us do that."
It was another positive sign for Garrett since returning from the shelf after sustaining a high-ankle sprain, which forced him to miss five games in February.
The Jayhawks, who have made three straight trips to the Elite Eight, need their defensive ace if they have any shot at making a deep run.
"That's what he has been doing all season," freshman Devon Dotson said. "With these type of games, we are going to need every bit of that."
Garrett and the rest of the KU defense will face a similar test when it takes on Auburn in the Round of 32 on Saturday. The Tigers take 49.7 of their shots from long range, which is the eight-highest clip in the nation.
But, if Thursday was any indication, Garrett and the rest of the Jayhawks will be up to the challenge.