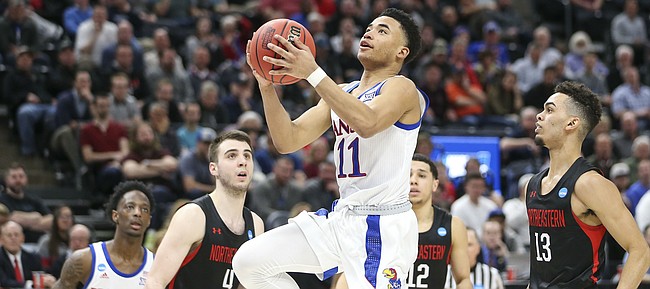 Salt Lake City — There was no collective gasp inside Vivint Smart Home Arena Thursday afternoon, because there weren't enough Kansas basketball fans on site for the Jayhawks' NCAA Tournament opener way out west for their reaction to overtake the air space.
But let's go ahead and assume the diehards watching back in the Midwest gulped hard enough for it to reverberate throughout Lawrence.
Devon Dotson, the man who no Northeastern defender could stay in front of, landed on someone's foot wrong. Dotson came away grimacing, his left ankle in serious pain and any kind of KU run this postseason suddenly seeming all the more precarious.
After looking so invincible in the open floor in his March Madness debut, the freshman point guard would admit later that even he went through a brief freakout in the moment, given the stage and the ramifications of an ankle injury.
"Ohhhh. Wow. What just happened?" Dotson thought, before checking himself out of the game with 14:05 to play.
At the time, the 6-foot-2 dynamo from Charlotte, N.C., didn't know he'd be back on the floor, helping the No. 4-seeded Jayhawks bury Northeastern, 87-53.
Photo Gallery
Kansas basketball v. Northeastern (NCAA tournament)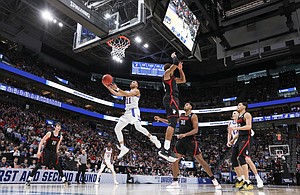 View a gallery of images from Thursday's opening-round game between the Kansas Jayhawks and Northeastern Huskies in Salt Lake City, Utah.
Once Dotson walked it off, he shared in the victorious locker room afterward, the left ankle started to "loosen" for him.
"The pain kind of went away," he shared, with his left foot bare, untaped and stretched out in front of his seat. "I'm gonna ice it tonight."
That's the best news KU could have received on this day — outside of a completely unrealistic and sudden reinstatement of Silvio De Sousa or miracle recovery for Udoka Azubuike — because Dotson's speed and assertiveness made him the most important player on the floor versus the Huskies.
The relief first washed over Dotson when he was over on the bench, and he tested the ankle by putting some weight on it. It didn't feel as bad as he initially feared.
And when Bill Self asked if the starting guard wanted to get back on the court and see how it held up, Dotson didn't hesitate.
Nor did he show an ounce of doubt once he was back doing what he does best, stealing the ball and taking off in the other direction. Even a hard, clean foul by Bolden Brace to keep Dotson from scoring another layup didn't phase him. In fact, Dotson's crash landing and his ability to pop right back up and make two free throws doubled as an important development, because it proved to him and his teammates that he hadn't become some less effective version of himself.
"I almost surprised myself that I got up," Dotson said of elevating, "and tried to lay it up. When my adrenaline's running like that I can't really feel it."
Invigorated by the chance to sneak up on NU big Anthony Green for a blindside swipe in the high post, Dotson made the play that set up the crash course for his ankle when he could've taken it easy, with KU already up 28 points.
"It means that we're hungry," Dotson said of making another max-effort play in that setting, "and have some individuals that really want it, and will give it everything out on the floor."
Shortly after that instance, Dotson looked slightly less indestructible, wincing while closing out on a Northeastern 3-point shooter.
"Oh, yeah. It's still sore," a smiling Dotson admitted. "So stuff like closeouts and making quick cuts, I couldn't do at the end of the game. But I think I should be fine."
The Jayhawks (26-9) couldn't have so thoroughly dismantled the Huskies (23-11) without Dotson blowing past defenders and setting the tone for a game in which KU scored 50 points in the paint.
Too Big 12-fast for the Colonial Athletic Association's postseason champs, Dotson scored 12 of his team's 17 transition points.
"He's been great in the open floor all year," sophomore guard Marcus Garrett said. "Being able to get downhill is what he does best. In the open court it's hard to stop him because he's so fast."
No one should go overboard and compare Dotson to the point guard some once called Fearless Frank Mason, but Downhill Devon was fitting on this day, when the ever-improving lead guard gave KU 18 points, 4 rebounds, 2 assists and 2 steals.
NU lacked the size to stop Kansas inside, so the game plan in the half court was to get the ball on a side and drive it. No one on the roster does that better than Dotson, and his all-around aggressive mindset paved KU's path to the second round and a Saturday matchup with Auburn (27-9).
"Devon is definitely one of the fastest people in the country," junior big Dedric Lawson proclaimed. "He got out in the lane, he got steals and he just played to his athletic ability."
Lawson, who led KU with 25 points and 11 rebounds, said Dotson made the game easier for him and the rest of the Jayhawks, because NU's defense always had to account for the speedy point guard.
If Dotson keeps this up he'll be known as much for being a bulldog as a blur.
"He always plays tough," Lawson said. "He's one of the toughest guards in the country. He guards 94 feet every game and he's a very impressive player."
Somehow Dotson rarely looked tired while relentlessly giving KU exactly what it needed, wearing NU out in the process.
NCAA Tournament games can be intimidating for some freshmen, but that wasn't the case for him. It sure didn't look like he experienced any jitters, but Dotson said they even hit him, at least for the game's first couple of minutes. He embraced those butterflies in his stomach, though, calling it a "great feeling and a great moment."
During the first media timeout, because of that brief battle with some nerves, Dotson felt tired. He soon caught his wind and never looked back.
For a blue blood program that became a popular first-round victim pick for some experts, the Jayhawks dominated thanks to Dotson, and Dedric and K.J. Lawson. Dotson didn't downplay the presence of doubters. He descried it as motivating.
"We hear it. We hear all the slack we're getting," he said. "That just fuels the fire, gives us a chip on our shoulder and makes us want to just play hard and just want it even more."
KU's rout of Northeastern might have surprised some as much as Dotson's uncanny speed confounded the Huskies.
Sometimes, the flash of a freshman said, his bursts even leave him thunderstruck.
"You know," he explained, flashing a smile, "I've been moving, I guess, at a high speed my whole life."
KU's next game is coming up fast. And Dotson's expecting a speedy recovery for his left ankle. Buckle up. The Jayhawks are one win over Auburn away from flying back home and playing in the Sweet 16, in Kansas City.